What features I want in the iPhone 12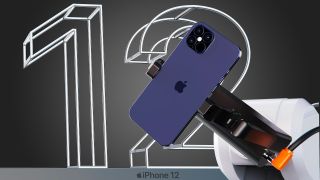 (Image credit: EverythingApplePro/Max Weinbach)
The iPhone rumor mill has been in full swing lately, and it's definitely giving us something to look forward to during this crappy year. As someone who upgrades their phone every year, I'm definitely going to be picking up an iPhone 12, whenever they're out. Despite my "INSTABUY!" attitude when it comes to yearly iPhone releases, regardless of features, there are some things I hope that we'll see in the iPhone 12.
No more notch, please
When the iPhone X first debuted in 2017, I remember the first thing that came to my mind was "that notch is ugly!" In fact, it was one of the reasons why I didn't get the iPhone X, plus I wanted to keep the Home button at the time, so I went with the iPhone 8 Plus. A year later, I went with the iPhone XS, and even though it took me a while, I eventually got used to the notch. It had grown on me, even with the iPhone 11 Pro, but I still can't help but notice that it's there, especially when I watch videos or play games in landscape orientation.
According to recent design leaks of the iPhone 12, it seems possible that the notch will be shrinking, which is a good sign. It may still be there, but at least it is getting smaller, and hopefully, less noticeable. But I would love to see a notch-less iPhone one day — it may be unlikely with the iPhone 12, but one can continue to dream, right?
And honestly, I just want to be able to see my battery percentage in the status bar like the good old days, without a big battery widget on my Home screen or having to bring up Control Center.
Have both Face ID and Touch ID together
I was hesitant to Face ID when it first came out, but I've grown to love it since the iPhone XS. But right now, we're living in strange times, and Face ID is not always cooperative when you have a face mask on while outside, and want to do something like pay for your groceries with Apple Pay. This is why I hope that the iPhone 12 has an under-screen Touch ID sensor, or at least put it on the back of the device like with some Android devices. But with the new iPad Air having a Touch ID sensor in the Sleep/Wake button, it may be a sign that the iPhone 12, or at least a future iPhone, could also have such a feature, in addition to Face ID.
If the iPhone 12 has both Face ID and Touch ID, it would mean more security for your device, too. Perhaps you would want to unlock your device with both, or you choose one or the other, in addition with the old passcode method as a backup. Honestly, this is something that I've been wanting for a while, and hey, plenty of Android devices have such functionality.
More base storage
Lately, it seems that Apple has been upping the starting capacity on their laptops, like the MacBook Air and MacBook Pro, as well as the iPad lineup. So why not do the same with the iPhone 12? Right now, all iPhones (SE, 11, 11 Pro, 11 Pro Max) come with a starting storage capacity of 64GB. Honestly, unless you store everything in the cloud or stream, 64GB just isn't enough (especially for me). I would fill that up easily in just a matter of days just from taking photos and video, downloading and playing games and apps, watching video, and listening to my local music library.
I know that I may not be the average person, but 64GB is just a measly amount of storage, especially considering how much space 4K videos and high quality photos can take up. I think it's about time that Apple bump that starting capacity up to 128GB — it's what the iPad Pros now come with, and it could be something for Apple to consider, even if it's just the iPhone 12 Pro devices.
Either way, it's time that Apple bump up that starting storage for iPhones.
Reverse wireless charging
Many Android phones have the reverse wireless charging feature, which allows a wirelessly charging-capable phone to act as a charging station itself, so that you can use it to wirelessly charge another device, like another phone or AirPods. Last year, it was rumored that such a feature was coming in the iPhone 11 line, but it turns out that it wasn't actually true (and if it was in the hardware, Apple blocked it from working).
Apple tends to stop features or not release products that don't meet its high standards (RIP AirPower), so it's possible that reverse wireless charging just wasn't in the cards last year. But perhaps Apple can include it in the iPhone 12. It would be rad to be able to charge my AirPods Pro case with my iPhone 12, after all, just saying.
Support for 5G
There has been a bit of back-and-forth on whether or not the iPhone 12 will support 5G, at least in 2020. But the latest rumors seem to point to at least one iPhone model that will have 5G, and this is something I would definitely want to have.
It's not entirely surprising that 5G will eventually overtake 4G LTE as the standard for wireless data. Many carriers are spending time and money rolling out their 5G networks, and it would be silly for Apple to not join in taking advantage of those blazing fast speeds for their own handsets.
I don't expect to see 5G support in all of the iPhone models that come out this year, but it's highly likely that at least one will, and that's alright. Eventually, 5G will be the new standard, and all iPhones will have it. But for now, even if it's just the iPhone 12 Pro Max that has 5G, it's a start for Apple. For a lot of people, 5G just isn't better than 4G LTE yet, so it may not be worth getting a new iPhone just for 5G, but eventually...
Improved camera features
This one is obvious because Apple improves the cameras on the iPhone every year. But there are a few things I want to see with the iPhone 12, if it's possible.
This year, Samsung released the Galaxy S20 Ultra, which has a mind-blowing camera: 108-megapixel wide lens, 48-megapixel telephoto lens, 12-megapixel ultrawide lens, and that 100X Space Zoom. While I know Apple is never going to have such ridiculous megapixel numbers like that (and megapixels don't necessarily equate to better photos), I would love to see something like the 100X Space Zoom on the iPhone 12. I know that it's really just a gimmick from Samsung, but I think it would be cool to have, and it would be handy when taking scenic photos of the skyline, and the sort.
I would also love to see improvements to the camera so that you could better use the iPhone for astrophotography — there are a few apps out there that could potentially help you with this (quality depends on the app used), but I would much rather have that functionality baked into the iPhone itself.
And I think it's a given that the LiDAR scanner, which was introduced on the 2020 iPad Pro, should make its way into the iPhone 12.
Flat edge design
Ever since the iPhone 6, the iPhone has had curved edges and has always felt slippery to hold. But according to the recent design leaks, it seems that the iPhone 12 may be returning to the chamfered edge look of the iPhone 5. Since the iPad Pro also has that straight edge aesthetic, I would love to see this return to the iPhone 12.
Based on those leaks, it is highly likely that we'll be seeing the return of those flat edges on the iPhone 12, so I'm especially eager for this one.
USB-C charging
Finally, I would love to see Apple dump the Lightning port and replace it with USB-C. They've already done this with the iPad Pro and the MacBooks, so it would only make sense to apply this to the iPhone as well. Plus, a lot of my other devices in the house use USB-C as well, so it would be one less cable to have to worry about.
What are your iPhone 12 wishes?
These are just my biggest wishes for the iPhone 12. It's likely that some of them will be what we see in the fall, and some may be a little further away. What are you hoping to see in the iPhone 12? Let us know in the comments.
Updated September 2020: Updated for upcoming iPhone 12 event.
Get the best of iMore in in your inbox, every day!
Christine Romero-Chan was formerly a Senior Editor for iMore. She has been writing about technology, specifically Apple, for over a decade at a variety of websites. She is currently part of the Digital Trends team, and has been using Apple's smartphone since the original iPhone back in 2007. While her main speciality is the iPhone, she also covers Apple Watch, iPad, and Mac when needed.

When she isn't writing about Apple, Christine can often be found at Disneyland in Anaheim, California, as she is a passholder and obsessed with all things Disney, especially Star Wars. Christine also enjoys coffee, food, photography, mechanical keyboards, and spending as much time with her new daughter as possible.

Not sure why the notch is such a big deal...would it be 'nicer' without it? Sure. Deal killer? Hardly. Same with flat edges. Both of these are really style ideas rather than features, IMO. Better camera will happen for sure. 5G? I guess but what's the expected state of the network in 18 - 36 months? I personally would like USB-C but I think they'll go Qi (or similar) exclusive before replacing Lightning with USB-C on phones. Reverse wireless charging seems like something Apple will feature as a big deal and the Android folks will be able to claim they've had it for years. Whatever I say. And base memory amounts will always serve Apple and not the general public. It always could be better but it's a great way to make a bunch of easy money for Apple. Other than it's 'time' for my wife & I to upgrade our iPhone X's (3 years old), still not feeling a killer feature that is gotta have. Face Id was that for us and our X's...and the OLED screen in the X but it's turned out to be less of a big thing I guess.

One HUGE problem that Apple will have that will be a public backlash if they do away with the port all together is the millions of people that use CarPlay but this cars don't have Wireless CarPlay. I have a 2017 Mercedes and I am not going to go by a new $60k car because Apple decided to make my CarPlay useless. I'm likely to go get a Samsung and use the Android version which is also supported.

The notch is a problem because not every app adjusts to it. And some adjust poorly... so why have it all? Give me the full screen. And a teardrop. Or hole punch. Or figure out how to make it work behind the display.

There's a ton of stuff occupying the notch. The phones that use a hole punch aren't providing more than a sliver of that functionality, that's why those other guys can shrink it so much. And saying stuff like "Or figure out how to make it work behind the display" isn't helpful. It isn't an unsolved problem for lack of people saying "more ponies please." It's an unsolved problem because of the nature of physics. Cameras kinda don't work as well when there's a lighted LCD display layered over the top. You can do some computational trick to remove some of that, but you end up with a massively degraded image. And iPhones are the one device never graded on a curve. Any time any one of its features isn't best in class, people throw tantrums.

For wireless CarPlay in your Mercedes, today, try a Car2Play unit that plugs into your USB and makes your MB think it's a connected iPhone. Mine works great.

Save the 60k grab a wireless Apple play adapter works great!

"Not sure why the notch is such a big deal...would it be 'nicer' without it? Sure. Deal killer? Hardly. " It would be a deal-killer for me, the notch was just a "wow cool unique design" thing for Apple, it's old now and they should be able to just put the camera above the screen, rather that cutting through it. Why do I want to buy another phone that's over a grand in price when I can't even see the whole screen? "5G? I guess but what's the expected state of the network in 18 - 36 months?" It doesn't matter, iPhones last for around 5-6 years, the phone should be ready for what's to come, not what's available now. Given the competitors have 5G, it would be a deal-breaker to not have it. "I personally would like USB-C but I think they'll go Qi (or similar) exclusive before replacing Lightning with USB-C on phones" Why? The iPad and Mac has USB-C, it would be common sense and consistent to put USB-C on the iPhone as well. Proprietary connectors suck and you know it. "base memory amounts will always serve Apple and not the general public" I presume by memory you mean storage and not RAM, given the latter isn't adjustable in the iPhone. 64GB is the base, and that's more than plenty for most people, who watch movies on Netflix, listen to music on Spotify and store photos in the cloud. The only thing that uses storage space after that is apps, and I have more than the average person on my phone and I've still not got near to the 64GB limit. You only need more than 64GB if you plan to be off the grid for a large amount of time.

5G (both mm wave and sub 6ghz), improved camera (night mode is great but can still be further refined), USB C would be nice (since my iPad and MacBook use that would be 1 less charger to carry around). Also the squared edges look nice as well (much better than current 11 pro design.) and the increased base storage (which I hope is the case with apple doing that with all their products they just released).

Before anything, I want to see mmWave 5G in the EU model. Otherwise, I'll wait until the first model that supports it.

All or some of that would be fine. I've gotten used to the notch but my big HOT BUTTON (pardon the pun) issue is the power/sleep/wake switch. PLEASE move it back to the top or where it's not directly opposite the volume buttons. I am sooooooo tired of all the inadvertent screen shots countless times a day. If you can't move the button, at least maybe offer a setting to disable the screenshot action when the side buttons are pressed simultaneously. If there's any one thing that makes he hate the iPhone, it's this problem. They left the power button on the iPad on top, people manage.

I think they should do this with the RAM Capacity...
Iphone 12 Mini and Iphone 12, 64, 128, 256
Iphone 12 Pro 128, 256, 512
Iphone 12 Pro Max 128, 512, 1 TB What do you think?

I assume you mean storage, not RAM. Having 1 TB of RAM in a Mac Pro is crazy enough, but it would be quite something to have that much in an iPhone.

You mean storage, not ram. I am hoping that with apple bumping the storage on their new products (iPad, MacBook, MacBook air) this is a sign they also will be doing it with their phones. It's not like they aren't already charging crazy prices for their devices. Every flagship android has at least 128gb of storage and the iPhone should as well (or at least the pro models anyway since they are all 1k+ in price.

Everything mentioned above, plus a fully pro version in an iPhone se size. Full screen, no stupid notch, touch Id, the best cameras in the back, and 512gb storage.

Good article. With a few twists of my own I agree with pretty much all of that and don't have much more I would want to add. I'm not so fussed about the notch but if it shrunk a bit that would be good and for exactly the reason you state. I would like more space either side for the status bar to display more stuff and my number one wish for the first extra thing to go onto a wider status bar would be battery percentage. On reverse wireless charging I'm not in the slightest bit interested in that feature but I'm 100% behind it being introduced not because I think that I would ever use it (but never say never I suppose) but because I think that it might encourage Apple to put more emphasis on putting big capacity batteries into its phones to allow for some charge getting transferred to other devices. I want as much battery life as I can get on my iPhone. On 5G I have no interest but realise others have so on that one the feature I want, once 5G does get introduced, is a toggle in Settings to turn it off and cut power to the 5G bits of the electronics in order to extend battery life (just like Apple had when both 3G and 4G were first introduced). On storage sizes I agree but what I would really like would be support for an SD card. I have been jealous of that on various Android phones for a long time and it is one of the two things that have very nearly had me switching to Android at various times over the last 10 years. Most of my iPhone storage is taken up with me storing my entire music collection on my phone so that I have it when travelling outside a network area and without chewing up extra battery life and data streaming over the mobile network. Being able to have all my music on an SD card that I could simply move from iPhone to iPhone when I upgrade would not only be quicker and more convenient than transferring it via iTunes but it would also save me a fair bit of money on each update cycle since I could buy the bottom tier storage option each year instead of the top tier. After my tweaks above I think I would only add one thing to your wish list and that's sort of a non-feature. I don't want the iPhone 12 to get any thinner than the 11 because that just takes away internal volume that could otherwise have meant a bigger battery than the one Apple ends up being able to fit into the iPhone 12. Sadly some of the rumours seem to indicate that I will not get my wish granted on this one and that the iPhone 12 Pro Max (the one I intend to buy) will get thinner and leaks seem to indicate that that does indeed mean that the battery capacity is lower than it is on the 11 Pro Max. Ultimately though there's one big hidden wish in almost all of the above. Apple made an amazing leap in battery life with the iPhone 11, particularly the approx 33% increase in battery life of the 11 Pro Max vs the XS Max. What would totally blow me away if it was to be announced as part of the iPhone 12 launch would be if Apple could somehow find a way to deliver that same level of battery increase again. An iPhone 12 Pro Max with a 33% (or more!) increase in battery life vs the 11 Pro Max would be single most incredible feature that Apple could deliver for me.
Thank you for signing up to iMore. You will receive a verification email shortly.
There was a problem. Please refresh the page and try again.