What you need to shoot pro-level video and photos with your iPhone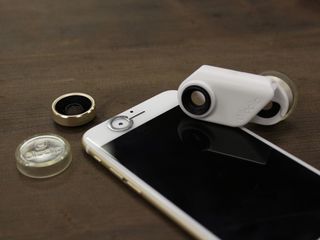 Shooting professional quality photography and video is tricky enough as it is, but what if you only have your iPhone? Then what do you do?
Having the right accessories in your back pocket can make a world of difference if you're shooting on your mobile device (I should know… I forget to charge my DSLR constantly and often have to resort to snapping iPhone pictures instead…), and setting up a rig for your iPhone might actually show your professional side a bit more if your show up to a photography gig with more than just a smartphone.
Here's how and what you need to turn your iPhone into a truly professional camera rig.
Cases
The first thing you need to turn your iPhone into a professional video or photography rig is a good quality case, specifically something that works with other equipment, can be mounted onto a tripod, and has a durable structure – after all, you don't want to drop your iPhone mid-video and have it shatter.
There's a wide range of cases to pick from, but cases such as the Beastgrip Pro work with virtually any camera phone and is a must-own if you're serious about iPhone videography.
Another phenomenal case to check out is the SNAP! PRO from bitplay...
Having a case with a modular design along with removable lens mount mean you can customize and play with your rig to put together a video recording device that you're 100% comfortable with using. (And if you're looking for a case/rig that works well with your iPad, take a peek at the iOgrapher Filmmaking Case.)
Lenses
If you're a fan of shooting iPhoneography already, then chances are you've seen or heard of external lenses. Like a DSLR, you can add a new lens to your iPhone to distort, enhance, zoom, and do things your iPhone alone simply can't.
There are plenty of different lenses that you can pick up individually on sites like Amazon or Photojojo, but those are aimed more towards iPhoneography than capturing crystal clear video (this isn't necessarily a bad thing, either!) Typically, you will get a macro, wide-angle, and fisheye lens with most packages, but these change from brand to brand.
Different lens kits can come with a durable case plus three standard lenses (macro, super wide-angle, and 2x telephoto) which work great for shooting video as a case is durable and the lenses secure directly to it, making them less likely to fall and shatter. High-quality lenses from Moment can also be customized with a case, or mounted individually with a mounting plate.
Audio
If you're wanting to conduct interviews, put together YouTube video reviews, or even capture the sounds of nature while you're on a walk, then you'll need a microphone that works hand-in-hand with your iPhone. There are a few different options to pick from: on-device mics, lavalier mics, and wireless microphones.
While your iPhone's mics are strong enough to pick up nearby ambient sounds, you can achieve a lot more with a lot higher quality, external microphone. Sound quality can make or break a video — poor sound can absolutely ruin a video with phenomenal visuals.
Microphones like the Shure MV88 are small enough to fit on your iPhone and iPad, while being strong enough to pick up even the faintest of sounds while providing superior audio quality and clarity.
Stabilizers/Tripods
Stabilizing your iPhone can be the tipping point between shooting amazing video/photography or shooting sub-par footage.
The pros shooting with DSLR cameras use camera-stabilizing mounts or tripods, and these expensive rigs are designed to hold the camera and mitigate unwanted movements like camera shake and help your final product look professional and polished.
Because your iPhone is a heck of a lot smaller than a DSLR camera, you don't need a massive, expensive, full-body stabilizer or gigantic tripod to shoot your video. All you need is a more compact and portable device, like the handheld Olloclip Pivot, or for a less expensive option, the Steadicam Smoothee, a universal mount that can be used as a tripod adapter, and allows for seamless pan and tilt action like you expect from the movies you see in the theatre today.
Lighting
Lighting is so important when it comes to photography and video. It can create a particular mood, accentuate certain details of an image or video, and be used to make things less or more dramatic depending on what you're looking for.
There are plenty of light sources available that work with your iPhone for either iPhoneography or shooting video. Some less sophisticated, cheap versions work just as well as more expensive ones, but it all comes down to what you're looking for and how much control you want over your lighting.
The iBlazr 2 syncs to your iPhone wirelessly, giving you full control over light's color and brightness. The lights work with a selfie remote and can be used with your iPhone or iPad.
Apps
Once you're done shooting your ideal video or snapping a series of stunning photographs, the next step is to edit them into perfection! — and you can't do that without an app or two in your iPhoneography arsenal!
There are a number of photo editing apps that have made the list as the best of the best to edit with, including filter-focused apps like 1967 and VSCO that give you some on-point filters to slap on your images, or you could get a bit more intense with apps like RNI Films or Mextures:
No matter what your skill level is, there's an app out there for editing your mobile photography and video, it just depends on whether you want to simply add filters or get more in-depth with special effects, transitions, and crazy editing.
If you're someone who's been going quite a bit of editing and shooting with your iPhone X, it might be best to check out the top apps for editing with the iPhone X in order to get a bit more familiar with tweaking videos and photos on your iPhone.
What gear is your go-to?
Is there we something we missed? A light you think needs to be on the list? A tripod you couldn't imagine shooting without? Let us know your favorite iPhone video devices and why you're so obsessed with using them to capture your footage!
Master your iPhone in minutes
iMore offers spot-on advice and guidance from our team of experts, with decades of Apple device experience to lean on. Learn more with iMore!
Cella writes for iMore on social and photography. She's a true crime enthusiast, bestselling horror author, lipstick collector, buzzkill, and Sicilian. Follow her on Twitter and Instagram: @hellorousseau