Which iPhone should you get: iPhone 7, iPhone 7 Plus, or iPhone SE?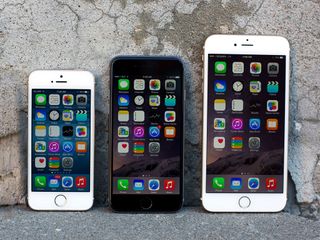 Apple now has a full range of modern iPhones, from the entry level iPhone SE to the brand-new iPhone 7 and iPhone 7 Plus. As you go up in size, what you lose in pocket-ability you start to make up for in things like camera quality, battery life, and interface expansion. But what's the best tradeoff for you?
See at Apple (opens in new tab)
Water resistance
iPhone SE doesn't have any water resistance.
iPhone 7 and iPhone 7 Plus have IP67 ingress protection, which is proof against any dust getting in, and resistance to incidental splashes and brief immersions. It's nothing you can dive with, but it can be a real phone-saver.
If water resistance matters to you, go with iPhone 7 or iPhone 7 plus.
Display size
iPhone SE has a 4-inch 1136x640 display at 326ppi. iPhone 7 has a 4.7-inch 1334x750 screen at 326ppi. iPhone 7 Plus has a 5.5-inch 1920x1080 screen at 401ppi.
Here's how those compare in terms of physical size:
All of them are light-emmiting diode (LED) backlit, in-plane switching (IPS) liquid crystal displays (LCD). That's a lot of alphabet soup to say they're all using the same bright and beautiful screens. iPhone 7 and iPhone 7 Plus, though, have DCI-P3 screens for wide gamut color, meaning colors a truer-to-life.
Obviously, iPhone SE has the fewest number of pixels — 727,040. That compares to 1,000,500 on iPhone 7 and 2,073,600 on iPhone 7 Plus. That means the bigger iPhones can show more stuff on screen at one time.
Here's how that looks in terms of pixel count:
If small size is more important than lots of stuff or bigger stuff, get an iPhone SE.
If you want a good balance between size and quantity, get an iPhone 7.
If you want the most pixels possible, get an iPhone 7 Plus.
Case size
Bigger displays make for bigger phones.
iPhone 7 Plus is 6.23 inches (158.2 mm) high, 3.07 inches (77.9 mm) wide, 0.29 inch (7.3 mm) deep, and weighs 6.77 ounces (192 grams)
iPhone 7 is 5.44 inches (138.3 mm) high, 2.64 inches (67.1 mm) wide, 0.28 inch (7.1 mm) deep, and weighs 4.87 ounces (138 grams).
iPhone SE is 4.87 inches (123.8 mm) high, 2.31 inches (58.6 mm) wide, 0.30 inch (7.6 mm) deep, and weighs 3.95 ounces (112 grams).
That means iPhone SE is easy to slip into smaller pockets and carrying bags, and easier to hold and hold up for longer periods of time. Conversely, iPhone 7 Plus needs bigger pockets, carrying bags, and takes more work to use one handed or to hold up for long periods of time.
If you want something to fit into your skinny jeans or tiny bag, or something you can easily use one handed, you want iPhone SE.
Reachability
The 4-inch iPhone SE is small enough the most people can reach every corner of the display, even with a single hand and thumb. The 4.7-inch iPhone 7 and 5.5-inch iPhone 7 Plus, not so much.
To make up for the more expansive displays, Apple introduced Reachability mode. Simply tap — not press! — the Home button twice and the entire interface shifts halfway down so you can more easily access the controls at the top.
If you want constant one-handed ease of use, get an iPhone SE.
If you can manage the big or bigger sizes, Reachability mode can help with iPhone 7 and iPhone 7 Plus.
Accessibility
If you don't want more pixels but just want bigger pixels, iPhone 7 and iPhone 7 Plus can do that too. Thanks to Display Zoom, you can tell an iPhone 7 to use the iPhone SE interface and magnify it up, or tell an iPhone 7 Plus to use the iPhone 7 interface and magnify it up.
That way there's not more stuff on the screen, simply bigger stuff that's easier to see and interact with. For anyone with visual accessibility needs, it's incredibly important to consider.
If a bigger interface is necessary for you to see and interact with your iPhone, get an iPhone 7 or iPhone 7 Plus and use Display Zoom.
Colors
iPhone SE comes in silver, gold, rose gold, and space gray.
iPhone 7 comes in silver, gold, rose gold, (matte) black, jet black, and Product (RED).
If you want the new blacks or Product (RED), you have to go with iPhone 7 or iPhone 7 Plus.
Capacity
iPhone SE only comes in 32 and 128GB configurations. That means you won't be able to store maximum apps, games, videos, photos, and other media.
iPhone 7 comes in 32, 128, and 256GB configurations. That means, if you choose to, you can have the most storage space possible available for apps, games, videos, photos, and other media.
If you want the most storage possible, you'll want iPhone 7.
Productivity
The iPhone 7 Plus has so many pixels that, in landscape mode, it acts like an iPad. Mail goes from one column to two columns. So does Messages, Notes, and a host of other apps. Safari gets tabs and the rest of the tablet treatment. It may not sound like much but it's a huge boon for productivity.
If you like the idea of having a big iPhone in portrait and a tiny iPad in landscape, get the iPhone 7 Plus.
Processor
iPhone SE has an Apple A9 system-on-a-chip, which combines Apple's third generation 64-bit, dual-core processor with a silly fast graphics processor for the best performance in the business. There's also an integrated M9 coprocessor for motion sensing and unplugged "Hey Siri" and an advance image signal processor (ISP) for the most true-to-life photography possible.
iPhone 7 and iPhone 7 Plus have the Apple A10 Fusion chip, which includes two sets of two cores, one set for maximum power and the other for maximum power efficiency. Combined an even sillier, faster graphics processor, and an M10 motion coprocessor, it redefines what best in the business means, including next-generation image signal processing (ISP) for wide-gamut photos.
If you want maximum power and power efficiency, get iPhone 7.
Camera
All modern iPhones have really good iSight cameras. iPhone SE offers an ƒ/2.2, 12 megapixel still camera and 4K video. iPhone 7 offers an even better ƒ/1.8, 12 megapixel camera with optical image stabilization (OIS) that can capture wide gamut images and a quad-LED flash for better light-matching.
iPhone 7 Plus, however, now has an all-new 12 megapixel dual lens camera. It combines a wide-angle, ƒ/1.8 aperture lens and a telephoto ƒ/2.8 lens to allow or up to 2x optical and 10x digital zoom, and — coming soon — a portrait mode with simulated depth-of-field effects.
iPhone 7 and iPhone 7 Plus also have much, much better 7 megapixel FaceTime cameras now.
If you want the best camera phone Apple makes, get the iPhone 7 Plus.
3D Touch
Currently only iPhone 7 and last year's iPhone 6s support Apple's 3D Touch pressure sensitive technology. iPhone SE does not. iPhone 7, uniquely, supports Apple's new force touch Home button.
If 3D Touch matters to you, get iPhone 7.
Battery life
iPhone SE gets tremendously great battery life. Up to 14 hours of talk, 10 days standby, 13 hours of web browsing and video playback, and 50 hours of audio.
iPhone 7 gets just as tremendous battery life. Up to 14 hours of talk, 10 days standby, 13 hours of web browsing and wireless video playback, and 40 hours of wireless audio.
iPhone 7 Plus gets crazy good battery life. Up to 21 hours of talk, 16 days of standby, 15 hours of web browsing, 14 hours of wireless video, and 60 hours of wireless audio.
If battery life matter most to you, and you don't want to use an external battery case or power bank, get the iPhone 7 Plus.
Who should get iPhone SE?
If you want the smallest iPhone available, one that'll fit into the smallest pocket or pouch, but still has a fairly recent processor and camera, you want iPhone SE.
See at Apple (opens in new tab)
Who should get iPhone 7?
If you want an iPhone that's still a phone, with all the power but not all of the bulk, and you're okay not having the dual-lens camera, then you want iPhone 7.
See at Apple (opens in new tab)
Who should get the iPhone 7 Plus?
If you want the biggest screen possible, the longest battery life available, and the best camera Apple has ever offered, you want iPhone 7 Plus.
See at Apple (opens in new tab)
Still undecided?
If you're still not sure about which iPhone to get, jump into our iPhone discussion forums and the best community in mobile will happily help you out.
Bottom line, your iPhone will be one of the most often-used, most important possessions in your life. Get the one that will fit your needs the best!
Get the best of iMore in in your inbox, every day!
Rene Ritchie is one of the most respected Apple analysts in the business, reaching a combined audience of over 40 million readers a month. His YouTube channel, Vector, has over 90 thousand subscribers and 14 million views and his podcasts, including Debug, have been downloaded over 20 million times. He also regularly co-hosts MacBreak Weekly for the TWiT network and co-hosted CES Live! and Talk Mobile. Based in Montreal, Rene is a former director of product marketing, web developer, and graphic designer. He's authored several books and appeared on numerous television and radio segments to discuss Apple and the technology industry. When not working, he likes to cook, grapple, and spend time with his friends and family.
I want iPhone 6s space gray can I win this phone? Can you give it to me free? Because I don't have money to buy this so please can you give it to me free? :( I'm begging Posted via the iMore App for Android

Get a job Sent from the iMore App

Iphone 5s black. It's okay with or anything that you want to give. Thank you Posted via the iMore App for Android

That bezel is just fine. The iphone is a lot more attractive than the almist bezeless androids.

No one cares about the bezels, they're there for a reason

I've got a gold 6s Plus and I'm happy with it. Sent from the iMore App

Disagree with the "tremendously great" rating given for the iPhone 6s. It's downright mediocre (said in Fury Road's Immortan Joe voice), and some users report that it's even slightly worse than the battery life of the iPhone 6 it replaced. So I'd say the SE would only provide decent-but-not-stellar battery life, based on the (extremely optimistic) numbers Apple quotes. Better than the 5S, but definitely not "tremendously great" by modern day Xperia Mini standards. Other than that, seems like a decent bit of kit, though I still despise Apple for having the entry-level model come with a paltry 16GB. It's a despicable tactic. They could easily release a 32GB for $399 with minimal impact on their profit margins, but instead they want to push most people to spend $100 extra for the 64GB model. I was planning on getting one for my mom, but now I'll have to spend $499 for the 64GB model, knowing that 16GB would be cutting it way too close for her use, with all the niece/nephew/grandchildren photos she takes.

The largest screen does it for me, I'm happy with my S Plus.

Same here, l love my 6s Plus and could never go back to the 4 inch screen of the iPhone 5SE (sorry but that's upgraded 5s in all but name. Sent from the iMore App

The iPhoneSE is an OK phone if you need small but you can get better specs for the money with Google Nexus phones and many other Android phones. Posted via the iMore App for Android

Problem is better specs on paper dont translate to real world, especially when the software and hardware arent made for each other. Not that those arent fine phones if thats what you are looking for.
Personally i like the experience better with the 6s.
Id wait to see 7 at this point though, its less than a year away Sent from the iMore App

Nexus 6P is great on paper and off Posted from my Nexus 6P

Except for all the android lag still there. I tried note7 for a week and it was so horrible. Will never do that again. I don't care what anyone says if you use an iPhone regularly then try any android phone and it's horrific. When it restarts after you login there is a good two minutes before there is I lag. like everything is starting. Then there is the apps most of them crash here and there. Doesn't happen on my iphone. Quality of the apps as well. They look and Perform better on iPhone. I think it comes down to android is Linux and iOS is based on unix i believe. But there are works of different between them. Sure you can't tweak as much on iPhone. But I love the experience and I don't think android will ever get there Sent from the iMore App

Nexus 6P is not Note 7. All phones with SD820 and upwards and close to "stock" OS like Moto Z/Z Force, OnePlus 3 and the upcoming Nexii etc. are/will be quite fast. Posted via the iMore App for Android

6p runs way better than note 7, despite having inferior hardware. This year's nexus will be quite impressive. Sent from the iMore App

Xxxxrxesesexrex Sent from the iMore App

NEVER assume that using a Samsung is the same as using a pure Google/Android phone. Samsung phones are garbage because Samsung takes Android and bloats it up with bad coding in order to add millions of useless features. That's what causes the lag. I refuse to ever touch a Samsung phone because of it. The Nexus phones have the pure Google/Android experience, so they're much more fluid.

Apparently you haven't used a Nexus device, typical isheep nonsensical comment. Posted via the iMore App for Android

Nope don't care about the specs. Apple spects are fine with me

I have a rose gold iPhone 6s and love it. The size is great. I don't think I could go smaller after owning this phone and 4.5-inch screen Windows Phones since 2013. Lately, it's been in my head to maybe give the 6s Plus a whirl, but I'm not sure that would be the most practical thing for me and my petite hands, lol!

Having both an iPhone 6s and a Samsung S7 Edge (which I use as my work phone). I believe Apple needs to up its game. They've been riding on their reputation and previous innovations for far too long. Case in point. The Samsung's display is simply amazing with deep blacks, accurate color and high resolution. The retina screen pales in comparison. Samsung is also listening to its customers - providing expandable storage and a huge battery. Apple on the other hand decreased the size of the battery in the 6s (All in the name of Apple's most touted feature- slimness). The only thing still keeping me in the Apple world is iOS (Android just doesn't have the same app quantity or quality). However, I'm not sure if in the that will be enough. Sent from the iMore App

Excellent answer! Except the question was which of those 3 iphones you should get, not apple vs samsung: deepest black

Lol. Sent from the iMore App

It's as you said - iOS. All the hardware in the world don't mean jack when Android doesn't have the apps I need.

Still not sure how expandable storage is a plus, its sooo slow..
Better battery is important tho, hope they do improve that Sent from the iMore App

I had a tablet with an SD card and found it crap. You are limited by which apps will go on an SD card. Give me plenty of on board storage any day. Expandable storage is mostly hype.

I too prefer internal storage over SD cards. SD cards should not be used for apps IMO. They work fine and are fast enough for media storage which takes the biggest space in phones these days. And they're much cheaper than the $100 extra Apple charges for higher storage models. Posted via the iMore App for Android

sure you do because you are an apple troll

Lol Posted via the iMore App for Android

Sorry to not play the game properly, but 7plus for me in September.........I never thought I would go largest, but now I cant wait.....

The Plus is great, you soon get used to the size

I really (really really really) wish Apple would have put the dual lens setup on the 7 as well as 7 Plus. If the latter is anything like the 6S Plus I find it too unwieldy to grasp hold of properly (and no I don't have Trump-esque tiny hands), whereas the 6S is almost perfect (if anything it could do with being slightly bigget). I imagine it was to do with space but with the 3.5mm jack being expelled they could have used that space to accommodate the larger camera module. Aside from the processor, there's little else to require more battery, if that is what they used the vacated space for.

7 Plus. It's a no brainier, better screen resolution, battery and that duel lens camera. Sent from the iMore App

iPhone 7 plus I guess will be the best for me or anyone who has kids but it's in love with apple. Water and dust resistance in Apple item is just what I need plus the good size of "plus" option ;) Sent from the iMore App

iPhone 7 Plus!! Big battery, dual camera :D Droolll...

first i dont know why they write here beautiful screen... almost any other brand has a better screen. it depends what you do with the phone for work i would prefer iphone 6s/7

For me pocketability is a big factor. I'm happy with my SE, for now. Though camera is a huge factor for me, I'll wait for first hand results on the 7 to see how incremental the upgrade on rear camera is. The FaceTime camera is tempting, though. With my landscape construction job, dustproof and waterproof would be nice though grabbing a new sandwich ziplock every few days for now is no biggy. For those considering pocketability:
Here is the actual volume of some phones h x w x d
5,5s,SE is 3.37 cubic inches
5c is 4.0 cubic inches
7 is 4.02 cubic inches
Because the bigger 7 is so thin it's the same actual size as the little 5c because the 5c is so thick. For those who put a case on their iPhone 5,5s, SE; just for waterproof and dustproof. That 3.37 likely becomes nearly 4.00 with a lifeproof/ otterbox. So a 7 with no case is just as pocketable. Not sure how dustproof the speaker microphone and lightning ports will prove to be? Sent from the iMore App

I 'm getting an Iphone. Have always had Androids , but not Samsungs. I think the SE looks prettier than the 6S and I keep going back to it. The SE looks like an iPhone the 6S looks more like a Galaxy. I have always had a 5.2 inch screen , but since the SE is so much more attractive , I can get use to the smaller screen. I do use my phone for calls.

256GB iphone 7 plus Isaiah Heart.

I'm getting an iPhone 7 plus jet black. Upgrading from a 5s gold. I'm sold on that camera. Sent from the iMore App

Typical isheep, falling again for Apple's marketing nonsense, it never fails to amaze. Posted via the iMore App for Android
Thank you for signing up to iMore. You will receive a verification email shortly.
There was a problem. Please refresh the page and try again.