Which studios should Nintendo buy next?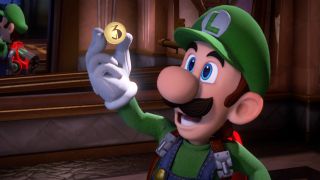 (Image credit: iMore)
Having key first-party developers is important for keeping a steady stream of exclusive quality content on gaming platforms. While the Nintendo Switch has no shortage of great games available, the purchase of a new studio can be a game changer, adding even more options for users.
Both Sony and Microsoft have made major studio purchases in the last couple of years. Nintendo, on the other hand, has been pretty quiet. The House of Mario doesn't often buy studios outright, electing instead to form close working relationships with them, but that doesn't mean it won't flex its wallet when given the chance.
Just recently, Nintendo acquired Next Level Games, the developer responsible for Super Mario Strikers on the GameCube, Punch Out! for the Wii, and most recently, the massively successful Luigi's Mansion 3. While Next Level Games joins the likes of Retro Studios and Monolith Soft as Nintendo first-party studios, there are some other developers we think Nintendo should buy next.
What should Nintendo buy next?: Intelligent Systems
Founded in 1986, Intelligent Systems has had a long history with Nintendo. While the studio supported the development of early NES games, including Duck Hunt and the original Mario Bros. port, it eventually got to develop its own games, including Fire Emblem: Shadow Dragon and the Blade of Light and Famicom Wars (or Advance Wars as it's known in the West). However, it found a hit in the West with Paper Mario for the Nintendo 64, and then again a few years later when WarioWare, Inc. Mega Microgames! hit the Game Boy Advance.
Since then, it's released a steady stream of titles across all Nintendo consoles, including Fire Emblem: Three Houses and Paper Mario: The Origami King for the Nintendo Switch.
A few of the more recent Fire Emblem games, including Three Houses, have become some of Nintendo's most successful IPs. Thanks also to Intelligent Systems' work on Advance Wars, Pushmo, WarioWare, and Paper Mario, and it's clear that the studio has proven itself to be competent creators of strategy and puzzle games. Its successes, along with its already close relationship to Nintendo, makes it all a no-brainer.
What should Nintendo buy next?: Grezzo
While Grezzo is a fairly young company compared to the others on this list, it's done a lot to cut its teeth with the Big N. Grezzo is responsible for the remasters of many Legend of Zelda games, including The Legend of Zelda: Ocarina of Time, Four Swords Anniversary Edition, and Majora's Mask for the 3DS. Most recently, it worked on The Legend of Zelda: Link's Awakening remake, which was released on the Nintendo Switch to critical and commercial acclaim.
An original IP from Grezzo could be the next hit for Nintendo, but the studio's experience suggests that it's more than capable of handling a remake or a remaster. Nintendo has such a deep vault full of classic titles, I wonder what title Grezzo could handle next? Maybe a remake of Link to the Past or the Oracle games?
What should Nintendo buy next?: Koei Tecmo
Koei Tecmo is a developer that is the product of a merger between Koei and Tecmo Games. While Koei is best known for its hack and slash Dynasty Warriors series, Tecmo has a more eclectic catalog that includes Ninja Gaiden, Nioh, Dead of Alive, and Fatal Frame. Koei Tecmo does have a history of working on Nintendo titles, including Metroid, Fire Emblem, and The Legend of Zelda series.
What puts Koei Tecmo on our radar is its recent work and success with Nintendo. Koei Tecmo are responsible for the successful Fire Emblem Warriors and Hyrule Warriors spin-off games, as well as the Nintendo Switch exclusive Marvel Ultimate Alliance 3. On the other side, Nintendo has co-owned the Fatal Frame IP since 2012 and wholly owns the spin-off series, Spirit Camera. It also published the most recent Fatal Frame exclusively on the Wii U in 2015.
It's clear that Nintendo sees some worth in Koei Tecmo's more mature lineup of games, an area Nintendo's never been great in. Thanks to the recent success of Hyrule Warriors: Age of Calamity, with over three million copies sold in just the first few days after launch, we'll probably see this relationship expand even further.
What should Nintendo buy next?: Game Freak
Even if you don't know Game Freak, chances are you know the games it makes very well. Ever heard of Pokémon? The studio struck it big with Pokémon Red and Blue when they released on the Game Boy in 1996 and continued to break record after record with every new release. Since Pokémon's first game, the series has gone on to sell more than 386 million units worldwide, making it the third best-selling videogame franchise of all time behind Mario and Tetris.
Despite Game Freak actually sharing a building with Nintendo's Tokyo Office, Game Freak is not owned by Nintendo. The Pokémon games are developed by Game Freak and published by Nintendo and The Pokémon Company. Game Freak has stated that it wants to focus on original game creation, so I wonder what the creators of Pokémon would be able to create if they were fully funded by Nintendo.
What should Nintendo buy next?: PlatinumGames
PlatinumGames, which is made up of former Capcom employees, has made a name for itself creating original IPs with a focus on action, including Bayonetta, MadWorld, and Vanquish. It's also developed well-liked games for other publishers, like Metal Gear Revengence for Konami and Nier: Automata with Square Enix.
While it's partnered with other big-name titles in the past, notably Sega, it's recently enjoyed a healthy relationship with Nintendo. It funded the creation of two major PlatinumGames releases — Bayonetta 2 and The Wonderful 101. PlatinumGames then went on to work on Star Fox Zero with Nintendo. Most recently, PlatinumGames found success with Astral Chain, another Nintendo funded project.
While the developer toils away on Bayonetta 3, we can't help but wonder if it let Nintendo buy them outright. Nintendo could always use more action titles, and PlatinumGames are some of the best in the biz when it comes to that genre. Bayonetta has become a prominent Nintendo character as well, appearing in Super Smash Bros. Ultimate.
Unfortunately, this one feels like the least likely on our list. Tencent, the Chinese multimedia company that owns Riot Games and has invested in other huge studios like Activision Blizzard and Epic Games, last year announced it would be investing in PlatinumGames. While Tencent doesn't own PlatinumGames due to this deal, it means Nintendo being able to purchase it is unlikely.
One can dream
While each of the talented developers on this list would be an excellent acquisition for Nintendo, I wouldn't hold my breath. Before the acquisition of Next Level Games, Nintendo's last purchase was Monolith Soft in 2007, which gave Nintendo a critical darling with Xenoblade Chronicles.
I don't expect Nintendo to make a big purchase similar to Microsoft's ZeniMax acquisition anytime soon, but it's nice to speculate, especially with rumors of a Switch revision brewing. Until then, we look forward to the Nintendo Switch's upcoming 2021 lineup, which includes Super Mario 3D World + Bowser's Fury, Bravely Default II, and Monster Hunter Rise.
Which developer do you think would be a good match for Nintendo? Let us know in the comments.
Get the best of iMore in in your inbox, every day!
Zackery Cuevas is a writer for Windows Central, Android Central, and iMore. He likes playing video games, talking about video games, writing about video games, and most importantly, complaining about video games. If you're cool, you can follow me on Twitter @Zackzackzackery.
Thank you for signing up to iMore. You will receive a verification email shortly.
There was a problem. Please refresh the page and try again.