Angry Birds for iPhone/iPod Touch brings 15 new levels and more!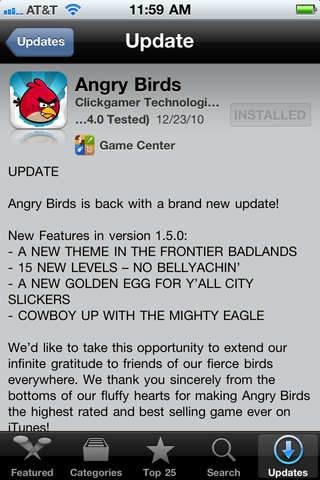 Angry Birds for the iPhone and iPod touch has just been updated to version 1.5.0 and now we have a new theme, 15 new levels, a new golden egg, and the introduction to the Mighty Eagle!
A new theme in the Frontier Badlands
15 new levels – no bellyachin'
A new golden egg for y'all city slickers
Cowboy up with the mighty eagle
The iPad saw this update on Monday and now you can play all of this new angrier bird madness on all of your iOS devices!
Let us know your thoughts on the new levels if you can stop playing it long enough to write some comments in the section below!
Get the best of iMore in in your inbox, every day!
just downloaded and played a few of the new levels, conveniently much more difficult to achieve 3 stars to make that purchase of the mighty eagle that much easier a decision ;)

been waiting on this...since I already finished the ALL levels 3 wks ago

My girlfriend said "Where's the update for android!!!"

Just got in there before the freeze of '10

Love this game and there was already tons of levels and for them to even add more is great.
Please Like my Page http://on.fb.me/fVvcfH Thank You

I made my sister do the Eagle and it's pretty cool but doesn't give stars it shows an eagle on the level. Also it's cool to see but not worth $1.

Love the update. I was confused how the mighty eagle would work. You can use it on every level and achieve total distruction. This gives you a feather, not stars. The feathers are an achievement.

Damn, they made it a bit more difficult to to get 3 stars. Excellent. Some of the levels in the past were waaaaaaaaaaaaaaaay to easy.

After hearing Rene and Georgia mention Angry Birds in the podcasts week after week, I finally downloaded it last week. I am hooked, and it's all your fault TiPb peeps. Stop the madnesssssss!!!!!

Perfect Timing! I'm about 2 take an 11hr flight (excluding layovers) to Ghana in a couple of days.
This will b a good way to while out the time.

I already got 3 stars on all 15 new levels. :-( oh well time to wait for the next update.

Well Brian, go back and get the total destruction in all levels.
Thank you for signing up to iMore. You will receive a verification email shortly.
There was a problem. Please refresh the page and try again.