Angry Birds Seasons getting a St. Patricks Day update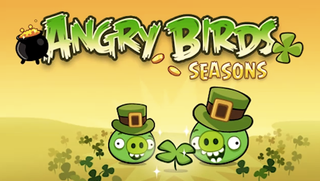 Rovio Mobile have announced today that, Angry Birds Seasons will be getting a 'St Patrick's day' update in the next few days.
The update should have new 'St. Patrick's Day' levels, with more hidden golden eggs, leprechaun pigs, and 4-leaf clovers.
The update isn't available yet but should be available in the next few days, so keep your eyes on our daily post, New and Updated iPhone and iPad apps. If you haven't already picked up, Angry Birds Seasons, be sure to pick it up now.
[iTunes Link (opens in new tab) - 99c]
Watch the trailer for the update below.
Writer for iMore, YouTube Vlogger, and Host for [TEChBrits]
I can't wait for this to come out so people will stop playing the Valentine's one and trying to knock me off the top 25 list lol

You're already gone buddy. Check it. I put you out.

If only it were true then I would have a reason to pick up the game again but until then I am taking an angry birds hiatus :)

@Dood
Hahahahhahahalolola

At least the icon will change from that stupid girly bird one. My question is, when are they going to start charging again for updates. Surely they can't expect the 99 cents to last 2 or 3 years.

@ghostface
Why would you want to get charged for updates? It's the same as updating regular angry birds with new levels. They don't charge.

Rovio is already getting heaps of income without having to charge for updates. 2 $1.19 apps and a $1.19 in app purchase is all they need. Plus they have the RIO edition coming out sometime this month. (BTW, those are Aussie prices!)

why is Angry Bird free for Android but chargable for Apples?

can i play that angry birds go green lucky
Get the best of iMore in in your inbox, every day!
Thank you for signing up to iMore. You will receive a verification email shortly.
There was a problem. Please refresh the page and try again.