The Angry Birds Transformers gameplay trailer is all kinds of awesome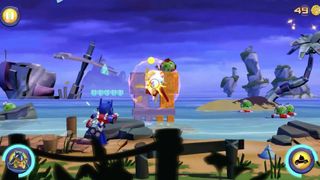 The most awesomely epic Angry Birds variant is on the way and will be arriving on iOS October 15th and Android on October 30th. Today we get a look at the official gameplay trailer for Angry Birds Transformers — a side-scrolling, run-and-gun style game that pits you again towers of nasty pigs, only this time you get way more firepower than just a simple slingshot.
Soft-launching today in New Zealand and Finland, Angry Birds Transformers is headed to Canada and Australia as well before the official launch next month. If you're a fan of Transformers (or even if you're not) this looks to be one of the best yet in the Angry Birds series.
Check out the full gameplay trailer below, and let us know what you think in the comments!
Source: 9to5Google
Get the best of iMore in your inbox, every day!
Editorial Director - High Yield
Getting his start writing about BlackBerry in 2008, Adam is the Editorial Director of High-Yield content at Future. Leading an outstanding team, he oversees many of the articles the publisher produces about subscriptions and services – VPN, TV streaming, and antivirus software. From buying guides and how to watch content, to deal news and in-depth reviews. Adam's work can be seen on numerous Future brands including TechRadar, Tom's Guide, T3, TTR, Android Central, iMore, and Real Homes.
Looks cool Posted via the Android iMore App!

It looks interesting (with a great video). It does lose that casual gaming which Angry Birds is known for.

Can I buy it or is it free to play bullshit?

Why is Optimus Prime jumping out of Astrotrain?