Asphalt Overdrive from Gameloft is coming Thursday for iPhone and iPad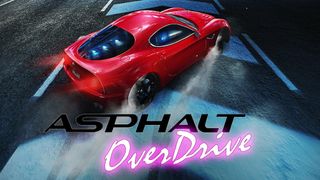 During E3 this year, Gameloft announced the latest game in the Asphalt series of racers. Surprisingly, the next Asphalt won't be Asphalt 9. Instead, the series is spinning off in a new direction with Asphalt Overdrive. Instead of a serious arcade-style racer, the new Asphalt will be an endless racer – sort of like Gameloft's recently released Spider-Man Unlimited or Sega's Crazy Taxi City Rush.
Players who are wondering how well Asphalt works as an endless racer plays won't have to wait long to find out. Today Gameloft announced that Asphalt: Overdrive will be coming to Android, iOS, Windows Phone, and Windows 8 this Thursday, September 25! The publisher also released a new trailer to celebrate the news. Keep reading for both the trailer and gameplay details.
Asphalt Overdrive is still all about fast racing, exotic cars, and cutting edge mobile graphics, but it features several changes from its predecessor, [/tag/asphalt-8). For starters, you play this game while holding your phone or tablet in a vertical orientation instead of landscape. With that change comes a new control scheme as well. Instead of driving by tilt or virtual pad, players will swipe left or right to switch between three lanes. It's truly the same setup as an endless runner, but with cars.
While racing past the finish line is no longer the primary goal, players will still have plenty of fun objectives to complete. You'll get to smash other cars off the road to perform takedowns, outrun the cops, and perform crazy stunts – all familiar mechanics from the main Asphalt games.
Asphalt games usually have high production values, and Overdrive is no different. The whole thing has a "new eighties" vibe, with lots of neon and bright colors. Players will get to drive a variety of licensed cars and trick them out with upgrades and new paint jobs. I get the feeling that instead of collecting Spider-Men we'll be collecting cars, which should be similarly addictive.
Asphalt Overdrive will be free with in-app purchases when it arrives on Android, iOS, Windows Phone, and Windows 8 this Thursday.
Master your iPhone in minutes
iMore offers spot-on advice and guidance from our team of experts, with decades of Apple device experience to lean on. Learn more with iMore!
Paul started writing about games in 2003 with his first strategy guide (Bomberman Land 2) for GameFAQs. He continued writing guides while earning his B.A. in Literature. When Windows Phone launched in late 2010, the Xbox integration lead our hero to jump on board the platform. He joined Windows Phone Central as Games Editor at the beginning of 2011, going on to review over 125 mobile Xbox titles over the years. He now leads Windows Central's Xbox One coverage, personally specializing in developer interviews, indie games, controllers and accessories, and Twitch broadcasts. Paul loves games on all platforms; he goes where the games are. Although very busy with console coverage, he sometimes contributes gaming articles to iMore and Android Central.