Best Apple Watch Stands and Chargers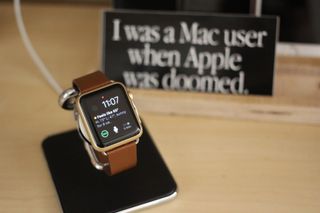 While you don't need a stand to charge your Apple Watch, it can be both a lovely and practical addition to your bedside table or dresser.
A great stand not only displays your watch and band while you're not wearing it, but it also helps hide unsightly charging wires and lets you interact with features like Nightstand mode.
If you're in the market for an Apple Watch stand, here are my top picks!
For the Apple fan boys and girls, you can charge your Apple watch with this adorable mini 1984-era Macintosh. It's made from soft silicone and is only about 3 inches tall.
When you place your Apple Watch onto the mount in Nightstand mode, the green, simple design really makes it look like you have a tiny Mac sitting on your desk.
All you have to do is slip your Apple Watch charger into the W3's perfectly fitting holder, then rest your Apple Watch on its side. It really is the perfect setup for any Apple geek.
Twelve South's Forté offers a sleek design and top-notch quality for displaying and charging your Apple Watch.
Its angled chrome stand lets your smartwatch easily hang in any direction, all while hiding the charging cord inside the curved rear support.
Those curves also help keep your band curled and contained while your watch charges. A smooth leather base offers a place to rest your iPhone at night, too (if you charge both in the same place).
Studio Neat Material Dock
Looking for a two-in-one solution for your desk or nightstand? Studio Neat's gorgeous Material Dock lets you charge both your Apple Watch and iPhone on an elevated, circular wooden base with cork backing.
The Dock intentionally sits the Watch on its side for easy access to its buttons in Nightstand mode, letting your iPhone snooze away behind it.
Adding cords to the Dock requires a little bit of setup and a screwdriver, but the end result is a great-looking stand and hidden charging cables.
Traveling with your Apple Watch? TwelveSouth's TimePorter is one of the best ways you can do so, offering a sunglasses-style synthetic leather case with a charging port atop it.
Open it up, and you'll access a compartment for storing Apple Watch bands and your charging cable alike.
Better still, the TimePorter offers a spool to tame and control your Apple Watch charging cable, keeping it organized no matter where you travel.
Pad and Quill Luxury Pocket Stand
If you want a slightly classier look while you travel, Pad and Quill's Luxury Pocket Stand offers a foldable hardwood charging stand to hold and display your watch.
Inspired by Pad and Quill founder Brian Holmes's grandfather and his pocket watch, the Luxury Pocket Stand was designed to resemble an old-world watch display for new-age tech.
It hides the Apple Watch's charging cable within the stand, and provides a wedge shape when folded to coil your cord around the base while traveling.
Rounding out the on-the-go stand styles, Sena's Watch Case provides a squat cylindrical leather carrying case for travel, while the top can be removed and flipped to provide an easy charging station for your Apple Watch.
Like the TimePorter, Sena offers hooks to wrap your Apple Watch charger inside the case, allowing you to easily travel with the cord.
When you're ready to pack up, simply unplug from your charging source and reassemble the case for safe travel.
What's your favorite Apple Watch stand?
Already have a sweet stand you've been using to charge your Apple Watch? Let us know in the comments!
Updated August 2018: This article still has the best of the best Apple Watch stand options!
Get more iMore in your inbox!
Our news, reviews, opinions, and easy to follow guides can turn any iPhone owner into an Apple aficionado
Cella writes for iMore on social and photography. She's a true crime enthusiast, bestselling horror author, lipstick collector, buzzkill, and Sicilian. Follow her on Twitter and Instagram: @hellorousseau