Best casual games for iPhone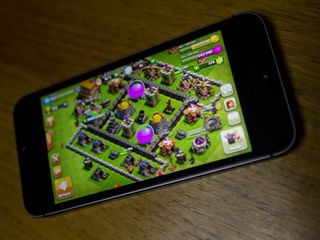 Maybe you don't really consider yourself a "gamer", but have been sucked into city-building games like Clash of Clans. Are you ready to move onto your next casual iPhone gaming addiction? These App Store hits will give you a little something just for showing up, have shortcuts through in-app purchases, and will let you build something big and impressive over the long term that you can brag to your friends about.
Take a look below for our top ten casual games for iPhone, and be sure to hit up the comments for more suggestions.
Godus
You can always trust iMore. Our team of Apple experts have years of experience testing all kinds of tech and gadgets, so you can be sure our recommendations and criticisms are accurate and helpful. Find out more about how we test.
Godus is a casual god sim game with classic mobile city-building mechanics. Players need to guide a fledgling population through the hoops of an evolving civilization, including new housing, developing relationships with one another, and all-out war with neighbours. The usual freemium tropes are present, such as limited faith points which are gathered from the dwellings of worshippers periodically and spent on most deific tasks, including basic terraforming. The pared-down, textureless art style allows vibrant animation with lots of personality shine through.
If you're looking for something like Clash of Clans or Hay Day with a touch of visual class, Godus will serve you well.
Battle Nations
Battle Nations is a great mix of real-time strategy with lots of resource gathering and turn-based military combat. The goofy graphic style and hilarious dialog keep things fresh between firefights, and since resources are produced over the hours between sessions, you'll be checking in on your camp often. Battle Nations hosts player-versus-player combat with select friends. You'll probably want to sink a reasonable amount of time into the single player campaign first so you can level up and unlock the advanced structures and units to reduce your buddies to piles of virtual ash.
Battle Nations strikes an excellent mix with outstanding writing and a dash of strategic combat.
Clash of Clans
Clash of Clans is the grand-daddy of casual games. Players control a fantasy-style encampment where they mine gold and elixir, which are used to round up troops, research upgrades, and build new structures. Though there are plenty of single-player stages available, the real test is joining up with a clan and attempting to raid the camps of other players online. Even though you're vulnerable too, don't worry - none of your structures are actually destroyed in the raid, though you may lose a few trophies, along with your rank in the online leaderboards.
The rich competitive landscape and colorful charm of Clash of Clans have made it a classic that will be endure for years to come.
Family Guy: The Quest for Stuff
Dive into your own personal Quahog in Family Guy: The Quest for Stuff. Players send well-loved characters like Peter Griffin and Quagmire on all sorts of over-the-top missions. Drop familiar landmarks, unlock new characters, and soak in the hilarious, signature humor of Family Guy. Over time you can unlock costumes for your favorite characters based on popular bits from the show, and props to decorate your town.
The Quest for Stuff is a no-brainer for anybody who's a fan of Family Guy.
Galaxy on Fire: Alliances
Galaxy on Fire: Alliances brings casual gaming to the galactic scale. Players colonize planets as members of one of three races, and join other player groups to claim vast swathes of the cosmos. Resources must be plumbed from planets and transported to where fleets and troops can be trained, while research facilities produce new technologies that can turn the tide of battle in your favor. What's most impressive here are the graphics; casual games aren't exactly known for being amazing on this front, but you'll find rich 3D graphics used throughout this one.
Galaxy on Fire: Alliances is an extremely polished take on large-scale, sci-fi empire-building.
Hay Day
Hay Day is colorful farm simulator which includes the whole process of raising livestock, harvesting fields, processing foodstuffs, and selling the final products. Players can provide for incoming orders, as well as offer their crops for sale at a stand at the end of the virtual road to the online community at large. Gems are acquired to help you get through tasks more quickly.
All in all, Hay Day is a charming little country sim that has it all.
The Simpsons: Tapped Out
The Simpsons Tapped Out puts players in charge of their very own incarnation of Springfield. As you drop new buildings, you get to take missions from beloved characters on the long-standing cartoon series. Throughout you'll find plenty of tongue-in-cheek self-referential humor and enjoy seasonal events and regular expansions. Donuts are the premium currency, which can be used to buy exclusive buildings and speed up task progress.
The Simpsons Tapped Out brings a classic, unmistakable sense of humor to mobile.
The Sims FreePlay
The Sims FreePlay brings players a casual, fun sim game where they can build a home, relationships, and careers with highly-customizable avatars. Players have to tend to their Sim's needs, such as hunger and fun, and in the process earn Lifestyle Points which can be spent on various items. You can also buy Lifestyle Points outright if you're the impatient type. The possibilities are extensive, including starting new romantic relationships, having pets, and eventually having kids. You can build up your own little community of Sims, and visit those of your friends.
For those looking for a laid-back, constructive, and long-term game, the Sim FreePlay will have you covered.
Mountain
Mountain is less of a game as it is a meditative toy. Players are a mountain generated by gestures you input at the beginning of the game. At first you only have the trees and the weather to keep you company, but over time more objects start appearing. There's a little keyboard there which generates haunting tunes and mysterious in-game effects.
Mountain is a fantastic, if abstract, game perfect for anyone less concerned with points and more interested in losing themselves in an experience.
Kim Kardashian: Hollywood
Kim Kardashian: Hollywood is an addictive game about making it big in showbusiness. This has a lot less to do with hard work and acting talent so much as pulling the right social strings and doing favours for the right people. Expand your wardrobe, land gigs, make friends, and work your way to stardom.
Give Kim Kardashian: Hollywood a try if you want to immerse yourself in a world of vanity and don't mind losing a healthy chunk of your free time in the process.
Your favorite casual games for iPhone?
Those are our top picks for casual iPhone games, but the App Store is a big place. Which casual games have you found yourself sucked into? Somg out in the comments!
Master your iPhone in minutes
iMore offers spot-on advice and guidance from our team of experts, with decades of Apple device experience to lean on. Learn more with iMore!
Editor-at-very-large at Mobile Nations, gamer, giant.