The best iOS games: Collectible Card Game edition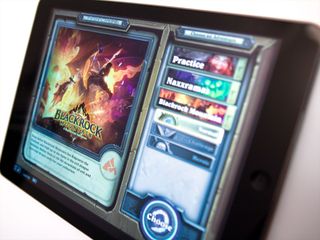 An iOS device feels like the perfect fit for a collectible card game: An iPhone is about the size of a card, and an iPad screen is big enough to display a series of dealt hands. Plus, who wouldn't want to give up on the hassle of accumulating real-life paper? Finding good collectible card games among a sea of iOS games on offer can be quite the daunting task, especially given how many CCGs turn out to be boring, unrelenting cash-ins rather than innovative games that revolve around complex strategic concepts. Here's a roundup of the greats.
1. Hearthstone
Why you can trust iMore Our expert reviewers spend hours testing and comparing products and services so you can choose the best for you. Find out more about how we test.
It should come as no surprise to any CCG fan that this new Blizzard favorite appears here; this digital card game has crept into the hearts of CCG fans everywhere, especially those who have a familiarity and affinity with its Warcraft aesthetic. The game has also been lauded for its careful implementation of multiplayer interaction; there are only a few phrases on offer that you can direct towards your opponents, and none of them are salty.
2. Calculords
Calculords is no ordinary CCG. There's a card-collecting element central to the game, of course, but you'll also need to use mathematical tactics to beat the game's bosses. The multiplayer component of Calculords has been "coming soon" for a while now; until then, the campaign can help you level up your math powers.
3. Fantasy Rivals
This follow-up to Urban Rivals (opens in new tab) (not to be confused with Square Enix's Heavenstrike Rivals, yet another CCG) features an army-building strategic component its predecessor lacked. Other than that, it's a similar game with a more fantastical skin laid on top of it.
4. Card City Knights
Like Calculords, Card City Knights lacks a multiplayer component, but this iOS title has no known plans to include the option. The game is more of an adventure RPG with collectible card game mechanics mixed-in: The in-game universe features a lot of folks who are super-into a fictional card game, and predictably enough, you'll have to compete with them all in order to gain traction in this virtual world.
5. Elemental Kingdoms
This is a more traditional CCG along the lines of Magic: The character designs and aesthetic aren't exactly innovative, but the deep strategic thinking required to win this game may still surprise you. Read our review for a more in-depth dive into this game's depths.
Your favorites?
Do you play any other collectible card games on iOS that you believe deserve to be on this list? Or do you just stick with Magic: The Gathering?
Contributor emeritus at iMore, currently writing about games, movies, and podcasts at The Mary Sue. Former assistant Games Editor at Paste Magazine. Host of Isometric. Keytarist/singer for the Robot Knights. Follow her on Twitter @samusclone
Shadow Era is still the king!

Other than HS they all look like shit Sent from the iMore App

Cards and castles. Sent from the iMore App
Thank you for signing up to iMore. You will receive a verification email shortly.
There was a problem. Please refresh the page and try again.