Best Kids Games for iPhone and iPad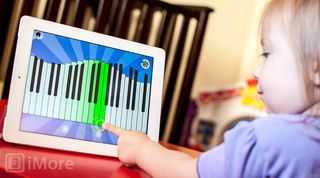 iMore's authoritative guide to the very best, absolutely free iPad apps for kids
Looking for great free kids apps for your iPad? The App Store is home to over half a million apps and games, and a surprising number of them are available for free. Some of the most popular free apps are free apps for kids. We're talking videos, interactive books, games, music and more!
PBS KIDS Video
Why you can trust iMore Our expert reviewers spend hours testing and comparing products and services so you can choose the best for you. Find out more about how we test.
The free PBS KIDS Video app brings all your child's favorite shows right to your iPad. Curious George, The Cat in the Hat Knows a Lot About That, Dinosaur Train, SUPER WHY!, Sesame Street and Wild Kratts and are all here and ready to entertain and educate.
Squiggles!
Squiggles! is a very fun interactive drawing iPad app for kids. Each drawing page asks the child to add squiggles to the picture to make cars drive, give nests to birds, create cotton candy, add water for fish to swim in, etc. When the child is done adding their squiggles and other additions to the picture, they press "GO" to watch it come to life. It's very fun and actually amazing that this app is free.
Toy Story Read-Along
What kid doesn't love Toy Story? The free Toy Story Read-Along app for iPad provides a fully interactive reading experience of Toy Story. It includes games, movie clips, coloring pages, sing-along tunes, and surprises on every page. You can choose to have the story read aloud, or to have to child explore at his/her own pace.
Magic Piano
Magic Piano is a great music app for children and adults alike. It's bound to provide entertainment to your child whether s/he is just a few months old or a teenager. The younger ones will love the musical response they get from touching the screen and the older ones will enjoy playing familiar songs. Everyone is a piano player with Magic Piano!
Block Builder 3D Free
Block Builder 3D is a free app that lets kids have the joy of building and then destroying structures made from blocks -- without causing a mess in your house! Block Builder 3D is freeform play, so there are no points or levels to complete -- just your child's imagination.
More free iPad apps
For dozens of additional free iPad apps, including free instant messenger and communications apps, education apps, entertainment apps, finance apps, fun and games apps, health and fitness apps, music apps, navigation and location apps, news apps, photography apps, productivity apps, reading apps, shopping apps, sports apps, travel apps, and general utility apps, see here:
Get the best of iMore in in your inbox, every day!
Former app and photography editor at iMore, Leanna has since moved on to other endeavors. Mother, wife, mathamagician, even though she no longer writes for iMore you can still follow her on Twitter @llofte.
PBS link didn't work for me.

Great stuff. I feel really well armed for the God babies. Thanks.

Farmer Joey is a fun learning app for kids where they can interact and learn about animals, and travel with farmer Joey around the world to learn more.
More than 60+ animal sounds and a lot of surprise sounds.

The PBS link worked for me. Thanks for the info, Leanna.

I wonder if the PBS KIDS app only works in the U.S. for broadcasting rights reasons. I am in Canada and the app does not show up even in a search of the App Store.

I like Alphabet Game Deluxe. It's good for the classroom. Interactive but not too gamey. Some games take up too much time. There is a good balance that can happen for ed apps. Just thoughts from a teacher who needs to utilize class time to the max.

Mickey Mouse Clubhouse Road Rally appisode!!
awesome

Hello Folks !
I hope I will be in the list in the future ;) http://itunes.apple.com/us/app/armand-le-serpent-gourmand-!/id536604006?...
Kisses !
Jack

My son loves playing Toy Store Delivery Truck on iPhone or iPad! - http://itunes.apple.com/us/app/toy-store-delivery-truck-free/id544375350...

I think, kids will more love the iPad with this http://www.eva-product.com/Super-Foam-iPad-Case-for-Kids-303.html

Here's the new app "Jazzy World Tour". Teach your child music from all over the world.
It's free version.
https://itunes.apple.com/us/app/jazzy-world-tour-free-musical/id57490952...

Chibi Pet Soy by waremobile
https://appsto.re/us/cbdmJ.i It's really cute and reminds me of tamagotchi. Feed them bathe them and watch them evolve there is a free and paid version. Chibi is very sweet and even though it's rea unisex, I think there is another version that poops and burps so boys may like it better

I would like to recommend two great coloring books for kids:
https://www.imore.com/e?link=https2F2Flinks%2F1...
and
https://www.imore.com/e?link=https2F2Flinks%2F1...
both by goodsofttech. The best coloring books which I've ever seen

My kids are loving Woozzle. It helps your child polish their brains and make it sharper! https://itunes.apple.com/app/free-toddler-puzzle-woozzle/id514617947?mt=...

My recommendation for new app: https://itunes.apple.com/us/app/123-kids-fun-music-box-lite/id984429689?...

I do like this Coloring book for kids, I'm 5 years old and love to color! https://www.imore.com/e?link=https2F2Flinks%2F1...

I like the little ladybird app for coloring. I really enjoy coloring
Thank you for signing up to iMore. You will receive a verification email shortly.
There was a problem. Please refresh the page and try again.