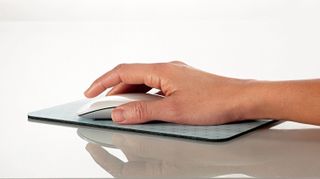 (Image credit: 3M)
The well-loved Magic Mouse 2 is one of the best accessories around, but it benefits from a mouse pad. The best mouse pads will save your desk from scratches, enhance the life of your mouse, and maybe even support your wrist in an ergonomically friendly fashion. Cost is important too, of course, which is one reason we've chosen the Aothia leather desk pad as our top pick. We love the ample surface area of this desk blotter/mouse pad combo, and the price is just right. If you're looking for a new mouse pad, read on. Here's our guide to the best mouse pads out this year.
Best overall: Aothia leather desk pad
Why you can trust iMore Our expert reviewers spend hours testing and comparing products and services so you can choose the best for you. Find out more about how we test.
The best mouse pad on our list comes from Aothia. Large in size, it blankets your entire desktop like a blotter while giving you a supersized mouse-friendly surface. The whole pad offers excellent mouse tracking, so you'll never have to worry about the confines of a smaller pad or finding the perfect spot to place your mouse pad.
We give high marks to Aothia for making an eco-friendly pad that looks and feels good. There are three sizes available, making it easy to find the ideal fit for your standing desk, lap desk, or office desk. Cork suede material on the back prevents this mouse pad from slipping, and the faux leather top-facing side is waterproof and easy to clean.
Our only grumble is that Aothia advertises this mouse pad as leather when, in reality, it's PU leather. Beyond that, we love the friction level of this pad, the size, and the affordable price.
Aothia leather desk pad
So much space
Reasons to buy
+
Large tracking area
+
Desk blotter + mouse pad
+
Inexpensive
+
Waterproof
+
Non-slip design
Aothia's desk pad protects the surface of your desk while giving you a large surface area for your mouse.
Best wrist support: Amazon Basics gel computer mouse pad
When you need a mouse pad that can do it all, this model from Amazon is the one you want. Whether you're surfing the web, working in a complicated spreadsheet, gaming, or editing photos, this ergonomic mouse pad will help you get the job done. This pad's unique elongated shape matches how you naturally move your mouse, so you'll never have to reposition your hand or the mouse. Brilliant!
There's a soft gel-filled cushion that sits beneath the base of your hand to relieve pressure, prevent fatigue, and fully support your hand and wrist. A smooth covering enables any type of mouse to glide effortlessly in all directions, and a grippy non-skid base latches onto desk surfaces to keep this pad in place. One word of caution: you'll want to air out this pad before use.
Amazon Basics gel computer mouse pad
Wrist support to spare
Reasons to buy
+
Excellent wrist support
+
Non-slip rubber back
+
Inexpensive
+
Smooth tracking for any mouse
Reasons to avoid
-
Needs to be aired out before use
Your mouse will glide over this pad, and you'll love the ergonomically-designed wrist support.
Best value: 3M Precise - Mouse Pad
The 3M Precise checks all the crucial boxes for a mouse pad: it's affordable, has a low profile design, and it stays put on your desk, never sliding around all willy-nilly. Explicitly made for wireless and optical mice, this 9x8-inch pad is perfect for your office and can also slip into a laptop sleeve pocket for travel.
The specialized color of this mouse pad draws less current than other models, which can extend the life of your wireless mouse battery by up to 50 percent. Add to that a non-skid backing that can be repositioned without hassle, a foam core that cushions your wrist, and a smooth surface that will never cause your mouse to skip, and you can see why this ranks as one of our favorites. Like all mouse pads, this one needs to be cleaned regularly to track properly.
3M Precise - Mouse Pad
Precision for pocket change
Reasons to buy
+
Battery saving design
+
Can't beat the price
+
Easy to clean
+
Non-skid backing
Reasons to avoid
-
Needs to be cleaned regularly to track accurately
It's an inexpensive mouse pad that tracks accurately, stays wherever you put it, and looks good on any desktop.
Best for gaming: CORSAIR MM800 Polaris RGB
We dig the low-friction micro-textured surface of the CORSAIR MM800! You'll get the best of both worlds with this model. The slick surface gives you fast and smooth scrolling, while the added micro-texture offers precise control right down to the pixel. The bottom of this mouse pad is non-slip rubber, and it's good at staying right where you put it.
The MM800 has a USB pass-through to keep you from drowning in cables, and the power cord on this unit is thick and braided, so it'll hold up to all the action. There are 15 zones of RGB LEDs around this pad that look oh-so-cool, plus they're customizable. The MM800 is a little larger than most pads, so you'll never have to worry about reaching the edge and having to backtrack with your mouse. My only complaint: there's a little hump in the back-center for the USB port. It sticks up enough that it snags wired mouse cables once in a while when you move side-to-side. If you can work with that, this pad tracks well and is an excellent addition to your gaming setup.
CORSAIR MM800 Polaris RGB
Perfect balance of precision, speed, and color
Reasons to buy
+
Non-slip backing
+
15 zones of RGB LEDs
+
Precise tracking
+
USB pass-through
+
Spacious
Reasons to avoid
-
USB hub can get in the way
This is the champion of gaming pads. You'll get precise scrolling, a wide surface, a USB hub, and RGB LEDs.
Best small mouse pad: BOSOBO round mandala mouse mat
When desktop space is hard to spare, you want this round mouse pad from BOSOBO. It has a non-slip rubber base that grips firmly to any surface, and its small size makes it portable and useable on everything from your full-size standing desk to some of the best desks for kids.
The stitched edges on the BOSOBO prevent fraying, while the heat-resistant polyester fabric top surface allows for fast, accurate mouse movement. And the Mandela design is over-the-top cool! This is a tiny, thin mouse pad, so it won't be ideal for everyone. If you're on the hunt for a small mat for your mouse, throw this in your cart now.
BOSOBO round mandala mouse mat
Thin is in
Reasons to buy
+
Cool design
+
Bendable and portable
+
Stitched edges
+
Sticks firm to desks
If you have a small desk or travel with your gear, the BOSOBO mouse pad is the one for you.
Best for taking notes: Knock Knock 5 Days a Week - Mouse Pad
Those who like to get things done will love the 5 Days a Week mouse pad from Knock Knock. In addition to being a functional mouse pad, you can use the 60 sheets of paper that make up the pad to track your week, keep a to-do list, plan for the future, and brainstorm.
The smooth paper on this mouse pad makes an excellent surface for scrolling for traditional wheel mice and optical mice. The pages never curl and are fast-drying, not to mark up the bottom of your mouse with ink. This mouse pad can be purchased in four styles, allowing you to keep a variety of different information under your fingertips at all times. This is on the pricey side, and it's not spill-friendly. Aside from that, this is a unique offering that helps keep us productive.
Knock Knock 5 Days a Week - Mouse Pad
The mouse pad you can write on
Reasons to buy
+
A convenient way to stay organized
+
Pages never curl
+
Smooth mouse scrolling
Reasons to avoid
-
A little pricey for 60 sheets of paper
-
Not spill-friendly
A paper pad for those who like to take notes, keep a schedule, and have a mouse pad.
Bottom line
The best ergonomic mice give you a smooth scrolling, comfortable experience, and mouse pads should do the same. There's no substitute for quality. Today's best mouse pad is the Aothia leather desk pad, which costs less than a cup of fancy coffee and will give you years of trouble-free scrolling.
Aothia's mouse pad is a combo desk blotter and mouse pad in one. There's lots of room for your mouse to travel, which means you can focus on the task at hand rather than worrying about your mouse running out of space.
Despite the name, this offering from Aothia is not genuine leather. Instead, it's an eco-friendly PU leather that's easy to clean and gives your desk a waterproof surface. Available in three sizes, this model works for all desk styles. If you want the best mouse pad out today, scoop this one up now.
Get the best of iMore in your inbox, every day!
Jodi Owan works behind a keyboard and a camera. She's a freelance writer for iMore, Android Central, and Windows Central.