Best Video Game Ornaments and Decorations for the Holidays 2020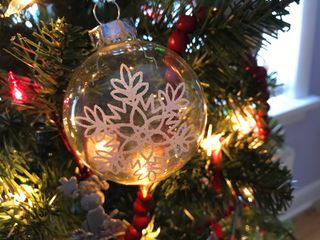 (Image credit: iMore)
The holidays are fast approaching, and that means lots of tinsel, the smell of pine, plenty of festive decorations, and gifts galore. For gamers, there are probably plenty of great Nintendo Switch games and accessories waiting for you under the tree, but what about the decorations on top? If you're looking for ornaments and decorations that are more aligned with your taste, we've got you covered. Here are the best video game ornaments and decorations for the holidays.
Joust Hallmark Ornament With Light and Sound
A retro classic reborn

Joust was an arcade machine where you jousted other players while riding a futuristic ostrich — talk about retro! Featuring authentic sound effects and a light-up cabinet, this arcade cabinet is sure to put a smile on the face of older gamers.
Nintendo Entertainment System Hallmark Ornament With Sound and Light
A lot smaller than I remember

The Nintendo Entertainment System is arguably the most important system ever made. It made videogames popular again and spawned tons of franchises, including Super Mario, The Legend of Zelda, and Metroid. It even lights up and plays music and sounds from the Super Mario Bros. game. This ornament has become hard to find, but it'll be a great addition to your ornament collection if you're able to get one.
Fortnite Loot Llama Hallmark Ornament
Get some goodies

Fortnite is the massively popular battle royale game that seems to be getting more and more popular with every update and wild crossover event. It's always a good thing to come across one of these in the wild, so why wouldn't you want to stock up with a few to hang on your Christmas tree? Just don't try to break it open — the presents are under the tree!
8-Bit Donkey Kong Hallmark Ornament
No monkey business

Donkey Kong hasn't always been the fun-loving, tie-wearing ape he is today. Once upon a time, he was a barrel tossing enemy of Mario! This ornament captures the ape in his 8-bit glory, as he appeared in the original Donkey Kong arcade.
Mini 8-Bit Mario Hallmark Ornament
Looking great at 35

The plucky plumber, Mario, has been around almost since the dawn of videogames and shows no signs of slowing down at all. This ornament recreates Mario as he appeared in the classic NES game, Super Mario Bros.
(opens in new tab)
Personalized Among Us Ornament
Holiday cheer? Seems sus

Among Us may have originally released in 2018, but it somehow became one of the most popular games of 2020. These traditional ornaments can be customized to accuse your loved ones of being sus properly.
(opens in new tab)
Minecraft Zombie Hallmark Ornament
Shuffling for the holidays

Players will quickly recognize the Minecraft Zombie, the common, undead villain who wanders at night. They may be spooky enemies in-game, but they make great ornaments in real life. Their green, rotting skin really compliments the green of the tree.
(opens in new tab)
Animal Crossing K.K. Slider Snow Globe Ornament
As cool as a guitar playing dog

Animal Crossing returned to the masses this year with Animal Crossing: New Horizons, capturing the hearts of old and new fans alike. Keep spreading the good feels this holiday season with an Animal Crossing with this cute K.K. Slider Snow Globe.
(opens in new tab)
Final Fantasy VII RPG Battle Menu Ornament
Turn based nostalgia

I love a subtle videogame reference, especially when someone picks up on it. If you prefer to keep your videogame references on the subtle end, check out this Final Fantasy VII RPG Battle Menu Ornament. Fans of the classic RPG will instantly recognize it on your tree and maybe even initiate a random battle!
(opens in new tab)
A golden power

Wisdom. Courage. Egg Nog. All of these elements make a pretty great holiday celebration, no matter what holiday you celebrate. This Zelda ornament is the perfect addition to any Zelda fan's holiday decoration.
(opens in new tab)
ATARI Video Game Vintage Cartridge
A vintage throwback

Videogames are so flashy and sophisticated now; it's almost hard to believe they were once just a simple, novelty electronic. Parents might recognize these vintage box art ornaments from their younger gaming days. Choose from one of many classic Atari games, like Space Invaders, Pitfall!, and Pac-Man.
(opens in new tab)
Pikachu Hallmark Ornament
I choose you, duh

Pokemon seems to stand the test of time, as its popularity has hardly waned since it hit the scene in the late 90s. One of the most popular creatures, Pikachu, is available as an ornament — and who doesn't love the adorable electric mouse?
Santa will definitely be impressed
Why you can trust iMore Our expert reviewers spend hours testing and comparing products and services so you can choose the best for you. Find out more about how we test.
These are the best video game ornaments and decorations for the holidays. Any one of these ornaments should fill your holiday with glee, but we recommend the Joust Hallmark Ornament With Light and Sound. It's a great retro throwback to the days of the arcade, complete with authentic sounds and lights. The level of detail is also really impressive. This is an ornament you'll want to show off.
If you can find one, we also recommend the Nintendo Entertainment System Hallmark Ornament With Sound and Light. It's a Nintendo classic, perfectly recreated as an ornament. It even comes with Super Mario Bros. If you're still in the mood for an 8-Bit Nintendo throwback, you can always grab the 8-Bit Donkey Kong Hallmark Ornament.
Get the best of iMore in in your inbox, every day!
Zackery Cuevas is a writer for Windows Central, Android Central, and iMore. He likes playing video games, talking about video games, writing about video games, and most importantly, complaining about video games. If you're cool, you can follow me on Twitter @Zackzackzackery.
Thank you for signing up to iMore. You will receive a verification email shortly.
There was a problem. Please refresh the page and try again.