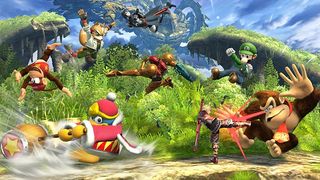 (Image credit: Nintendo)
Wii U might not be the newest console on the block, but it still has plenty of great games that are worth checking out. From classics like Mario games to fun platforming adventures, or exploring the entire world of Hyrule, there are plenty of different options that you can check out. Out of everything available the absolute most fun you can have is with Super Smash Brothers, With dozens of characters, easy to pick up mechanics, and excellent gameplay mechanics it's tons of fun.
Best Overall: Super Smash Bros
You can always trust iMore. Our team of Apple experts have years of experience testing all kinds of tech and gadgets, so you can be sure our recommendations and criticisms are accurate and helpful. Find out more about how we test.
Super Smash Bros has always been a game predicated around having tons of different video game characters smash each other to pieces. A better with friends experience is as much about button mashing chaos as it is about strategizing the best time to unleash a special attack. Super Smash Bros is a game that is tons of fun whether you are competing against friends or playing all by yourself.
Controls in Super Smash Bros are simple to make gameplay easy to pick up for anyone who wants to play. The control stick lets you move around platforms, while buttons allow you to launch a variety of different attacks. There are 49 different characters which can be unlocked and played. Each one has their own play style and special moves that can be triggered, which means there is a character out there for everyone.
Unlike many other fighting and free for all games, Super Smash Bros doesn't throw health bars into the mix. Instead, it uses a percentile which appears above your character on the map. As this number grows higher, the more likely you are to get knocked off-screen, and KO'd from the match. There are also a variety of different modes to play through. Some of them are built for co-op and others are more fun if you're the only human player. They give you options that will help you to learn how different characters work and enjoy tons of different features.
Super Smash Bros is a game built to be played over and over again. With dozens of characters, new modes of play and plenty of different maps to play on, it's some of the most fun you can have on Wii U. It's got plenty to unlock, and best of all, easy to pick up and play by yourself, or with friends.
Super Smash Bros
Smash each other to bits
Reasons to buy
+
Up to 8 player brawls
+
Fun gameplay mechanics
+
49 different characters to play
Reasons to avoid
-
Gameplay can be chaotic with more than four players
Face off against friends in battles to the death using your favorite video game characters!
Best Value: Rayman Legends
Running through crazy levels, jumping past obstacles, and punching your way through ridiculous enemies is half the fun of platform games. Rayman Legends takes this to heart and delivers tons of levels, extra skins for the multiple characters, bonus challenges to find and unlock, and plenty more. This even includes defeating larger than life enemies, stealth tactics, and a soundtrack that will have you bouncing along to all of the madness it has to offer.
When playing you only need to use a few buttons, and it's an easy game to pick up even if you don't usually play many platformers. That's awesome because Rayman Legends supports up to four players gaming at the same time, although fair warning things do tend to get a bit chaotic that way.
Rayman Legends
Rescue your friends
Reasons to buy
+
Fun gameplay mechanics
+
Tons of levels and challenges to complete
+
Great graphics
Reasons to avoid
-
No real story
-
Only about 12 hours of gameplay
Run, jump and punch your way through dozens of levels in this delightful platforming gem.
Best Racing: Mario Kart 8
Mario Kart has long been one of Nintendo's most popular games. After all, who doesn't love racing as your favorite Mario characters? Especially while dodging obstacles, running the gambit on fun tracks and knocking your friends out of first place with a blue shell. Mario Kart 8 on Wii U has taken everything that made the franchise fun, to begin with, and fine-tunes it for a new generation.
Mario Kart 8 offers up 30 different characters to choose from, which gives you a fair number of options without really going overboard. As you play, you'll be able to customize your karts, wheels, and gliders, giving you more control than ever over how your kart controls while racing. New antigravity tweaks add a layer of strategy to some courses, while others rely only on your kart racing skills. Multiple is as excellent as ever, with up to 4-players supported locally and 12-players online. There are also several different modes of play, and most of them are tons of fun, although battle mode ends up lacking any real personality.
Mario Kart 8
Hug the curves
Reasons to buy
+
New powerups reinvigorate gameplay
+
Great gameplay mechanics
+
Awesome graphics
Reasons to avoid
-
Online racing lacks key features like chat or invites
-
Battle mode is lackluster
Zoom through new tracks, check out awesome characters and race your way to #1.
Best Action: Bayonetta 2
Hack and slash games just got more fun with the followup to the popular Bayonetta, with Bayonetta 2 on Wii U. This game takes place just a few months after the first installment. Bayonetta is Christmas shopping when angels attack the city. While she can handle this with the help of her friend Jeanne, a summoning goes wrong, and all hell starts to break loose.
Bayonetta 2 is a free-flowing combat game. This means that the best part of gameplay is the combat and that other aspects, like the actual story, don't always measure up. Everything moves at a gorgeous 60fps and doesn't dip while making combat more fluid than ever before. There are a variety of different weapons that you can unlock and each one has its own style when used. You'll need to master those different weapons too since there are a variety of different enemies to defeat and no two fight or react in the same way. When you manage to pull off a long string of attacks as a combo, you'll trigger witch time. A slow-motion bonus that can let you demolish enemies before they have the opportunity to stop you.
Bayonetta 2
Fight your way through heaven and hell
Reasons to buy
+
Fantastic graphics
+
Awesome gameplay mechanics
+
Fun 10-hour campaign
Reasons to avoid
-
Game can be quite difficult at times
-
Gameplay becomes chaotic during tense moments
Fight your way past angels and demons in this free-flowing hack and slash adventure.
Best Platformer: Super Mario 3D World
When Mario, Luigi, Peach, and Toad find a tilted glass pipe, they are shocked to find something inside. A Sprixie emerges to ask for their help since Bowser has been kidnapping all of the Sprixie princesses and sealing them away in jars. Before the friends can do anything Bowser appears, kidnaps her and escapes through the glass pipe. To save the Sprixies and their kingdom Mario and his friends follow him, kicking off the zany adventure of Super Mario 3D World.
The first thing you'll notice when playing this game is just how pretty it is. A lot of thought has gone into the graphics, and they bring the world of the Sprixie Kingdom to life as you play through it. Little details are strewn through each level, and they elevate the gameplay making it an excellent experience. There's some great variety in the types of levels you encounter, with areas that will make you think of the circus, or have you running across a speeding train. This game also isn't a single-player affair. Up to four people can play at once turning Super Mario 3D World into a competitive game where you and your friends try to beat each other out to get crowned the winner of each level you complete.
Super Mario 3D World
Mario returns
Reasons to buy
+
Awesome graphics
+
Excellent level design
+
Fun in single-player or multiplayer
Reasons to avoid
-
Earlier worlds lack a real challenge for veterans
Save the Sprixie princesses from Bowser as you run, jump and explore the Sprixie kingdom in this excellent Mario platformer. ink
Best Open World: Legend of Zelda: Breath of the Wild
At the end of a 100-year sleep, Link wakes up to a Hyrule he does not recognize. Gone wild, he finds out that calamity it rising in the world, and he is the only one who can save the world. Breath of the Wild gives you an incredible open world to explore, and survive, and it's filled to the brim with puzzles and locations and enemies. Instead of giving you a solid track to follow, this Zelda game lets you decide the route you take to save Hyrule. As you explore this beautiful open world, you'll find different ecologies, items, and biomes waiting for you.
Legend of Zelda: Breath of the Wild is equal parts an open-world adventure, and a survival game with puzzles scattered everywhere. As you play, you'll find a variety of different weapons, but you'll need to keep an eye on them because they will break down as they get used. The world you're playing through is organic and alive. It means that you can use the environment to help you destroy enemies and complete puzzles. Even the weather will make a difference in gameplay, especially if you don't prepare for storms or severe weather patterns. There is also a full crafting system built around food. It delivers a cool way to increase your stats and use the different ingredients you'll find while questing.
Legend of Zelda: Breath of the Wild
Hyrule is waiting
Reasons to buy
+
Gigantic open world to explore
+
Great gameplay mechanics
+
Gorgeous graphics and character design
Reasons to avoid
-
Size of the world can be overwhelming
Explore Hyrule like never before you as climb mountains, cook up recipes, solve puzzles and survive a wild world.
Bottom line
Wii U has an excellent catalog of games just waiting for you to check them out. From fun platformers to an epic open-world waiting for you to explore its depths, there is a game out there for everyone. While each game on our list offers up a different experience, the absolute best is definitely Super Smash Bros.
This game is fun whether you're playing by yourself or trying to knock your friends off the platform. With great graphics, 49 different characters to unlock, new stages and brawls that support up to 8 players online, this is a game that's easy to pick up and enjoy. It's also a game that is easy for non-gamers to take a stab at, which means you might be able to get the whole family in on the fun.
Get more iMore in your inbox!
Our news, reviews, opinions, and easy to follow guides can turn any iPhone owner into an Apple aficionado
Jen Karner is a VR Specialist with a taste for all of the weird things. She's usually found playing the latest time-waster on her phone or tablet, when she's not wrecking aliens on her PlayStation VR.