Best word games for iPhone and iPad 2022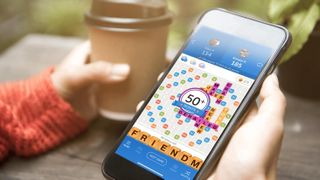 (Image credit: Zynga)
Whether you're an anagram master, a spelling sensation, or a grammar wizard, you'll find something to pique your curiosity in these iOS games that reward those gifted at language arts. Not only are the best word games for iPhone and iPad fun, but they'll also help you improve your vocabulary and can keep your memory sharp by giving your brain a good workout.
Knotwords
You really can't talk about word games these days without referencing Wordle, the game that caught everyone's attention and was eventually acquired by the New York Times. The problem is, Wordle only offers one word puzzle per day, which can feel limiting for those who crave more.
In answer to that, Zach Gage, best known for creating several mobile games like SpellTower and TypeShift, has created Knotwords. This word game puts a spin on the classic word search by including Wordle and sudoku elements to each line. You can play on iPhone or iPad for free. Plus, there are multiple puzzles to solve, making it one of the best iOS games out there.
(opens in new tab)
Figure out which words fit into each line taking the hints from each line into consideration.
Alphabear 2
This sequel to the hit 2015 game launched in 2018 with improvements, including a storyline, new backgrounds, and props. Pick letters from a puzzle grid and use them to spell words. Bears appear when you utilize adjacent letters and grow to fill the space based on the number of letters you incorporate.
You'll also solve puzzles to collect more than 100 bears of varying rarity. Beyond just looking cute, they'll provide you with bonuses in future games such as letting you rack up more points, altering the game board, or giving you more time to play.
If you get really hooked, developer Spry Fox offers a VIP subscription for $5 a month that provides you with free coins that can let you get new bears and coffee that can be used to level your bears up. Members also get discounts on replaying weekly tournaments so they can earn more rewards.
(opens in new tab)
Cleverly combine letters to collect more than 100 bears to give you powerups in future levels. Show off your skills in weekly tournaments to compete for rewards.
Words With Friends 2
One of the most popular iPhone games got even better in 2017 with the release of a sequel that gives players access to a host of puzzles and games they can use to show off their skills and build their vocabulary. Use Smart Match to find opponents or face off against your friends and family by unscrambling words and finding the highest scoring ones you can put on a Scrabble-style board.
You'll want to keep coming back to the game to complete daily challenges and weekly goals to unlock collectible rewards. The themes change every six weeks, so there's always something to do. You'll be able to show off your achievements and see how your friends are faring as you play through the book-themed map.
Want to improve your own skills? You can try solo challenges against a host of characters that level up over time. If you prefer some fast-paced competition, opt for Lighting Duels, where you'll race your opponent to see who can rack up points quickest by placing words on three rotating boards.
(opens in new tab)
Compete against friends or test your skills solo in the new version of the classic word game. Check in regularly to complete challenges and earn rewards and bragging rights.
Scrabble Go
Play the classic board game on the go with your Facebook friends, family, and favorite past opponents. You can play the traditional crossword game socially with chat emojis while showing off your style by collecting different tile sets. You can also sharpen your skills by competing against an AI designed to match your level.
The game also boasts several other play modes. Play five turns on a timer in Duels mode to win prizes or test your skills unscrambling anagrams in Tumbler mode, where you'll earn points based on how many words you can find. You can also play off your own words, trying to set up combos on a small board in Rush mode.
While the game is free, dedicated players might want to pick up a Scrabble Club subscription, which gives you an ad-free version and unlimited access to boosts. You'll also get extra chances to compete in the arena and special rewards for completing weekly challenges.
(opens in new tab)
Take the classic board game wherever you go, competing against friends and family by racking up high-scoring words. You can also try various other game mores to practice your skills and test your quick thinking powers.
Wordscapes
See how many words you can form with a set group of four to seven letters to fill up a crossword grid, earning extra points for bonus words you might find. The chill game features more than 6,000 puzzles set on lovely backgrounds, including fields of wildflowers and fall leaves. There's no timer or direct competition so that you can play at your own pace.
Puzzles become more challenging the more you play, pushing you to expand your vocabulary. You can scramble the anagram letters whenever you want just for a bit of fresh perspective, and you can also use boosts to get hints if you're stuck on a level.
Sign in daily for special challenges where you have to try to solve the words in the order they appear on the board. You can also join a team to compete together in tournaments. Rise to the top of local and worldwide leaderboards, or see how you stack up against your friends.
(opens in new tab)
Compete at your own pace by unscrambling letters to fill out a crossword board. Keep your mind sharp with daily challenges, but don't be afraid to use a hint if you get stuck.
Four Letters
Race against the clock as you try to take four letters and use them to spell a word as quickly as you can to maximize the number of points you earn. The longer you last in a round, the harder the challenge will become. You'll earn achievements from completing challenges based on the duration of your games and how many words you can come up with.
There are multiple possible combinations for every sequence of four letters, pushing you to get creative. A dictionary of thousands of words will show you which ones you've previously used and help you expand your vocabulary. You can track your scores across games and see how you stack up with friends via the leaderboards.
(opens in new tab)
Try to come up with a word using four letters as fast as you can. Expand your vocabulary and keep track of what you've learned with the in-game dictionary.
Wordn't you know it?
There are hundreds of word games on iOS. Unfortunately, many of them are shovelware implementing the same mechanics or blocking you behind a pay wall. The good news is, there are several quality games out there that you can really sink your teeth into.
If you're really into word puzzles and love sudoku then you can't go wrong with Zach Gage's new game, Knotwords. Take the clues shown on each line to figure out what letters need to be placed in each area. If you need assistance, you can request a hint in exchange for additional time added to your total.
If you're more of a social player then you can't go wrong with the classic game of Words with Friends 2. Face off against friends or random opponents online as you prove who has the best word mastery. There are also solo modes for when you want to compete against nothing but time.
Lastly, Alphabear 2 puts a new spin on the word puzzle genre by having you collect adorable bears while figuring out what letters to use. Use these bears to gain more points to give you other perks as you play through additional rounds.
Updated May 2022: With Knotwords as a new pick.
Gaming aficionado Rebecca Spear is iMore's dedicated gaming editor with a focus on Nintendo Switch and iOS gaming. You'll never catch her without her Switch or her iPad Air handy. If you've got a question about Pokémon, The Legend of Zelda, or just about any other Nintendo series check out her guides to help you out. Rebecca has written thousands of articles in the last six years including hundreds of extensive gaming guides, previews, and reviews for both Switch and Apple Arcade. She also loves checking out new gaming accessories like iPhone controllers and has her ear to the ground when it comes to covering the next big trend.
Capitals! Sent from the iMore App

How can Letterpress not be on this list?!?

I agree, Letterpress is pretty impressive, should probably be on the list!

The Apple Watch support of Words With Friends is horrible. If you tap on a WWF message in the message center of the Watch it reboots! And it never updates directly after you get a message. But WWF now supports lots of other languages! Finally.

I don't have an Apple watch so I've not experienced that bug but Words With Friends has generally had lots of really ropey updates, fixing 1 bug and creating 2 more. The latest one seems to be that they've introduced international dictionaries but certainly the British GB one is missing a lot of very basic words (I've got screenshots of it telling me that DO and BOX are not valid words!). It's still my favourite word game and I've clocked up over 2000 games played but the quality control is dreadful.

Love Bonza and now Bonza National Geographic

anyone playing Languinis? Could use a few more players

Normal use over the first 3 days the battery seems really good. Full charge at 8AM and 12 hours later still over 50%. I did't stream music off it or play games though so probably depends how you use it.

Spell Tower and Whirly Word will not disappoint!

yeah spell tower is pretty good! I played it a lot but I am now on "Study! Language Word Game" ... Super challenging but I like the pixel art

I think 7 Words should be added to this list.

my mother in-law recently got a new B M W j u s t by parttime work from a pc online. why not look here >>> +__+__+__+__+__+__+__+
WWW.NetPro8.C­O­M

ReWordz should be clearly in the list

and "Study! Language Word Game" !!! But maybe it s too new

Has anyone tried WordGems on IPhones/IPads? it's exciting new game.

"Word War W" is a great little word game with a funny name (think World War Z). It combines arcade elements with word spelling. It's fun and can get quite challenging. Besides it helps teach spelling and fast typing. It's available on the iPhone AppStore: https://itunes.apple.com/gb/app/word-war-w/id1018615320?mt=8&at=10l3Vy You can also try it out from your browser: http://arcade.gamesalad.com/games/133969

Word games have been around from many years and still they mark a great presence in today's technologically sound era, having array of gaming options. The App Store hosts countless of word games, but it's difficult to grab one, which absolutely stick out. However, to save your trouble of sorting, I narrowed a list and brought the best i.e. "Word Chums" https://itunes.apple.com/us/app/word-chums-free-fun-turn-based/id5178409... that will make you spelling sensation and an anagram master overnight. It will let you to the next level of standard word games, with great graphics and sounds. I hope you like my share!

Thanks Maddy Myers for his nice article. Well collecteut, You missed this one : Air Break that is a free, unique action jump game that has been designed to keep players hooked for long. Designed for iPhone, iPad and iPod touch, this jumper mobile game targets a large audience and comes with easy to follow instructions and engaging graphics. https://itunes.apple.com/in/app/air-break-jumping-games-which/id10233251...

I'd love for you to check out a word game I made called Grabble Words(www.grabblewords.com). It's inspired by a word game from the 19th century, believe it or not! It has multiplayer mode or you can play vs the 'Grabot'.

You may enjoy our app Wurd Torn, recently featured for best new word games on the US app store.
It's a simple and elegant word puzzle game and we are working on new features now.

Try Wordy Bee! Super addictive.. many levels, objective is to take more letter tiles than your opponent on a hexagonal board. Link here: https://itunes.apple.com/WebObjects/MZStore.woa/wa/viewSoftware?id=10453...

I think that word games are great entertainment. The problem is that so many are just electronic clones of other games like Scrabble (Words With Friends) or Boggle (Wordament) just to name a couple. But still, it is nice to have electronic versions of those games so that you can play on the go or against a friend.
What is missing is something truly original, yet familiar. To that end, I would say, look up a word game called LexiPlex:Spellbound available for IOS and Android mobile devices. That game is familiar (like a crossword or Scrabble or a letter Sudoku) but with an interesting twist that makes it different from both games.
When you play it, you will improve your spelling without even trying. You will learn things like, what is the only 4 letter words with a 'Q' in the 2nd letter, or what is the only 5-letter word that starts with "AO", or what 4-letter word is the only one starting with "A" and ending with "X".
Disclosure: I wrote that game and intend to provide word definitions in a future version. Try it. You won't be disappointed.

I agree! That is exactly why I bought "study! Language word game" it s like Tetris and scrabble, so it s not just like making words. There are a lot of grids with different designs and you actually can play in 5 languages to practice.. I play Japanese, super hard but quite entertaining

"Study! Language Word Game" is a new one.. Just got it about a month ago? It's haaard but I play in practice mode so I can take it easy if I want :P
It s kinda like Tetris and Scrabble mixed but in story mode (the hard one), it s like Mario or Candy Crush, lots of different stages and all different
I play in Japanese but sometimes English when my brain is fried.. You should check it out

I really enjoy playing Word Crush!
Get the best of iMore in in your inbox, every day!
Thank you for signing up to iMore. You will receive a verification email shortly.
There was a problem. Please refresh the page and try again.