Collect heroes to battle in Lord of the Rings: Legends of Middle-Earth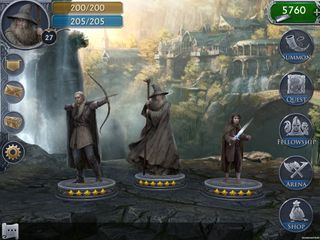 Console gamers everywhere have been enthralled with Shadow of Mordor, an action-heavy game based on the universe created by J.R.R. Tolkien. While we don't have a mobile version of Shadow of Mordor to play, Kabam and Warner Bros. Interactive released a Middle-Earth game of their own – Lord of the Rings: Legends of Middle Earth.
Legends of Middle Earth is a free to play character collecting strategy game in which players assemble a team composed of characters from the Lord of the Rings trilogy and do battle against teams sent by Sauron. While very light on strategy, the simple controls and hordes of characters to collect should appeal to fantasy fans looking for something simple but engaging to play.
Lord of the Rings: Legends of Middle Earth features include:
SUMMON LEGENDARY HEROES FROM THE LORD OF THE RINGS UNIVERSE
Recruit over 100 characters from The Lord of Rings Universe with special abilities in your quest to vanquish evil.
Amass the most powerful fellowship in Middle-earth by enhancing and evolving your favorite heroes from The Lord of the Rings trilogy.
EXPERIENCE THE WORLD OF THE LORD OF THE RINGS TRILOGY
Explore the 3D world of Eriador with other regions such as Rohan, Gondor, and Mordor coming in later expansion packs.
Control up to three teams of different heroes and wage epic battles against the forces of evil.
Are you ready to return to Middle-Earth for some quick and easy battles?
Get more iMore in your inbox!
Our news, reviews, opinions, and easy to follow guides can turn any iPhone owner into an Apple aficionado
Paul started writing about games in 2003 with his first strategy guide (Bomberman Land 2) for GameFAQs. He continued writing guides while earning his B.A. in Literature. When Windows Phone launched in late 2010, the Xbox integration lead our hero to jump on board the platform. He joined Windows Phone Central as Games Editor at the beginning of 2011, going on to review over 125 mobile Xbox titles over the years. He now leads Windows Central's Xbox One coverage, personally specializing in developer interviews, indie games, controllers and accessories, and Twitch broadcasts. Paul loves games on all platforms; he goes where the games are. Although very busy with console coverage, he sometimes contributes gaming articles to iMore and Android Central.