Comic: How to Make the Perfect Casual Game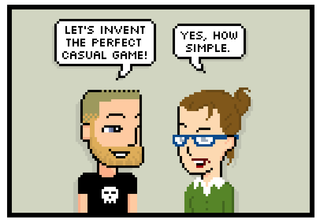 Happy Saturday, iMore! Because Rich is awesome, he's letting us run some of his Mac-themed comics from the Diesel Sweeties archive on weekends. Bonus comics, woo! We hope you enjoy.
Read more comics from the Pixel Project on iMore.com.
Get the best of iMore in your inbox, every day!
Pixel lover and cartoonist. Still have my original Apple IIgs. See more at clango.org or follow him on Twitter @rstevens.
Ha this makes me think of the Crestron programming my company does.
"We need to control an entire building's Automation, AV, access control & Surveillance, but it has to be as simple as one button ... How can we get it to also do *this*?"
"Add a button."