Doctor Who Legacy for iPhone and iPad warping in some new comic-based content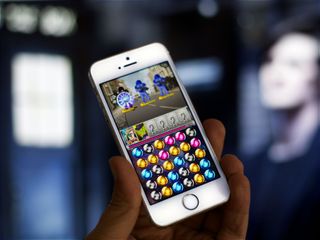 Doctor Who Legacy, the popular free puzzle game for iPhone and iPad based on the even more popular BBC sci-fi TV series, will be getting some new content very soon, thanks to the launch of the two new Doctor Who comic books from Titan Books. According to Comic Book Resources
Do you play Doctor Who Legacy and if so will you be going to your local comic book store next week to buy the Doctor Who comics so you can unlock the new companions?
Get more iMore in your inbox!
Our news, reviews, opinions, and easy to follow guides can turn any iPhone owner into an Apple aficionado
I have been writing professionally about technology and gaming news for 14 years.
I went to download the game to get the hero photo above and was immediately smacked in the face by this in the description: "making more money than Candy Crush". Who the hell cares how much money it makes? As a customer, I sure don't. I'd prefer to see "makes more people happy than Threes!" That way I know they're thinking of delighting me and not just how to separate me from my cash. I ended up being grateful for the warning. Launching the game was a terrible experience with dreadful visual design, an awkwardly embedded BBC trailer, and absolutely no sign anywhere that anyone cared about the human on the other end of the iPhone at all. Avoid this game like a Dalek on date night.

Update: The developers of the game suggest I'm taking things out of context and not giving Doctor Who: Legacy a fair assessment. The quote, they point out, was from a Guardian review referencing other games. The design of the first-run experience, they suggest doesn't matter, but that hours of gameplay, an engaged community, and their own analytics do — which to them means people love it. I can't argue any of that. There's undoubtedly a lot of gameplay, based on other reviews the IAP aren't onerous at all, and I'm sure there's an engaged community (though how much of that is based on the Doctor Who franchise vs. the game implementation is hard for me to tell). However, they chose the quote and I will strenuously argue that design matters, and absolutely matters even in the details like IAP warning buttons, clarity and legibility of text, motion in backgrounds, and more. When a designer sweats those details, when they polish them, that's how I know I have nothing else to worry about. Everything will have been given that level of care. So, in the interest of fairness, we'll give Doctor Who: Legacy a proper review, and in the meantime give it a try yourselves and let me know what you think. Am I concerned about the wrong things?

Update 2: I've moved my comments to the comments, so my name and face are on them and not John's. The developers have also let me know they've removed the above mentioned quote, which is really awesome.

Much obliged Rene and appreciate your decision to adjust and also to review the game. I really hope that you and your team love it as much as we do --- it's been a real labor of love and treat to create and publish this game with our partners at Seed Studio and with the constant support and enthusiasm of the team at BBC Worldwide and the show team in Cardiff. Regarding iAPs, we made the decision from the beginning to make a very different sort of mobile gaming experience. Lee and I have been making games for 15 years and come from the console world. We avoided making mobile games for quite some time because we ourselves hated so many aspects of free to play --- pay walls, energy meters, nagging your friends --- all of the pitfalls of f2p that we've all become used to and which has really given mobile gaming so frequently a bad name. We've tried to do many things differently -- perhaps sometimes to our detriment. We're a small company, we can't quote you our ARPU, we have yet to add any in game ads, we are as transparent as possible with our players. We even spend hours *every* thursday on twitch talking to hundreds/thousands of our players about what they want us to change, what they want next, etc. We're made mistakes, we make mistakes --- but everything Lee and I do is in the interest of a game which it has been a true privilege (as lifelong Whovians) to make.

I love this game. It is admittedly a bit awkward at times, and the menus could use some work. But as someone who has followed it since pre-launch and who plays it daily, I really enjoy it overall and look past those small flaws. The game has grown immensely, and they really do listen to the suggestions the players give, as you can see yourself Rene. ;) As someone who has also wasted a lot of money on IAP in several other games, I really appreciate that I can play this game as much as I want without being pressured to buy anything ever. Sure, you can buy things, and I have made a couple of small purchases, but I did that because I wanted to support the devs for the work, not because I was raging over not finishing a level.