Fantasy-filled gamebook that is Sorcery! 3 is now available on iOS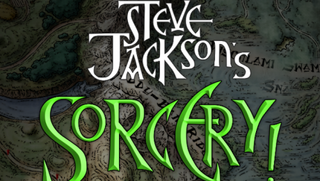 The latest instalment in Steve Jackson's Sorcery! series is here, with the game now adopting an open world adventure model. You play as an adventurer navigating the deserted wasteland of Kakhabad, which is guarded by seven fearsome serpents. The aim is to get to the Crown of Kings, with every step along the way littered with decisions — highlighted in a novel-style narrative gamebook — that will impact the outcome of the story.
Here's what you get with Sorcery! 3:
Explore everywhere - move freely through the world, any way you want, creating your own unique story
New time beacons allow you to alter the world dynamically - travel through the present, or into the past, or mix the two
Thousands of choices - all are remembered, and shape your adventure
Thirty new enemies, including seven deadly serpents, each with their own strategies - and weaknesses
Swindlestones is back! The game of bluff and deceit is back, with new, smarter, opponents
New spells to discover and new magic to master
Five Gods, all with different quirks and powers
Start your adventure here, or load your characters and choices from Part 2
New music from "80 Days" composer Laurence Chapman
Two new 3D hand-drawn maps to explore by Mike Schley
The Sorcery! series has garnered praise for its interactive storytelling, and if you're interested in checking out the previous chapters, you can get them here (opens in new tab) and here (opens in new tab). Sorcery! fans, what are your thoughts on the last game in the series?
The clumsiest man in tech.
Had this as a kid and it will be mine again today :-)
Get the best of iMore in in your inbox, every day!
Thank you for signing up to iMore. You will receive a verification email shortly.
There was a problem. Please refresh the page and try again.