Final Fantasy XI is coming to mobile next year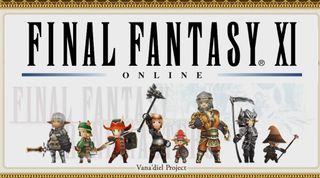 Role-playing game fans can find plenty of mobile Final Fantasy games on the market, with several more like Final Fantasy: Brave Exvius and Final Fantasy Legends: The Space-Time Crystal due out this year. On the whole, they range from re-releases of classics to mash ups of characters from various games to original titles bearing the Final Fantasy name. But there has never been a mobile Final Fantasy MMO in the vein of Final Fantasy XI and XIV… until now.
Final Fantasy publisher Square Enix and the Korean branch of Nexon Corporation (Maple Story) have announced plans to bring the first massively multiplayer online Final Fantasy — Final Fantasy XI — to mobile platforms in 2016. The mobile version will feature both single-player and online multiplayer gameplay.
Originally released on PC in 2002, Final Fantasy XI is Square-Enix's longest-running and most successful MMO to date. Nexon Korea plans to recapture that magic on smartphones and tablets while adding some improvements of its own:
Improved single-player functionality
Enhanced battle system
Easier party organization
New in-game events and features
New character art style
Seeing as how Final Fantasy XI Mobile is still a long way off, much about it remains up in the air. The chief question is how it will be monetized. Existing versions of the game charge players a $13 monthly fee. Subscription models don't tend to work well (or at all) on mobile. But will the mobile game be entirely free to play, or will it be premium with in-app purchases?
Hopefully we'll find out well before Final Fantasi XI Mobile launches next year. The game will be released in North America, Europe, Japan, Korea, and parts of Asia.
In other Final Fantasy XI news, Square Enix plans to release a three-part final scenario to the PC game this year. After that, only bug fixes and content balance updates will be released. Additionally, the Xbox 360 and PlayStation 2 versions of the game will stop being supported in March 2016. They've had a good run!
Paul started writing about games in 2003 with his first strategy guide (Bomberman Land 2) for GameFAQs. He continued writing guides while earning his B.A. in Literature. When Windows Phone launched in late 2010, the Xbox integration lead our hero to jump on board the platform. He joined Windows Phone Central as Games Editor at the beginning of 2011, going on to review over 125 mobile Xbox titles over the years. He now leads Windows Central's Xbox One coverage, personally specializing in developer interviews, indie games, controllers and accessories, and Twitch broadcasts. Paul loves games on all platforms; he goes where the games are. Although very busy with console coverage, he sometimes contributes gaming articles to iMore and Android Central.
Okay. I'm hyped for this. I love FFXI and mobile MMO's have been alright. Sent from the iMore App

Dear Square Enix, thanks for such a "special treat". We are all tempted to play this great game! - 0,1% of the Internet People - ...god damn it. Just release FF VII - IX !!! I'll gladly stuff my money down your throat...

God how I hate Square Enix. Either re-release VII on PS4, etc. or make it mobile. Or VIII, X and XII. Easily the best choices. Sent from the iMore App

This is being developed by Nexon Korea, not Square Enix.

Ohhh okay, my apologies. Still don't like Square Enix though :-p Sent from the iMore App
Get the best of iMore in in your inbox, every day!
Thank you for signing up to iMore. You will receive a verification email shortly.
There was a problem. Please refresh the page and try again.