Ghostbusters World: Top tips and tricks to bust more ghosts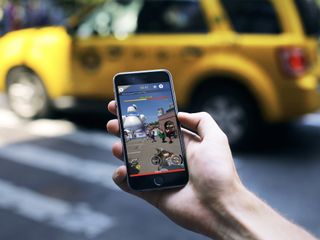 Ghostbusters World is a new AR game designed to cash in on the insane popularity of Pokemon Go and the love we all have for the Ghostbusters franchise. Drawing from all the movies except the latest, the comic books and even the cartoons, Ghostbusters World has a huge amount of lore to draw from. We have a comprehensive review that can give you more details but suffice to say we like it and you will probably will too.
But we are here to help you push the game and offer some tips to make the game more enjoyable for you. As we get further into the game and learn more of its secrets we will update this article to give you the very best tips and tricks we can.
Walking is for suckers
It is important to remember from the start, this is not Pokemon Go. There is nothing in Ghostbusters World that tracks the number of steps you walk or distance traveled. This game is based in the real-world yes but all it needs is for you to get from point A to point B.
So drive. If you need to travel to get to the next dimensional portal or to reach the Raid then you can. In fact, the game will change your avatar from your Ghostbuster to the ECTO-1 as you move at speed on the game. Of course, it stands to reason that you shouldn't play the game while you are driving but as a passenger, you can watch the Ecto-1 drive the roads as you wait to arrive at the next missions.
Bad Mamma Slammer
The further you go along in the game the harder the ghosts are to catch using the Proton Pack and the traps. Of course, you can use research to upgrade your pack, that will make it stronger, but the ghosts become far harder to hold in place while you are trying to trap them.
Learning to use the slam function early will make a lot of difference to your success at later levels. By holding the ghost in your stream for a few seconds before launching the trap, or just after you will see the word "SLAM" appear on the screen. By tapping that before the time runs out you smash the ghost onto the ground causing it to become dazed and stay still for a few seconds. Just long enough to trap the spooky little blighter without it running away or around the screen.
Use your arsenal
There is a temptation when playing Ghostbusters World to just use the Proton Pack for everything, after all, it's iconic, and it is the only way to actually pull the ghosts into the traps but it isn't the only weapon you have. Very early on you get given a shotgun style weapon that is immensely helpful in reducing a ghosts strength down before catching it.
You need to be careful with it as it is easy to destroy weaker ghosts by accident, just one or two shots is enough to melt a ghosts health enough to switch over to your Proton Pack and finish the job. More than that and you will most likely disintegrate the ghost, which can be helpful sometimes when you just want the XP and not the actual ghost.
Teamwork makes the dream work
Having a single player story mode in Ghostbusters is amazing. It opens up the game in ways the other AR games lack. While you still have to walk around catch ghosts, you can use those ghosts as a team to move through missions.
By learning the leader skill of your assorted ghostly gangs you can maximize there attacking power while minimizing incoming damage. It's also worth making sure you have a good mix of damage dealers and healers or you will lose fairly easily. At the beginning the possessed toaster is a great healer but as you get further along look for healers that heal all the party at the same time.
Also, remember to level up your team level not just your individual ghosts abilities as well as using ghosts with the right elemental damage. If you are fighting ice ghosts, use fire. Ghostbusters World has put a lot of effort into making your ghost team a huge part of the game so treat them right and you should reap huge rewards in the daily haunts and Gozers Tower.
Don't count out countering
Countering is one of those abilities that you overlook at lower levels when the ghosts can't really hurt you but it gets really important later on. If you miss a counter you can take some serious damage and will lose the fight if it happens too many times.
Timing is everything when it comes to countering. Tap that button as quick as you can to pull off a great counter which will increase your damage output by a large percentage. when fighting normal or hard ghosts any extra damage you can put on them is going to help a lot, so spend some time mastering the art of the counter-tap.
Automagically fight the easy teams
Fighting low-level teams in the story mode can become monotonous but there is hope in the form of auto-fight. By switching on auto-fight on some of the easier battles you can kill the tedium and use your enormous busting skills on opponents worthy of you.
You need to level up your ghost team to really take advantage of the auto-fight system though. At level 3 your team will beat the living ectoplasm out of an easy fight, but below that, there is a percentage chance of you losing so keep those team levels high if you want to let your ghosts fight without you.
Give us your tips and tricks
So here are just a few tricks to get you started on the road to top-level ghost hunting. I'm sure we will add more as we get better at the game but in the meantime tell us your tips and tricks for faster leveling and easier combat. It might just make it on the list!
Master your iPhone in minutes
iMore offers spot-on advice and guidance from our team of experts, with decades of Apple device experience to lean on. Learn more with iMore!
James is a lover of all things new and shiny. From 3D printing to Nintendo he stays current with all the technology that will lead us into the future.