Giveaway: iMore Picks of the Week for January 14, 2012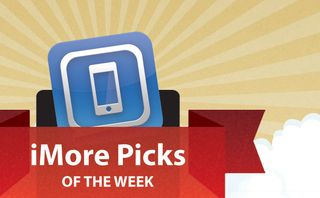 Every week a few of us from team iMore will bring you our current favorite, most fun and useful App Store apps, WebApps, jailbreak apps, even the occasional accessory, web site, or desktop app if the mood strikes us. As long as they're iPhone, iPad, or iPod touch related, they're fair game.
To see what we picked, and to tell us your pick, follow on after the break!
Airplay" width="413" height="620" class="aligncenter size-medium wp-image-91562" />
I never found TOO much of a need for AirPlay at home (unless I was bored and wanted to play Angry Birds on a 50" TV). I've recently started doing iOS and other various types of workshops for PXLFIX and AirPlay has been great. Instead of just showing people slides (which we all know is beat your head into a desk boring) they can actually see "how" to do things. I have an AppleTV set up and I just mirror whatever I want to explain right to the TV from my iPad 2 or iPhone 4S. The best part is that they can follow along on their own devices.
I've gotten great feedback by doing this and plan on continuing to teach workshops this way as I find it a much more interactive way to teach. Before AirPlay, teaching certain topics took a lot of extra prep work if it was possible at all.
I think I can safely say that one of the most excellent things about iOS as a platform is the enormous availability of interesting software to try. I'm a self-avowed app nut, always trying a million things, studying different interface choices and observing design decisions, but keeping the best of the best on my phone. The AppShopper app is a great way to stay apprised of both new releases and sales on apps every day in the App Store.
Using data from the excellent AppShopper site, the app is a universal binary that has a nice clean interface and some cool ways to customize it for a more personal experience. The app is free, and for a buck you can remove ads. I'd recommend it heartily, both because it cleans up the screen and gives you a little more room to browse, and also because Arn is a great guy and you should totally support his efforts. In addition to that, a while back the site released a tool with which you can upload your app list from your computer directly to AppShopper, and then the site will keep track of updates to your own apps without you having to open up the App Store app a million times a day to check yourself. This is also really helpful if you have a notable update to an app that's not on your phone right now, so you can possibly give it another look and see what's changed.
Granted, you'll have to occasionally update the list on the site by re-running the app and re-uploading the app list to keep it current (as there's no way for the app to track your purchases in iTunes otherwise), but the whole process takes about 30 seconds in total, so it's not exactly a hardship. You can set up push notifications to alert you to sales or changes, create a wish list, and manage everything from a standard browser at home, syncing everything down to the app. If you're into apps as much as I think you might be, it's a nice addition to your devices that can snag you some great deals and keep you up on what's going on in the App Store.
Yup! I'm a sucker for meme apps but that's ok because they allow me to create such glorious images like the the one above of our fearless leader of Mobile Nations, Kevin Michaluk. For them, I use Meme Design. It's available free in the iTunes App Store and just in case you're not into making your own meme's directly, it also offers all your favorite ones as templates as well. Now you too, can share your memes across email, facebook and Twitter.
Uhh.. no one tell Kevin I posted this here.
I use location check-in apps for one thing and one thing only -- keeping a record of trips I've made. I don't care for the idea of people in general knowing where I am because privacy really does matter and anyone I want to meet knows where I'll be or knows how to find out. On a trip, however, whether it's a trade show like CES or conference like WWDC, I'm visiting a lot of places and need a quick and easy way to record them in case I'm ever there again and want to go back, or just want to quickly remember where I visited while I was away.
I used to use Gowalla for this, preferring their general look and take on the genre, but since Facebook will most likely suck their data dry and then dump them in a swamp, I've switched to Foursquare and it did the job well.
It's more utility for me than location-based check in gaming, and while that might make it less exciting it makes it far more useful.
Need to call customer service for something, but don't want to be put on hold for 10 minutes before actually speaking with a live person? I've been in that situation many of times, but not anymore. With FastCustomer, you can skip the wait and have the app call you when its reached a live representative.
They have over 2,000 companies in their database, it hasn't failed me yet when I've needed to call up customer service for whatever reason. Most customer service IVRs are long, annoying and not very fun. Never wait on hold or go through a lengthy customer service tree again -- just have FastCustomer give you a call once it has a live rep waiting for you!
Mugtuk Monsters - @llofte
By itself, this app of cute little interactive monster faces is just too adorable and make my daughter smile from ear to ear when they respond to her touch. But while at CES 2012, I had the chance to meet with Mugtuk and pick up one of their accessory cases that turn these monsters into actual stuffed animals! It's seriously one of the cutest things I've ever seen and I love how excited my daughter gets at every opportunity to play with it.
Calorie Counter & Diet Tracker by MyFitnessPal - Kristy_Lyn (Reader's Choice winner)
My pick of the week is MyFitnessPal. As a new years resolution to myself I decided to get healthy. A friend recommended myfitnesspal.com (opens in new tab), and so I searched the app store and - badda bing badda boom!
This app has all the essentials for starting out your new work out regime. I entered in my age, sex, height, weight, activity level, and goal of weight loss and it gave me a net calorie target range. Then you can add in your workouts and activity and easily customize the duration and calories burned.
For food intake, you can manually search food items that seem to be organized by users inputting their own food items which as resulted in a large data base. Upon further testing, I found the bar code scanner which makes adding eaten food as easy as a scan of a bar code.
The app graphs your workouts and food intake and shows you how much work you need to do to reach your goals. The best part is that it shows you on your daily totals exactly how much of everything you have consumed, for example, your daily total of calories, carbs, proteins, fats, sodium vitamins and so on. It shows you what you have over consumed or what you have left to consume.
Overall - a great app for my New Year's resolution!
Tell us your pick, enter to win a $10 iTunes gift certificate!
Those were our picks, iMore Nation, so now it's your turn! Tell us your pick of the week below. Give us the name of your favorite app, site, or accessory, and tell us why it made your life more productive, more informed, more entertaining, or just plain more fun. We'll pick one of you and send you a shiny $10 iTunes gift certificate so you can start stocking up for future picks! Contest starts now and ends next Friday, January 20 at 12pm PT.
So what are you waiting for? Jump into the comments and let us know your pick of the week!
Get more iMore in your inbox!
Our news, reviews, opinions, and easy to follow guides can turn any iPhone owner into an Apple aficionado
Former app and photography editor at iMore, Leanna has since moved on to other endeavors. Mother, wife, mathamagician, even though she no longer writes for iMore you can still follow her on Twitter @llofte.
Amadeus Pro - a multitrack audio editor in the Mac App Store. I have edited podcasts for years and had gotten unhappy with Garageband. Amadeus Pro edits all sorts of formats, supports both AU and VST plugins, and makes routine operations faster You can amplify a selection by selecting it and picking Amplify rather than drawing a curve (which is also possible) it has great noise reduction, it automatically joins sections after a delete, and (the best for me) you can press a key to hear what your edit will sound like before committing to it.

iStudiez Pro.
Gives a a way to easily track semesters, professors, assignments, exams, and even grades. iOS universal with a Mac companion app, all available for less than a $15 iTunes gift card (not hard for a college student to get around Christmas or a birthday), this app is essential to staying organized and completing assignments on time.

Its not a new app, but I have fallen in love with the Mint.com app! I got it just this week and already have used it quite a few times a day. I have a huge appreciation for it because it is beautifully designed, truly secure, and allows me to skip checking my bank account on my computer.

Pulse - any and every little bit about news, tid-bits, and ideas you need for free and all in one location with an excellent updated user interface. No longer needing to flip between multiple apps, getting paper cuts or sifting through confusion. Definitely the best app with the morning coffee and meal.

Percolator - I'm a photo app junkie. I actually have a page of folders on my iPhone full of them. When Percolator first came out I played a lot with it and it was great And then it got relegated to the back pages because it was slow and somewhat limited.
But - they have continued to improve it and after te latest update I went back to play.
It is still not speedy but much faster, and there are more effects and options.
So an old favorite has become a new favorite again.

My pick of the week is xfinity tv and waze.

My pick of the week is Tapatalk. I spend a lot of time on fourms and message boards. This app makes it do easy to check the latest threads. I love it. It's is my most used app. And it's the best $2.99 I have spent in the app store.

Mine is Meme Design, didnt know there was an app like this, thanks.

Guys change your icon/logo it doesn't fit with the iMore name...

ammar bawazir / يا اخواني هذه دعايه موجوده من زمان وهي للخلاط انه جبار ودائما يستعرض منتجات شركة ابل ليحبب شراء الخلاط 0 0

My app of the week is Calorie Counter. It's an amazing tool that keeps track of everything you eat. It has made me more aware of exactly how much I eat and has pushed me to start eating a little more healthy. Plus, it's free!

World Will Change... Foreverwww.musicwillchangeforever.com

My app is 2do. It's much more well-done than Apple's mediocre Reminders app. And it also still syncs with iCloud reminders. I love it!

these uedtaps will include integration of Siri for the iPad and iPhone for iOS 5. With only a couple days left, how many are ready to get all the iOS 5

Micoach app is great. For those who are starting a workout routing like running this the app to go. Just start by making your profile in the web page and sync with the iphone app. Micoach recommends you to do the assessment workout in order to personalized your zones of performance. Then you can schedule your running plans by a variarity of predesign workouts or customize your own. As the days of workout goes by and your performance increases the routines get harder, and from time to time doing a new assessment workout, the app keeps in track with your style.
The iphone app take the advantage of its GPS to record your pace/velocity and miles run, but if you use to do indoors workout and have that data you can log it in the app or you can buy the accesories to keep tracking witing the system, including a pacer, cell (like nike's) and even a heart rate monitor. Personally I don't own any of the accesories and I'm doing great with just the GPS.
The webpage have some improvements to do in my opinion like better Twitter and Facebook integration, better organized and more intuitive UI although is not that bad.

Tabletop - Amazing for music creation.

It's funny because mugtuk was one on Engadget's Crapgadgets of CES.
Anyway my pick is gonna have to be spotify...easy and clean to use with the small $10/month fee.

Directvr - love using it to control my direct tv and it shows me what's currently on my favorite channels.

I never drop a phone. Well never say never. I bought the iPhone 4s, and got the Otter defender case. It has improved covers over the ports, and I work outdoors. I have dropped the phone twice. The case is bulky, and may not be as good looking as others, but the phone was protested. The glass back would have broken on the second drop.

The phone was also protected. Siri help I cannot spell. Siri- sorry I cannot help you at this time, my head hurts from your spelling

Let me start by saying I love fdleey and cant wait to use it on my iPad. I saw that it was supposed to be released on 3/11. I only see the iPhone version in the app store. Can we get an updated date for the iPad since the originally stated date has passed?

The Sleep Cycle Alarm Clock is amazing. Wakes me up when I'm not in a deep sleep.

Real Racing 2 HD. I've never been so addicted to a racing game. I like how you can make the controls as "realistic" or easy as you want.

An app I've recently run across that I've been looking for for some time to make the productivity of the iPad more like my laptop is Side by Side. It allows for a split-screen environment on the iPad (can be split an number of different ways) in which each 'pane' can be a browser, text editor, or file. This is incredibly handy as I often want to have notes up while writing, or a web-page while writing, or be able to have a place to copy-paste into while browsing without switching apps.
Having switched from my laptop to an iPad, this was the single biggest obstacle still remaining... now mostly gone! The only thing remaining would be able to run ANY two apps alongside each other, but I imagine that will take Apple to pull off (I realize that would be a bit of a UI nightmare, but could often be handy, even if it required some scrolling to pull off).

Not a new app or anything, but I love my Ing banking app. It's a totally online bank so having an app that allows me to pay bills and shuffle money around is awesome.

I know its been a while It was released but still has to be Temple Run. I really don't get addicted to games but this got me. Its fun, you font have to pay for upgrades and it's definitely challenging.

I love the app from SHAZAAM & SOUNDHOUND. both apps allow me to find the name of th artist & song that I hear on the radio & retail stores. I can even buy these songs thorough rhein link to iTunes!

Vlingo is my all time favorite app - safereader, talk to search, much better than siri!

TETRIS. Couldn't stop playing this game.

I strongly recommend mint.com. It is one of the easiest ways I have found to keep track of finances. Their iOS app is fantastic and offers and easy way to check on all your various accounts.

I've gotten really addicted to TinyTower lately. Not sure it makes life better (less productive actually) but it sure is addicting!

I love Foursquare. I will be Mayor of everywhere.

TuneIn Radio! I've moved many times in my life and no longer live in my home town of San Francisco. I wish i could keep up with local sports and talk radio. So with TuneIn Radio i can hear SF radio and keep up with the. I'm listening to KNBR sports radio now and getting the local talk after the great 49er win. I can't get that on regular local sports radio. Not only that i can listen to bbc sports radio and keep up with my European soccer talk on 5live, i can listen to radio from cities like NY and Chicago. a great app.

Kakao Talk
best app ever created. if everyone had it, only need to save a number in your contact list. don't need to remember a girl's name or face because kakao will show you the next morning (usually)!

The Recipe Box is one of my favorite "hidden gem" finds. I had been looking for an app that I could easily transfer all of my old, greasy, hand-written index card recipes to, that didn't cost me an arm and a leg, require me to 'create an account' online, or force me to show my admiration for an unknown cook and their favorite recipes. The Recipe Box is it. And they have a great app developer, as the thing just keeps on getting better and better. You can easil search through all your entries by all sorts of means - a search field, a 'type' field, an ingredient field, etc. Plus, with the use of
Dropbox, I quickly copy and pasted all of my Text file recipes over to the app.
It does come with a couple of recipes to begin with, but not so many that cleaning them out is a task, and a few worth keeping to try out. Plus, as you cook your own recipes, you can easily add photos of the results to the app, resulting in a fully customized experience!
I could continue to gush on about this app, but it is definitely worth your time and the small expense. And if you have other kitchen-savvy friends, the app gives you an easy way to share with them as well!

sagt:Glaubt man auch noch aeerndn Geruchten, so werden im neuen iPhone 5 Solarzellen zum aufladen des Akkus unter dem Display integriert. Das ist sicherlich aber noch Zukunfts-Musik. Warum das neue iPhone 5 aber noch dunner werden soll, kann ich nicht nachvollziehen. Ein bisschen mochte man dann doch schon in der Hand halten konnen!