Giveaway: iMore Picks of the Week for January 21, 2012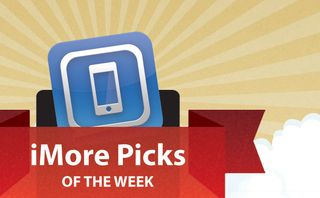 Every week a few of us from team iMore will bring you our current favorite, most fun and useful App Store apps, WebApps, jailbreak apps, even the occasional accessory, web site, or desktop app if the mood strikes us. As long as they're iPhone, iPad, or iPod touch related, they're fair game.
To see what we picked, and to tell us your pick, follow on after the break!
TripAdvisor Hotels Flights Restaurants – @chrisoldroyd
I have just booked our family holiday for the summer and decided to have a nose around the App Store to see if I could find any apps that could recommend places to visit and where to eat. Luckily I stumbled upon an app called TripAdvisor Hotels Flights Restaurants. The app covers all sorts or areas and does cover Pollenca Mallorca where we are heading.
You can look at hotels, restaurants and visitor attractions, read reviews and ratings left by other visitors to the area too. It is very comprehensive, has links to Google Maps for guidance and he ability to leave your own reviews too. The app has been recently updated and is now optimized for the iPhone, iPad and iPod touch and is completely free. If you are planning vacation, check it out, it gives you some local knowledge right in your pocket.
If you like graphic organizers, you'll love Idea Sketch. We love stuff like this in education, from K-12, but mind mapping is a concept that can be used in any profession.
If you're unfamiliar with the basic premise, you are literally mapping ideas. Drop your idea into a shape - round, square, oblong, diamond, and link it to other ideas. Expand your thoughts until you have filled in all those loose threads.
Idea Sketch allows you unlimited canvas space, so your ideas can't be constrained. You can pinch and zoom to see whatever you want, and you can change the colors to suit your whim. You can view in a list format as well as the "idea" format, and you can share it all via email or via Box.
This is a must for students and educators, and a great idea for anyone just trying to organize his thoughts.
Sonic 4 Episode 1 - @jorjLim
Ever since I was younger, I have been a huge fan of the Sonic franchise. I owned the 3 main games, Sonic 1, 2 and 3, on original megadrive cartridge (remember them?). When I learnt that Sonic 4 Episode 1 would be coming to iOS, I got really excited. I got so excited that I bought the game for its full £6.99 price at midnight the day it came out.
The one thing I could never achieve on the older games, was collecting all the Chaos Emeralds. Collecting all 7, would unlock Super Sonic, a invincible, faster, yellow version of Sonic.
So when I downloaded Sonic 4 Episode 1, my one goal was to unlock Super Sonic, for the first time, ever. After months of struggling, having to re-do each level to play the special stages over and over again. I finally collected the last Chaos Emeralds.
My 8 year old self would have been so proud of this moment, finally being able to play as Super Sonic that I unlocked myself, and to achieve this on a updated version of the game, made it ever better. I got to have the thrill of nostalgia, side by side with awesome modern 2.5D graphics, on my phone!
If you are a fan of the Sonic franchise, you should check out Sonic 4 Episode 1. Its packed full of homages, references and levels from the original games and really does bring back the franchise with a modern look.
My pick of the week is a new tower defense game called Jelly Defense. This is a fun, light hearted casual game to play. This game takes the traditional tower defense game and doesn't change the formula too much. It does add a bit of an ongoing story, includes towers that are only effective against enemies of the same color (so blue towers can't shoot against red enemies), and includes various aspects like needing to "learn" how to make new types of towers. Where it shines, however, is with the mix of background sounds/soundtrack, and the really nice, clean graphics. The stark color contrast (red and blue jelly towers and enemies, a grey background) really give the game some character, which is needed to stand out from all the other tower defense games out there. Best of all, this is a universal binary, so you can play it on any device you have!
I sometimes like to revisit apps that I haven't used in a while by browsing my purchased apps on my iPhone. One that I recently rediscovered is Birdhouse. Now the thing about Birdhouse is that it hasn't been updated in a long time. Like since the summer of 2010. But it runs fine on iOS 5 and does exactly what it's supposed to. Which is to act as a notepad for your tweets. You can log in with multiple accounts, save drafts of your potential tweets, publish directly from the app, and back everything up via email. It's not a Twitter client per se, as there's no timeline to view, but it's more of a partner to your favorite Twitter app. And yeah, lots of apps save drafts now, but the nice thing about Birdhouse is that sometimes you have an idea you want to capture quickly and don't feel like opening up your main app and loading it, and then getting sidetracked and eating up time. It's a single purpose app for a simpler time.
Delivery Status - @Bla1ze
Keeping track of packages for me is a big issue, not because I get a lot of them but because I live an apartment. For some reason, if I'm not watching my package delivery dates -- I tend to miss a lot of packages that are scheduled to be delivered. To help keep my eye on things and ensure I get my deliveries I make use of Delivery Status Touch by JuneCloud. It supports a wide array of services such as Amazon, USPS, UPS and more importantly for me -- Canada Post plus it includes Google Map integration. JuneCloud also offers a desktop solution for tracking so your iOS device is always in sync with your desktop and the cloud.
I'm always looking for new ways to make pictures and videos into something more than they are, and this week stumbled on an app called Kinotopic. This simple to use app turns 3-4 second videos into a kino, or cinemagraph. If you haven't heard of cinemagraph, it's a photo with a small repeated movement usually confined to one detail in the image.
All you need to do to make your own kino is shoot a quick video or pick one from your library, choose your anchor frame, then highlight the portion of the image you want to show movement. The app processes it and sends your created kino to you via email. You can share on Twitter, Facebook, and Tumblr as well as publish your finished creation to the public stream or mark it as private. All in all it's a fun app to use, and in my opinion worth the $1.99 price tag.
Big Lens - @reneritchie
Sometimes you just need to fake it to get it done. For all the multiple layers of glass, remarkable aperture, and overall image quality of the otherwise I-can't-believe-it's-a-phone camera on the iPhone 4S, it just can't give you the depth of field -- or bokeh if you're fancy -- of a fast 50 on a DSLR. Enter Big Lens, which attempts to do in post what Apple can't -- yet -- do in camera. Like most post-process depth of field utilities, it's a trick and there's no getting around it. Just look for the tell-tale halo around the non-blurred portions -- for example, around a webOS editor and his brief flirtation with a BlackBerry Playbook on a big-ass gold chain at CES 2012. But with automatic and manual modes, aperture, filter, lens, focus, and blur controls, Big Lens fakes it well. If you're ever in one of those awkward moments where you just have to fake it to get it done, give Big Lens a go. It might just get you to good enough.
iBooks Author - @llofte
iBooks Author is the iBooks creation tool that was announced at Apple's education event. I've done a little playing around with it and am really excited to start seriously using it. I'd be impressed if a simple book was easy to create, but so are books filled with animations and interactive material. I'm a college math instructor and hope to use iBooks Author to write short, supplementary books to offer to my students for free.
The Recipe Box - Jackie Wyan (Reader's Choice Winner)
The Recipe Box is one of my favorite "hidden gem" finds. I had been looking for an app that I could easily transfer all of my old, greasy, hand-written index card recipes to, that didn't cost me an arm and a leg, require me to 'create an account' online, or force me to show my admiration for an unknown cook and their favorite recipes. The Recipe Box is it. And they have a great app developer, as the thing just keeps on getting better and better. You can easil search through all your entries by all sorts of means – a search field, a 'type' field, an ingredient field, etc. Plus, with the use of Dropbox, I quickly copy and pasted all of my Text file recipes over to the app.
It does come with a couple of recipes to begin with, but not so many that cleaning them out is a task, and a few worth keeping to try out. Plus, as you cook your own recipes, you can easily add photos of the results to the app, resulting in a fully customized experience!
I could continue to gush on about this app, but it is definitely worth your time and the small expense. And if you have other kitchen-savvy friends, the app gives you an easy way to share with them as well!
Tell us your pick, enter to win a $10 iTunes gift certificate!
Those were our picks, iMore Nation, so now it's your turn! Tell us your pick of the week below. Give us the name of your favorite app, site, or accessory, and tell us why it made your life more productive, more informed, more entertaining, or just plain more fun. We'll pick one of you and send you a shiny $10 iTunes gift certificate so you can start stocking up for future picks! Contest starts now and ends next Friday, January 13 at 12pm PT.
So what are you waiting for? Jump into the comments and let us know your pick of the week!
Master your iPhone in minutes
iMore offers spot-on advice and guidance from our team of experts, with decades of Apple device experience to lean on. Learn more with iMore!
Former app and photography editor at iMore, Leanna has since moved on to other endeavors. Mother, wife, mathamagician, even though she no longer writes for iMore you can still follow her on Twitter @llofte.