iPhone 15 Pro delivers despair on the go, it can run Death Stranding natively
The iPhone 15 Pro can run this esteemed Hideo Kojima game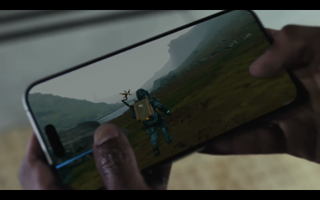 (Image credit: Apple)
iPHONE 15: What you need to know
- Apple Event - LIVE reaction
- iPhone 15
- iPhone 15 Pro /iPhone 15 Pro Max
- Apple Watch Series 9 / Ultra 2
- iOS 17
- watchOS 10

Death Stranding Director's Cut, a fifty-hour epic set in the wasteland remains of America, is coming to the iPhone 15 Pro later this year. In a rather unexpected turn of events, the iPhone 15 Pro has received a considerable gaming boost with its A17 Pro chip, giving it ray tracing capabilities.
At the Apple Event, Apple revealed that Assassin's Creed Mirage, The Division Resurgence, and Resident Evil 4 Remake will be playable natively on the phone. However, it wasn't announced until afterward that Death Stranding would also be arriving on Apple's new best iPhone later this year. This is a rather big announcement as the game is currently not even available on Nintendo Switch and it took years for it to arrive on Mac.
Ultimately, somewhat older games getting ported to the phone is a sign of gaming commitment for Apple. Putting out a new game on the phone is a big deal but also an expected one given so many eyes are on it. There's a whole advertising cycle planned for a game like Assassin's Creed Mirage that Apple will benefit from but, as Death Stranding is already out elsewhere, there won't be. This shows that the iPhone 15 Pro and iPhone 15 Pro Max can be a legitimate source to game with. It's not just a flash in the pan.
A game all about travel - iMore's Take
Death Stranding is a perfect game to play on the go. Protagonist Sam Bridges must cross America with nothing but his shoes, cargo containers, and the help of other strangers around the world. Designed with internet connectivity in mind, you will never interact with other players but you can use bridges, ladders, and items created by them.
It is fundamentally a game focused on commuting but also about desperation, isolation, and the help of strangers all around us. It's a game about the worst things in life but driven by the kind acts people make to deal with this. It's also aesthetically interesting and has a killer soundtrack. What makes this a brilliant choice for the iPhone 15 Pro is just how weird the game is. The story takes many interesting turns and it can get very dark. It's a bit of an alienating experience but also one many love.
We can't wait to get into that world once more later this year.
We're covering all the Apple iPhone 15 event news and reactions now that Wonderlust is over. Don't miss all our iPhone 15, iPhone 15 Pro, iPhone 15 Pro Max, Apple Watch Series 9, Apple Watch Ultra 2, iOS 17and watchOS 10 coverage so far.
Master your iPhone in minutes
iMore offers spot-on advice and guidance from our team of experts, with decades of Apple device experience to lean on. Learn more with iMore!
James is a staff writer and general Jack of all trades at iMore. With news, features, reviews, and guides under his belt, he has always liked Apple for its unique branding and distinctive style. Originally buying a Macbook for music and video production, he has since gone on to join the Apple ecosystem with as many devices as he can fit on his person.
With a degree in Law and Media and being a little too young to move onto the next step of his law career, James started writing from his bedroom about games, movies, tech, and anything else he could think of. Within months, this turned into a fully-fledged career as a freelance journalist. Before joining iMore, he was a staff writer at Gfinity and saw himself published at sites like TechRadar, NME, and Eurogamer.
As his extensive portfolio implies, James was predominantly a games journalist before joining iMore and brings with him a unique perspective on Apple itself. When not working, he is trying to catch up with the movies and albums of the year, as well as finally finishing the Yakuza series. If you like Midwest emo music or pretentious indie games that will make you cry, he'll talk your ear off.