Mario Kart is officially coming to smartphones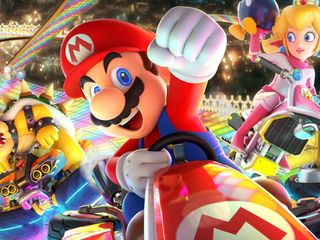 Although a lot of Nintendo's 2017 was focused on the Switch, the company also kicked out some rock-solid iPhone mobile games throughout the year – including Fire Emblem Heroes, Super Mario Run, and Animal Crossing: Pocket Camp. Following the success of these titles, Nintendo's confirmed that it's now working on Mario Kart Tour.
This marks the first time an official Mario Kart game will be available for smartphones, and as exciting as that is, there's a lot we still don't know.
The game will be released "in the fiscal year ending in March 2019", but that means we could see it drop as soon as this April or as late as 13 months from now. Gameplay will likely center around the same Mario Kart we know and love, but seeing as how it is a mobile game, don't be surprised if Nintendo adopts the free-to-play system with paid unlocks.
Furthermore, it'll be interesting to see what Mario Kart Tour does differently than Mario Kart 8 on the Switch. I get that a phone is more portable than Nintendo's latest console, but we're still talking about two (likely) similar games on handheld machines.
Since I know most of you are already excited about Mario Kart Tour, would you rather Nintendo stick to the traditional Mario Kart formula or try something new with the title?
Here's the first teaser trailer for 'Harry Potter: Hogwarts Mystery'
Get the best of iMore in in your inbox, every day!
When Joe isn't acting as the News Editor for Android Central, he can be found helping out with articles here and there at iMore. He was last spotted at Starbucks surrounded by peppermint mochas. Have a tip? Send an email to joe.maring@mobilenations.com!
Did I miss a meeting or something? Do all tech headlines have to contain the word "officially" now?

If it's anything that would be considered big news, then yes. Mario Kart on anything other than a Nintendo console is big news

I'm pretty sure I'll hate it, but hope I'm wrong. I doubt they'll use touch screen controls, and force motion controls. Motion controls are always garbage.

Mario Kart on the Wii had good motion controls, so it's possible. But for flexibility I hope they give the option between motion controls and touchscreen, and if you pick motion then you should be able to change the sensitivity

I'm hoping it will be a one-time purchase with minimal IAPs, as opposed to freemium filled with them, that might be optimistic but we'll see. Other than that, I'm really looking forward to it
Thank you for signing up to iMore. You will receive a verification email shortly.
There was a problem. Please refresh the page and try again.