Muggles and Wizards Rejoice: LEGO Harry Potter Coming Soon to iPhone and iPad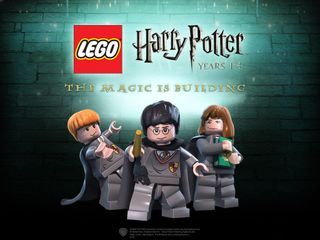 If you are a fan of anything Harry Potter then you should be happy to know that LEGO Harry Potter: Years 1-4 for iPhone and iPad will be hitting the App Store soon.
Unless you're a true Muggle, you already know this game will focus on Harry's first four years at Hogwarts and his struggle against you-know-who, but here are the details:
Are you excited to see not only a LEGO game but a LEGO Harry Potter game hit the App Store? Tell us if you will soon have a new addicting game that you will be practicing your magic on in the comments below!
Check out a few sneak peek screenshots after the break!
Get the best of iMore in your inbox, every day!
I want Star wars or Indian Jones. This is garbage.

I want it! Harry Potter FTW! :)

I want the gawdam Lego Batman! (or Star Wars)

Lego star wars batman or anything other than Harry potter please

Star Wars, please. And if I may be so bold, make it the original trilogy. Don't bother with that prequel stuff.

I wouldn't mind Batman. Anything other then this.

I just wish I had thought oh the idea of Legos. They make a fortune.

Harry Potter?? It's like I'm deliberately being pushed to cross over and use an android device.

I have the Lego Batman and wasn't impressed. It's nothing like the console Lego Batman. I hope the case isn't the same for this.

Anyone think it might be Harry Potter because of the new film?

I think it will be better than the Lego batman app because hp app is 300 and something mb whereas batman is only 90

Lego harry potter is fun bu casting spells with the touch screen makes it near impossible to match the tracing to conjure spells. Are they going to fix that soon?

I'm trying to buy it and have 5.18$ in my account but it won't let me download it...

LOVE IT!!!! I got it on my phone and I enjoy playing it. Even at the age of 19.

I am really inspired along with your writing skills and also with the layout for your blog. Is that this a paid subject matter or did you modify it your self? Either way keep up the excellent high quality writing, it is uncommon to look a great blog like this one today..