Nintendo has Animal Crossing and Fire Emblem lined up for smartphones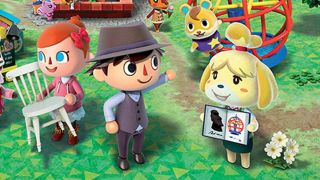 Nintendo has announced that two franchises will be brought to smartphones. Both Animal Crossing and Fire Emblem were revealed during the company's earnings call. The games follow Miitomo, Nintendo's first smartphone app, which launched on Android and iOS back in March.
Now that nearly everyone owns a smartphone or has access to one, Nintendo is looking to take advantage of the millions of potential purchases on respective app stores. The Wall Street Journal reports that both titles will hit smartphones sometime this Autumn.
I really like the look and feel of Miitomo but a social app it falls short. I'm looking forward to seeing a more standalone game from Nintendo. If course what I really want is one of the big franchise games with Mario in it. Sent from the iMore App

Both those games were great on the original platforms...

Oh god... Animal crossing is coming back to haunt me yet again.... Sent from the iMore App

I might actually play Animal Crossing on an iPhone. Sent from the iMore App
Thank you for signing up to iMore. You will receive a verification email shortly.
There was a problem. Please refresh the page and try again.