Nintendo's Miitomo is now rolling out in select markets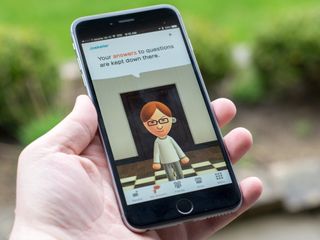 Miitomo is now rolling out in select markets, namely those in Europe as well as the U.S. While the process has kicked off, it may take the store sometime to propagate and make the app available for your device. It's a big deal though since this is Nintendo's first smartphone app. And note that we call it an app, because this is a messaging client utilizing Nintendo Mii characters.
It's an interesting take on the messaging category of apps. The app itself is available for free though there are in-app purchases for additional avatar customization. There's a bunch of neat little features so do give it a download and see what all the fuss is about.
Pretty awesome so far. Sent from the iMore App

Soooo need to do super mario land Sent from the iMore App

Okay, not really into social media stuff, but I do use a Wii for workouts, golf, games with the kids/grandkids. I thought this would be okay as it is in a format we are all familiar with, sort of. So I set up my Mii, got to the voice set-up screen and what? No audio! I have no audio at all. I checked all settings and I have audio in all other apps. Just not this one. Kind of a bummer since they have this elaborate voice set-up screen. I probably sound all squeaky and lame.

So far I really like it. At first I thought it would be a dumb app when announced but as a Nintendo fan I would say it's not a bad start. Sent from the iMore App
Thank you for signing up to iMore. You will receive a verification email shortly.
There was a problem. Please refresh the page and try again.