Skylanders Battlecast is set to be a Hearthstone alternative for your kids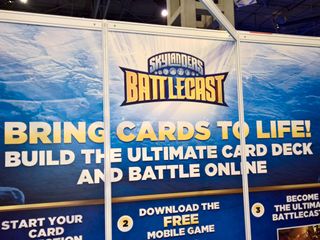 Blizzard's Hearthstone is a phenomenal success. As is Activision's Skylanders series. So what happens when you take both and mesh them together? You end up with Skylanders Battlecast. It's set in the Skylanders universe but has a whiff of the Hearthstone gameplay behind it. And your kids will probably love it.
Battlecast isn't a new announcement, it's been on the table for quite some time now and has even soft launched out in New Zealand. But it'll soon be breaking free and hitting the rest of the world and I got to check it out at the recent Insomnia Gaming Festival here in the UK.
The game will be free to download, but beyond that you'll be financially investing in playing. Where Skylanders is part of the ever more popular toys-to-life genre, Battlecast is billed as cards-to-life, in that you buy physical cards and then bring them to life in your mobile game.
The cards have begun to roll out with the Skylanders Superchargers packages, and as such you may already have a couple. Beyond being a thing to collect, you'll only interact with them once. Upon opening the game on your phone or tablet you'll be able to scan them in, get a little AR animation, then they're good to go. They'll be locked to your account so you won't need to scan them in again.
Activision told me that there's a unique identifier on the cards somewhere that means you can only use them once. No sharing around. I can't see anything that stands out, but then maybe that's the point.
From there on the gameplay will be pretty familiar to anyone who's ever dabbled with Heartstone. It's pretty easy to pick up and play, though as ever, mastery will require more perseverance. There are two players, each taking it in turns to draw cards, play them, attack the opponent. Simple.
Every turn you're given an allowance of what was described as crystals, but could also be something else in the final release. Essentially it's the amount of something you need to play certain cards. If you only have 3 but your card needs 5, you can't play it. Again, very Hearthstone like. As is elements of the user interface.
It'd be unfair to say this was ripping off Blizzard's mobile game though. Card games of this type can only do so much, and Activision also has to keep it simple. Adults will no doubt jump on Battlecast, but the target audience is kids. So it doesn't want to be too complex. There's plenty of visual flare, too, with large, colorful, animated characters on the screen doing battle. Just as you'd hope from a Skylanders game.
The cards themselves will be available in both starter and booster pack form. No-one would confirm how many you'll need to play the game decently, but I'm OK presuming that it'll be at least the contents of a starter pack. As with everything Skylanders there's a collecting element to it, though at least this time the cost of entry is a little lower.
As for release, all I was told is Spring, so any time in the next couple of months. If you're in New Zealand you can already download, play and buy cards. Battlecast will be available for iPhone and iPad as well as Android and Amazon Fire devices.
Get more iMore in your inbox!
Our news, reviews, opinions, and easy to follow guides can turn any iPhone owner into an Apple aficionado