Sony set to release PlayStation 4 3.50 update tomorrow with Remote Play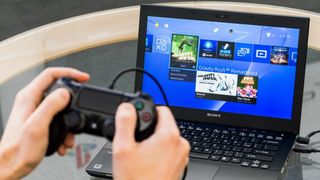 Sony plans to roll out software release 3.50 for the PlayStation 4 console tomorrow. This impending update will implement a bunch of new features, including the ability to play remotely on a PC or Mac.
As well as Remote Play, version 3.50 will also add the ability to appear offline, notifications when friends come online, user scheduled events, as well as making it easier to connect to and join friends in-game. For Remote Play, you'll need to be rocking either OS X 10.10 or later.
The default resolution is 540p, but you can bump it up to 720p if you so wish, while the default frame rate is set to 30fps, but can be raised to the silky smooth 60fps. More details on the update, as well as new features, can be found on the PlayStation blog.
sounds very cool. Probably useful when people travel.

with a PS4? Sent from the iMore App

If you can play remotely i'm assuming you don't need to bring your ps4. That would seem to be the point. Plus that seems a lot to bring.
Thank you for signing up to iMore. You will receive a verification email shortly.
There was a problem. Please refresh the page and try again.