Transformers: Battle Tactics brings Beast Wars characters into the fray in latest in-game event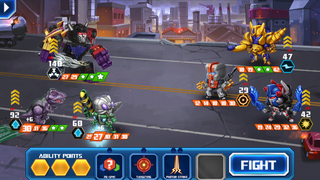 The in-game event, titled "Beast Wars: Episode 1," runs from today, April 9 through April 14. During the event, Transformers: Battle Tactics players will be able to collect and fight alongside the ferocious animal and dinosaur-inspired Maximals and Predacons from the Beast Wars TV series.
If you haven't had a chance to try Transformers: Battle Tactics, now would be a good time to jump in and check out the turn-based strategy game, especially if you were a fan of the Beast Wars series that aired in the late 90s.
I am getting an error with the link to the game that is posted at the bottom: "Http/1.1 Service Unavailable". Does this mean there is a problem with iTunes?

But is waspinator available?
Get the best of iMore in in your inbox, every day!
Thank you for signing up to iMore. You will receive a verification email shortly.
There was a problem. Please refresh the page and try again.