Why are my lock, keyboard, and camera sounds not working?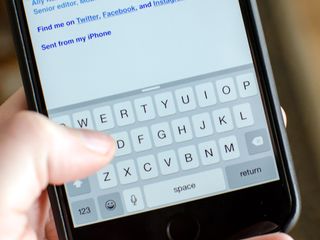 Ever typed on your keyboard and noticed you weren't hearing any keyboard clicks? Or taken a photo and didn't hear the shutter go off? Maybe you locked your iPhone or iPad and didn't hear the closing sound? That's a question we get frequently after iOS updates, and it's the question we're tackling today:
I've experienced this issue going back to iOS 7. The good news is, there are a few things you can try in order to get your lock, keyboard, and camera shutter sounds in working order again!
This how-to is part of our iOS Help feature, where every week I try and help you fix the problems you're having with your iPhones and iPads. If you have a question or need help with something iOS related that you just can't figure out, I encourage you to drop a question in our iMore forums, no registration required!
1. Toggle your vibrate switch on and off
Aside from making sure your iPhone or iPad isn't on vibrate — hey, it happens to all of us! — you should also make sure the switch is functioning properly before going any further. Toggle the switch a few times and make sure other kinds of sounds are coming through correctly. If they do, you can rule out a hardware issue with the switch itself.
2. Make sure keyboard clicks and lock sounds are enabled
The next step is to make sure these kinds of system sounds are enabled. You can't edit or change the camera shutter tone so if you're having issues with that as well, continue on to the next section after completing these steps:
Launch the Settings app on your iPhone or iPad.
Tap on Sounds.
Scroll all the way to the bottom and make sure both Lock Sounds and Keyboard Clicks are turned to On.
You can even toggle them off and on again just to make sure.
Reboot your iPhone or iPad.
If the sounds still aren't working after a reboot, continue on.
3. Check for an iOS update
If you haven't updated iOS in a while, be sure you check to make sure you're running the most current version of iOS. Most of the time updating will bring back keyboard sounds. If you lost them during a recent update, continue to the next section.
If you aren't sure how to update iOS, you can follow our guides:
4. Reset all settings
Resetting all settings won't result in actual data loss but it will reset all default settings for iOS itself. In other words, if you made little tweaks like turning on the battery percentage meter, or changed the orders of certain menus that are customizable, you'll have to redo all that. It's much less hassle, however, than a full restore.
Launch the Settings app on your iPhone or iPad.
Tap on General.
Tap on Reset, it's all the way at the bottom.
Tap on Reset All Settings.
Enter your passcode if prompted.
Confirm you'd like to reset all settings.
Wait for your iPhone or iPad to reboot.
After your iPhone reboots, your lock, keyboard, and camera shutter sounds should all be working properly again. If they're not, continue on.
5. Restore your iPhone or iPad
If your sounds still aren't working after trying everything above, a restore is your last is your last, best hope.
If you prefer to use iTunes, you can restore over USB as well.
What worked for you?
Hopefully your system sounds are now all functioning properly. If they are, let me know in the comments what step worked for you. And if they aren't, let me know that too. And as always, feel free to drop a question in our forums, which is another great way to get instant help with any problem you may be having!
Master your iPhone in minutes
iMore offers spot-on advice and guidance from our team of experts, with decades of Apple device experience to lean on. Learn more with iMore!
iMore senior editor from 2011 to 2015.