Why are my lock, keyboard, and camera sounds not working?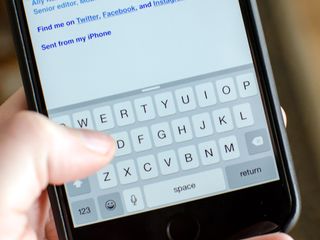 Ever typed on your keyboard and noticed you weren't hearing any keyboard clicks? Or taken a photo and didn't hear the shutter go off? Maybe you locked your iPhone or iPad and didn't hear the closing sound? That's a question we get frequently after iOS updates, and it's the question we're tackling today:
I've experienced this issue going back to iOS 7. The good news is, there are a few things you can try in order to get your lock, keyboard, and camera shutter sounds in working order again!
This how-to is part of our iOS Help feature, where every week I try and help you fix the problems you're having with your iPhones and iPads. If you have a question or need help with something iOS related that you just can't figure out, I encourage you to drop a question in our iMore forums, no registration required!
1. Toggle your vibrate switch on and off
Aside from making sure your iPhone or iPad isn't on vibrate — hey, it happens to all of us! — you should also make sure the switch is functioning properly before going any further. Toggle the switch a few times and make sure other kinds of sounds are coming through correctly. If they do, you can rule out a hardware issue with the switch itself.
2. Make sure keyboard clicks and lock sounds are enabled
The next step is to make sure these kinds of system sounds are enabled. You can't edit or change the camera shutter tone so if you're having issues with that as well, continue on to the next section after completing these steps:
Launch the Settings app on your iPhone or iPad.
Tap on Sounds.
Scroll all the way to the bottom and make sure both Lock Sounds and Keyboard Clicks are turned to On.
You can even toggle them off and on again just to make sure.
Reboot your iPhone or iPad.
If the sounds still aren't working after a reboot, continue on.
3. Check for an iOS update
If you haven't updated iOS in a while, be sure you check to make sure you're running the most current version of iOS. Most of the time updating will bring back keyboard sounds. If you lost them during a recent update, continue to the next section.
If you aren't sure how to update iOS, you can follow our guides:
4. Reset all settings
Resetting all settings won't result in actual data loss but it will reset all default settings for iOS itself. In other words, if you made little tweaks like turning on the battery percentage meter, or changed the orders of certain menus that are customizable, you'll have to redo all that. It's much less hassle, however, than a full restore.
Launch the Settings app on your iPhone or iPad.
Tap on General.
Tap on Reset, it's all the way at the bottom.
Tap on Reset All Settings.
Enter your passcode if prompted.
Confirm you'd like to reset all settings.
Wait for your iPhone or iPad to reboot.
After your iPhone reboots, your lock, keyboard, and camera shutter sounds should all be working properly again. If they're not, continue on.
5. Restore your iPhone or iPad
If your sounds still aren't working after trying everything above, a restore is your last is your last, best hope.
If you prefer to use iTunes, you can restore over USB as well.
What worked for you?
Hopefully your system sounds are now all functioning properly. If they are, let me know in the comments what step worked for you. And if they aren't, let me know that too. And as always, feel free to drop a question in our forums, which is another great way to get instant help with any problem you may be having!
Get the best of iMore in in your inbox, every day!
iMore senior editor from 2011 to 2015.
Try connecting a pair of headphones and then remove them. Sometimes the system still thinks they are plugged in.

I've had this happen since the 4S. My issue every time was the phone somehow thought it was docked. So I had to pop it in my stereo dock, switch the source as if it were about to play my phone, and then pulled the iPhone off. Fixed the problem. Also, a friend put his headphones in and then took them out to fix his. Hope this helps.

If these sounds are missing for you, don't rule out the possibility that someone grabbed your phone and turned the sounds off because cut it out.

I have a camera shutter sound bug that I encounter all the time on my iPhone 6 but not my iPhone 5. The FIRST picture I take after launching the camera (doesn't matter if it's from the lock screen or home screen) has no shutter click almost 100% of the time. After that the shutter clicks are fine. If I close the camera and then immediately relaunch the sounds are all there. If I come back to the camera after some extended time the FIRST picture I take again has no shutter click sounds. Nothing has yet to remedy this bug and I have yet to encounter it on my iPhone 5.

I Agree with you! Its happening me also.

This happened to me recently and it was because I forgot I'd paired my phone to my Bluetooth speaker adapter outside. Once I switched back to "iPhone" in the AirPlay menu all was good. Sent from the iMore App

When stuff like this happens to me, I power off the phone, then back on and it's fixed. A lot of the time the things listed in the article are not needed, but are the next steps to try....

Where's the setting on my wife to stop her accidentally moving the mute switch?

Hi Jim; - Thanx: I feel like a rocket-scientist.... It's funny that I couldn't find any indication that the MUTE switch was pressed.

Hi I just want to thanks everyone for making this easy. I had nothing no sounds, I'd missed 6 phone calls ( wasn't bothered about that Cold callers) but I followed your instructions and hey presto I have my sounds back again. So thanks guys for sorting me out.
Warmest regards
Julie

In spite of all of these steps being excellent advice and following every single one of them, I still don't have keyboard clicks. I tried to do the iCloud Backup and it says: "The last backup could not be completed." Do you have any idea what my next recourse is? Back to the store where I bought it? Help!

After 9.0.2, I tried powering on/off, but that didn't work. Toggling the sound switches and then powering on/off did the trick. Thanks.

I think its the facebook app. I uninstalled it and it works fine again.

I'm in good company with thefivetheory. My Bluetooth headset was switched on when I placed it in the case where I keep it, a hard shell eyeglass case that's loaded with most of my other iPhone accessories. I pulled this trick once before but for some reason this time I didn't think to pop the case open so I could check the switch position, maybe I figured, 'I'm never doing that again,' but I did. I don't know whether iOS upgrades have made peripheral devices more visible or if maybe I learned my lesson the hard way second time around but since reading this article and comments I haven't made the same mistake a third time. Moral of the story? Before tinkering with settings on your iPhone or freaking out that something is wrong with it, first check any and all of your iPhone peripherals that could be causing whatever problem you 'think' you have.

Just got a new iPhone 6s+ upgrading from 5s. I could use the volume + button on my LG HBS900 bluetooth headset to snap photos but it's not working anymore for shooting photos. Volume goes up fine just won't work for capture photos anymore. Any settings that need updating?

I turned on the silence switch next to my external volume control. I must have switched it off by accident at some point. Problem solved !!

Thanks so much. I didn't even know switch was there. Sorted!

On the new SE, if camera live in on there will not be a shutter sound. Turn off camera live to restore the shutter sound.
Thank you for signing up to iMore. You will receive a verification email shortly.
There was a problem. Please refresh the page and try again.