5 Extremely Cool Uses For the Amazon Echo With Your iPhone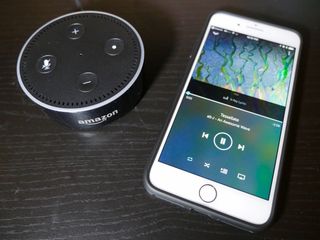 There's more to the Amazon Echo than just listening to audio and asking about the weather. Your Amazon Echo is a voice-activated computer that's capable of running apps (Amazon calls 'em Skills) that add extra features and functionality, and some of those features pair well with your iPhone. Here's a look at some of the nifty integrations between the two devices!
1. Find your lost phone
If you've ever misplaced your iPhone (P.S., enable Find My iPhone if you haven't already), you'll appreciate this Alexa trick.
Where'sMyPhone is an Alexa Skill that you can turn on by saying, "Alexa, enable Where'sMyPhone." Once enabled, you'll give the Skill your phone number and not-so-eagerly await the next time you lose your device! As soon as it goes missing, you can say, "Alexa, ask Where'sMyPhone to find my phone," and soon your missing phone will be ringing or buzzing off the hook!
Curious about how Where'sMyPhone stores your contact info? Here's the Skill's privacy notice:
Where'sMyPhone collects your phone number and an anonymized identifier to allow it to call you when requested. This data is stored in a secure cloud database. Calls administered via the service are delivered through a San Francisco number, +1 (415) 527-3463. This is the only number that will call you through this skill.
2. Use your Amazon Echo as a Bluetooth speaker
Getting tired of listening to music, podcasts, and more on your iPhone's built-in speakers? There's a better way! Connect your Amazon Echo to your iPhone and use it as a Bluetooth speaker. Here's how:
Make sure you're within range of your Amazon Echo and say, "Alexa, turn on Bluetooth."
Alexa should respond with the phrase, "searching." This is equivalent to putting a Bluetooth device into pairing mode.
Launch Settings on iOS.
Tap Bluetooth.
Look under the Other Devices section and tap the device that includes the name "Echo."
Alexa will let you know when it has successfully connected to your device.
You can learn more about the process by checking out this how-to:
How to use the Amazon Echo as a Bluetooth speaker
3. Circumvent the Amazon Echo all together
Did you know you can install the brains of your Echo right on your iPhone? That's right! Alexa, Amazon's virtual assistant, comes pre-packaged with the Amazon app.
Instead of jogging over to the room(s) with your Amazon Echo device(s), you can launch the Amazon app, tap the little microphone in the top right corner of the app, and bark out your commands to Alexa.
Amazon - Free - Download now
4. Send and receive calls and messages with your Amazon Echo and iPhone
Thanks to some recent updates to Amazon's Echo line, you can make and receive calls with your Amazon Echo and the Alexa app for iOS.
You can use this feature to create an in-home intercom system (by placing calls between your various Echos, Dots, Shows, and more) or place calls and send messages to family members who have either an Echo device or the Alexa app.
To get the low-down on calling, messaging, and Drop In, check out these articles:
5. Manage your appointments using your Echo and iPhone
If you prefer to keep your calendar synced across all your devices, you can connect your iCloud calendar to Alexa's services. It's a simple process that will allow you to check your schedule using voice commands with your Echo.
Here are some things you can ask:
Alexa, what's on my schedule for today?
Alexa, do I have any plans this weekend?
Alexa, what's on the schedule for Thursday?
Alexa, am I busy on November 30?
Want to learn how to get your iCloud calendar linked up with Alexa's services? This article has everything you need to know:
How to add your iCloud Calendar to Amazon Echo
Any others?
Do you have any awesome integrations for your iPhone and Amazon Echo? Did any of our suggestions catch your eye? Give us a shout in the comments with your favorite uses!
Master your iPhone in minutes
iMore offers spot-on advice and guidance from our team of experts, with decades of Apple device experience to lean on. Learn more with iMore!
Mikah Sargent is Senior Editor at Mobile Nations. When he's not bothering his chihuahuas, Mikah spends entirely too much time and money on HomeKit products. You can follow him on Twitter at @mikahsargent if you're so inclined.