Now that new streaming services like Apple TV+ and Disney+ are popping up left and right, there's no reason to continue paying a cable company to keep watching its overpriced live TV channels. Buying shows digitally at digital retailers like iTunes and Vudu is a smart way to fill in the blanks left by streaming services and keep yourself entertained for less, especially when there's a sale going on like today. iTunes is offering some stellar discounts on select complete TV series in digital HD with prices starting as low as $19.99, and a few of these shows are even at their lowest prices yet.
Two shows included in today's sale which are rarely priced this low are The Leftovers and Fringe at $19.99 and $29.99 respectively. The Leftovers is a stunning three-season show which aired on HBO not too long ago, instantly rising to the top of the premium channel's Best Shows of All Time list sitting beside classics like The Sopranos and Six Feet Under. On the other hand, Fringe's five-season run on Fox garnered a cult following that eventually earned the show one hell of an ending. You can't go wrong with either of these choices.
Showtime!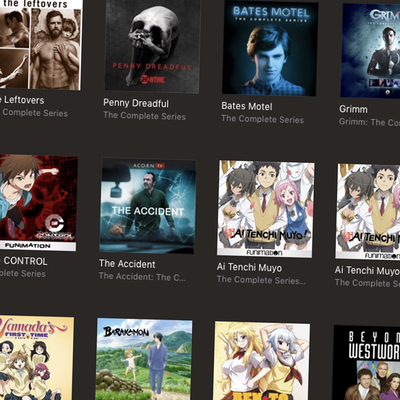 iTunes Complete TV Series Sale in Digital HD
Now's the time to add some of these complete TV series sets to your digital library, as shows like The Leftovers, Fringe, The Following, Grimm, and more are at some of their lowest prices ever via iTunes for a limited time.
Prices Vary
Shows like Penny Dreadful, Bates Motel, Grimm, and The Following are all on sale for less than $30 today too.
Now might also be a great time to add Breaking Bad to your collection after last week's Netflix release of the follow-up, El Camino: A Breaking Bad Movie. While you won't find that epilogue in this set, it's filled to the brim with tons of bonus features that should make for a great watch when you're done binging the show.
There are plenty more complete TV series on sale this week, so be sure to head over to iTunes and look through the selection before prices rise back to normal soon.
We may earn a commission for purchases using our links. Learn more.