Up for auction: Lunch with Eddy Cue and MacBook Air Package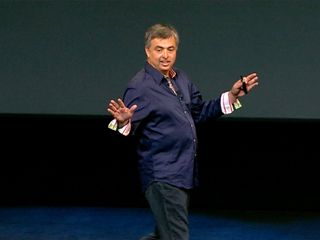 Apple Senior VP of Internet Software and Services Eddy Cue is donating a one-hour lunch along with a MacBook Air at Apple's Cupertino headquarters as part of an auction that benefits the National Association of Basketball Coaches Foundation. The value of the MacBook Air itself is $1,1999 and at the time of writing, the auction has a current $16,000 bid.
In addition to the MacBook Air, the auction includes a 1-hour lunch for two people.
The MacBook Air is a 13-inch model that has 256 GB of storage and dual-core 1.4 GHz Intel Core i5 processor.
The auction ends on July 16 with 19 bids so far.
In the past, Apple CEO Tim Cook had offered two separate lunch auctions, with the combined value of both auctions coming in at an estimated $1 million so we don't expect a lunch date with Cue to be cheap either.
Are you interested to talking to the man who leads initiatives such as Siri, Maps, iCloud, and other Apple software and services? What will you talk to Cue about if you win this auction hosted by CharityBuzz?
Source: CharityBuzz (opens in new tab)
Get the best of iMore in in your inbox, every day!
You've got one 9 too many in the value of the MBA :) it should be 1,199. Sent from the iMore App

Anyone wanna pay $5000 for lunch with me and you can have my circa 2002 Apple iBook with OS X 10.1? Lol. I'm kidding, but seriously... It's a bargin! Sent from the iMore App

I'am thinking by the way Mr.Q looks in this picture. He doesn't need another lunch. Maybe an hour long basket ball game would be better. Sent from the iMore App
Thank you for signing up to iMore. You will receive a verification email shortly.
There was a problem. Please refresh the page and try again.