Best Alternatives to Sonos in 2022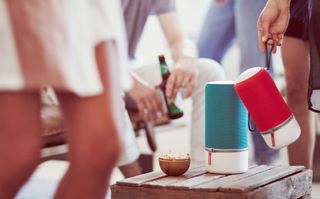 As it stands, the Sonos wireless speaker system is our pick for the best wireless speaker system of 2018. Here's why Rene Ritchie says it offers the best wireless listening experience:
That said, you may find the Sonos wireless speaker system is a bit out of your budget or that it doesn't offer your particular criteria for easy music streaming (i.e., it's controlled via an app you download from the App Store). If you're looking for an alternative means of providing yourself with a whole-home wireless speaker system, here are the best alternatives!
Amazon Echo Dot
Why you can trust iMore Our expert reviewers spend hours testing and comparing products and services so you can choose the best for you. Find out more about how we test.
For $50, you can get a tiny wireless puck that'll add Amazon's Alexa voice service and wireless music streaming to any speakers you choose to plug in.
The Amazon Echo Dot has a built-in speaker and microphone array, but the speaker is very small. The entire device is only about an inch-and-a-half tall. The idea here is not to use the Dot as a standalone smart speaker, but to buy several of them and connect 'em to your best speakers — both wired and Bluetooth-enabled. Amazon added multi-room audio to its Alexa-enabled devices back in August. I've been using the feature to stream music throughout my home and it's pretty solid!
Need help getting that multi-room audio up and running? Check out this guide from my colleague Phil Nickinson:
Amazon adds multi-room audio to Echo, Echo Dot and Echo Show
See at Amazon (opens in new tab)
Chromecast Audio
For $35, you can get a different wireless puck that'll add Google's Chromecast streaming system to your home speaker setup. The minuscule device is perfect to tuck behind a pair of speakers. Keep in mind it's only going to stream audio — this isn't like Google's normal Chromecast device. It packs in a 24-bit audio decoder and offers both 3.5 mm and optical audio output. Even cooler, the Chromecast Audio device has a high dynamic range setting for those particularly choice tracks you've got saved up.
You'll need to use apps that support Google's Chromecast protocol, but you'll find most media streaming apps do!
Need help getting whole-home audio set up for your Chromecast Audio pucks? My colleague Jerry Hildenbrand has an excellent guide for you:
Using Google Chromecast Audio as a whole-house audio alternative to Sonos
See at B&H (opens in new tab)
Libratone ZIPP Wi-Fi + Bluetooth
The Libratone ZIPP is a sight to behold. Along with being an awesome option for multi-room listening, it's a beautifully designed device that you'll have no problem placing out in the open.
Most multi-room speakers use a direct connection to the internet over Wi-Fi to stream music. The Libratone Zipp features both Wi-Fi and Bluetooth connectivity, giving you the option to connect directly to the speaker from your device. On top of typical Bluetooth and Wi-Fi connectivity (controlled via the app), the ZIPP features Spotify's proprietary streaming technology, Spotify Connect. You can also connect to the speaker using DLNA with an Android Device and AirPlay with an iOS device.
The $299 ZIPP will pair with up to five other ZIPPs to give you whole-home music streaming. Once you've connected more than one ZIPP speaker, you can start to do some pretty creative things. One Amazon reviewer set one of their speakers to an equalizer preset that focused on low and high range, while the other one was set to a preset that focused on vocal and mid-range — pretty clever!
See at Amazon (opens in new tab)
Bose SoundTouch 10
The Bose SoundTouch 10 wireless speaker is a pretty popular multi-room option. With nearly 500 reviews on Amazon, the SoundTouch 10 maintains a 4.5-star rating.
Like the Libratone ZIPP, the Bose SoundTouch 10 sports both Wi-Fi and Bluetooth connectivity. Unlike the ZIPP, however, it seems the SoundTouch 10 doesn't offer AirPlay streaming. Bose lists compatibility with Spotify, Pandora, Amazon Music, and iHeart Radio to name a few music services. But again, with Bluetooth connectivity you can stream any sound over the speaker you'd like.
A unique feature of the SoundTouch 10 that really stands out is the preset functionality. There are six preset buttons atop the speaker that you can assign to a specific song, a radio station, a specific artist, a specific playlist, etc. It keeps you from having to fumble and fiddle with your phone in order to listen to music. You simply walk in, tap a button, and boom! you're listening.
The $199 SoundTouch 10 can pair with other SoundTouch speakers to provide a whole-home listening experience. Bose offers several Soundtouch speakers — not just the 10, so be sure to check out all its offerings if the 10 doesn't seem to be doing it for you.
See at Amazon (opens in new tab)
Apple TV 4K
With Apple TV 4K, you can use AirPlay to stream music throughout your entire home. In fact, I'm currently listening to Adele's "Hello" (opens in new tab) play on the television sets in my living room and in my bedroom at the same time. It's as simple as opening your iPhone, iPad, or Mac and changing your audio settings to output to the Apple TV devices in your home.
If you've got a set of nice speakers hooked up to your television set(s), AirPlay via Apple TV 4K isn't a bad option — especially if you've gone all-in on Apple technology. Plus, the $179 Apple TV 4K comes with a whole host of other features: Siri, smart home control, the Apple TV App Store, etc.
See at Amazon (opens in new tab)
Honorable mention: HomePod
Although it doesn't offer multi-room support at launch, that technology will eventually work its way into Apple's new wireless speaker. Judging by the early reviews — including this one from my colleague Serenity Caldwell, it's safe to say the $349 HomePod will eventually be a worthy contender for a Sonos alternative. For sound quality alone, it's already there. Once it gets multi-room audio support, Sonos is in for a challenge.
See at Apple (opens in new tab)
How do you jam?
Do you have a whole-home music-listening setup? Do you prefer to rock out in one room at a time? What speaker(s) are you using to make that happen? Shoot me a tweet or let me know in the comments below!
Updated January 2018: This article has been updated with new options, links, and prices for the best Sonos alternatives.
Get the best of iMore in in your inbox, every day!
Mikah Sargent is Senior Editor at Mobile Nations. When he's not bothering his chihuahuas, Mikah spends entirely too much time and money on HomeKit products. You can follow him on Twitter at @mikahsargent if you're so inclined.
I got a Libratone ZIPP for Christmas this year and I've been beyond happy with it. The sound quality is full with with deep non-distorted bass. I had looked at others, speakers, but decided to take a risk with this and I am happy I did.

One of the often-missed features of the iTunes / Apple TV system is that an Apple TV can wake up a sleeping Mac with iTunes running, play some music for you, and then signal the Mac to go back to sleep when you're done. All without leaving your easy chair. A.

My audio systems are ever evolving. I have two Echos and a Dot that play mostly Pandora as background music. I also have an old Airport and an old Apple TV hooked up to old school cabinet speakers that are fine for pretty much anything we want to stream to them via airplay. The good part about hooking up big old floor standing cabinet speakers is the power. There is no substitute for shaking the room when you turn it up to 11. If you already have decent speakers, this is almost always the better sounding and cheaper option. The speakers I am using are 25-30 years old Sony speakers from solid consumer-grade systems. They are not audiophile by any stretch, but I would probably have to spend $500+ today to get something comparable and replace them all. The bad part to a setup like mine is that it requires extra widgets to wire it up. I had to rig up an AppleTV to DAC with TosLink and then DAC to stereo with 3.5mm to RCA. The other was Airport to an amp with 3.5mm to bare speaker wire because the amp was bare wire or banana clips. The extra widgets were still cheap (amp and DAC and wires were maybe $100 total) and the better sound was totally worth it.

I own a Libratone Zipp, it sounds good but it's not a good Sonos competitor. I own two Soundtouch 10. They sound good, but come up short on the software side and streaming service support. The 3 best Sonos replacement are as follows with commentary 1. Denon Heos- new HS2 models have AUX and Bluetooth and support HiRes music. Heos also comes in some Denon and Marantz AVR and they offer the essential preamp and amp for legacy support. They also have a rackmount Heos Drive 4 zone amp for custom install. Did I mention the Cinema soundbar with Heos and forthcoming slim Heos AVR? This is the dark horse candidate. 2. Bluesound- has the Hifi acumen and supporting cast in HW. Sounds better than Sonos for a modest premium. Roon endpoint capabilities are nice. 3. DTS PlayFi- mix and match PlayFi pieces from Klipsch, Martin Logan and other reputable brands. Software is a work in progress Forget the Echo or AirPlay, you're not going to get a good multi room experience with either.

UE Boom system are rugged and sound good Sent from the iMore App

Chromecast Audio can turn regular speakers into connected speakers. It's very inexpensive, leverages the speakers you already have, and provides sound amazing sound quality. It's also compatible with the most popular streaming music services like Spotify, and mp3 music player apps.

Nine of these look like what I want. Basically point my iPhone to the speaker system and have the same synchronous audio play in every room so that I can start listening to a podcast in room A, walk to room B, and not miss a word. .

None of those would be alternatives to Sonos for me. We have some custom built Salk speakers in the living-room hooked up to the sound system and Sonos. There are floor NHT's in our bedroom hooked up to the Sonos and stereo system/TV/OPPO Blueray, I have AV123's on my desk pc hooked up to the Sonos, and if I'm not mistaken we have an old Logitech SqueezeBox in the basement hooked up to another pair of AV123s. There are probably 3 to 5 other sets of larger speaker systems packed away in the basement and in my husbands office closet. Those will get used when we move to a bigger house with more bedrooms to set them up. We have 4 Amazon Dot's in the house, but we never play music through those.... our music is stored on the NAS.

Sonos, a "premium listening experience"? That is the funniest thing I've read today. I'm reading this article because I'm about to dump a ton of Sonos hardware on Craigslist. The system is a veritable nightmare. I spend hours on the phone with their support reinstalling players, rebooting my router, changing system channels, changing WiFi channels, unplugging access points and then dealing with the mystery of why Spotify will not play ("the connection to Spotify was lost" - funny that, not on my phone it wasn't). Each of these is an interesting alternative and I would caution anyone thinking about spending over $5,000 on a Sonos system to see a mental health professional first - coz you are crazy if you do.
Thank you for signing up to iMore. You will receive a verification email shortly.
There was a problem. Please refresh the page and try again.