Best movies and TV shows on Amazon Prime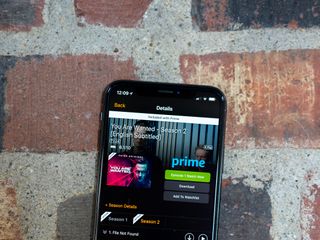 Press Play
In this week's selection of films and shows on Amazon Prime, Lukas Franke must find a classified data collection program before the intelligence agencies, criminals or hackers that are after it can get their hands on it. A man who made a life seducing rich older women finds himself immediately down on his luck and with few options after his wife dumps him for a younger man. Finally, a masseuse finds herself at a dinner hosted by one of her clients, coming into conflict with a particular guest, a hotel magnate whose business destroyed her hometown in Mexico.
You Are Wanted - Season 2 - Once again, Lukas Franke finds himself engulfed in a nightmare scenario after his loses his memory, as well as control over Burning Man, a classified data collection program that he was considering blowing the whistle on. Now that Burning Man is out in the wild, Lukas must find it before it can be acquired by the intelligence agencies, criminals, and hackers that are trying to get their hands on it.
How To Be A Latin Lover - Maximo is a man who has made a career seducing rich older women, but after his wife dumps him for a young used car salesman, he finds himself desperate for a place to stay, eventually moving in with his estranged sister and her son. As Maximo tries to reclaim his charms in order to find another rich older woman to live off of, he finds himself learning a lesson about love and trust.
Beatriz At Dinner - When Beatriz, a masseuse, finds herself unable to start her car after an appointment with one of her clients, Kathy, she is invited by her client to stay for the dinner party that Kathy is throwing. Over the course of the evening, Beatriz interacts with Kathy's guests, offering them a different and often disruptive perspective on their realities, coming into particular conflict with a hotel chain owner who devastated her hometown in Mexico.
Looking ahead
This week's new additions to Amazon's Prime Video lineup starts with the second season of Dino Dana, which follows a young paleontologist-in-training as she learns more interesting things about dinosaurs, as well as early humans. There's also Beast of Burden, which follows a pilot who smuggles cocaine for a drug cartel on his last day on the job as he tries to avoid both the DEA and the cartel while trying to save his failing marriage. Finally, in Picnic at Hanging Rock, long-buried secrets resurface at a girl's school and the surrounding township following the disappearance of three girls and their governess on Valentine's Day 1900.
Dino Dana - Season 2 - Nine-year-old paleontologist-in-training Dana is back for another fun season of dinosaur-filled adventures. Using her Dino Field Guide, Dana meets new dinosaurs, discovering how some survived extinction, while also learning about early humans and how they lived alongside now-extinct animals like saber-tooth cats and mammoths. Arrives May 22.
Beast of Burden - After years of smuggling cocaine across the U.S. border for a drug cartel, pilot Sean Haggerty finds himself up against a particularly difficult final run, where he must thread the needle between Drug Enforcement agents and the cartel before extracting himself from this life for good. He also has the added challenge of trying to salvage his crumbling marriage while also trying to protect his wife from those for whom he works. Arrives May 23.
Picnic at Hanging Rock - This Amazon original miniseries, reimagines the Australian novel of the same name, and focuses on the disappearances of three girls and their governess on Valentine's Day 1900. The series explores the impact on the girls' fellow students at Appleyard Ladies College, as well as the school's staff and the nearby township as authorities begin their search and uncover long-buried secrets. Arrives May 25.
If you're not an Amazon Prime member, you can try the service free for 30 days right here (opens in new tab). Bookmark this page and check back next week for more from Amazon!
Get the best of iMore in in your inbox, every day!
Joseph Keller is the former Editor in Chief of iMore. An Apple user for almost 20 years, he spends his time learning the ins and outs of iOS and macOS, always finding ways of getting the most out of his iPhone, iPad, Apple Watch, and Mac.
Orphan Black Sent from the iMore App

Lucifer all the way. Love it.

Any word of Outcast Season 1 on iTunes?

I watched all three pilots this weekend. I enjoyed Jean-Claude Van Johnson a lot more than expected. Very funny. Give it a try.

Totally agree - the Jean-Claude Van Johnson series is hilarious. Great to see JC poking fun at himself - really funny stuff!

Elvis and Nixon was not bad. And it's all the more funny know it was all true. I went to Graceland in the early '90's and saw the DEA badge but didn't know the whole story until later.

I ditched Apple TV for a lightning to HDMI connector. I can use my iPhone to play movies from any app on my phone including Amazon. With a charger connected to it as well, my iPhone charges while playing movies. If I need to send messages or email while while my iPhone is connected to the TV, I just use my iPad. This is also good if you want to play videos or see pictures you've taken on you iPhone as well. Plays directly without Airplay.

If you have the Apple TV you can use your phone to the Wi-Fi Amazon videos to your TV do not need to cable side, and I also wish Amazon would get their app on the App Store Sent from the iMore App

It's time for Amazon to have their app on Apple TV. Air Play is nice, but self standing app would save battery when not in a charger. Get over the 30% rule, or work it out. Long overdue. Just a thought. Sent from the iMore App

That's a big thing keeping me from buying the Apple TV. I've heard that the problem is with Amazon, but I'm having trouble believing that Amazon will make iOS apps for iPhone/iPad but hit the brakes when it comes to Apple TV. Yes, they sell their own streamer box but they also make a whole line of tablets, yet the iPad has an app. What's the real story? Is it Apple or Amazon preventing an app on ATV?

PS4 and Apple TV are the perfect combination for everyone in the family. Amazon on the PS4, most of the other stuff on Apple TV. Works for me.

The problem IS with Amazon. They won't make their apps available for Apple TV or Chromecast or Android TV because they want to force people to buy Amazon hardware for the best experience with Prime video. Again, the problem exists on both Apple and Android platforms and that is because of Amazon. Roku does not have the same ecosystem that Apple, Amazon, and Google are trying to push, so you can get Amazon Prime video on Roku easily.

Why should amazon give apple 30% of their profits when apple does nothing for their service?

War of attrition. They're hurting themselves as much as Apple. But they're both giants so they are both being stubborn but Apple has much more to lose by compromising.

They did announce months ago that they were making a standalone Apple Tv app but its still nowhere to be seen.

Ripper Street - excellent show. Started on BBC, then they dropped it after 2 series, but luckily Amazon picked it up and have so far produced series 3 & 4 with, I understand, the final 5th series starting production soon. Sent from the iMore App

The Man is the High Castle. Waiting on season two

This! Can't believe this wasn't on the list at all. Sent from the iMore App

That show is so intense! Can't stop, won't stop! It's so good!

Kinda sucks that I can't mirror my AP playback to my HD VGA monitor via my ATV4+Kanex ATV4 HDMI-to-VGA set-up, due to being blocked by The Amazon app (with AP, I see the first few seconds then the mirror is dropped while other mirror actions work.). Was never a problem with previous gen ATV3+Kanex ATV3 HDMI-to-VGA set up. (Also iTunes is blocking now and putting up a message "due to HDCP" (HDCP is some kind of intel anti copy protection).

Glad I'm not the only tv addict! Hahah

The Grand Tour! Sent from the iMore App

They should have an Apple TV App for Amazon Prime.

I've been watching Orphan Black non stop for the last week and a half. Amazon added Season 4 to Prime a day after I finished Season 3. This show is so good. Excited for Season 5 but sad that after 4 episodes my ride will be over until June. Even more sad that will be the last season of such an amazing series.

Watching the first episode of You Are Wanted was terrible German dubbed to English garbage. Sent from the iMore App

Oasis is a sci-fi pilot in the Amazon Pilot series. It stars Richard Madden and Mark Addy (both Game of Thrones vets). I recommend giving it a look. It is very good and has great potential.

Oasis is sci-fi pilot in the Amazon Pilot series. It is a very good watch. Hopefully it goes to series. Go vote for it if you like it.

Got Diana and Ekaterina in Canada Prime, but no Victoria... Snif

The Man in the High Castle, another Philip K. **** Sci-Fi property is returning for another season in June. I was late to it, and binged it in a month or so. Good stuff. Let's just laugh and point at the censored word here. The site is aware of the guy who played along with Mary Tyler Moore in a TV series back in the 60s, right?

Mr. Keller: "continuous" and "continual" do not share the same meaning. Professional writers know this. Please consult dictionary.
Thank you for signing up to iMore. You will receive a verification email shortly.
There was a problem. Please refresh the page and try again.