Best movies to watch over Christmas and the holidays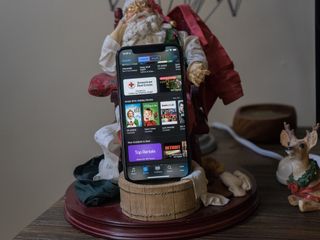 The holiday season is in full swing, which means it's a good time of year to stay indoors and warm. Sometimes, there's no better way to do that than to curl up on the couch on a cold winter night, grabbing a warm beverage, and turning on a favorite holiday movie.
There are scores of great holiday films out there that all tell their own unique stories of the season. Whether it's a story of a human raised by Santa's elves or a tired cop trying to stop a criminal plot in Los Angeles, everyone can find some kind of holiday story to enjoy.
Here are some of the best movies you can watch during this season.
Elf
Why you can trust iMore Our expert reviewers spend hours testing and comparing products and services so you can choose the best for you. Find out more about how we test.
This is the tale of Buddy, a human who was taken in by one of Santa's elves when he was just a baby. Raised as an elf at the North Pole, Buddy one day strikes out to find his human father and reconnect with that side of his life. The intrepid elf finds himself in the jaded and cynical world of humans, but through his relentless, boundless positivity (and a little bit of Christmas magic), he impacts the lives of everyone he meets for the better.
$9.99 - Download Now (opens in new tab)
The Santa Clause
Scott Calvin is a divorced toy company executive who is spending Christmas with his son. When Scott surprises Santa Claus himself by catching him on Scott's roof, causing Santa to fall to his death, Scott inherits the mantle of Santa Claus himself. Not only causing upheaval in his own life, Scott's new job creates a strain on his already cold relationship with his ex-wife, who becomes worried when her son starts telling people that his dad is Santa.
$9.99 - Download Now (opens in new tab)
Miracle on 34th Street (1947)
When a mysterious, bearded stranger emerges claiming his name is Kris Kringle, he becomes the Macy's department store Santa and seems to fill everyone with a little extra Christmas spirit. When he is set up to be declared insane, the question must be asked: do you believe in Santa?
$7.99 Download Now (opens in new tab)
Home Alone
Kevin McCallister is a clever, if problematic, child. When Kevin's family heads out for their tropical Christmas vacation, they accidentally leave him behind, and he finds himself all alone in his house. Though at first, he thinks he's living every eight year old's dream, he finds that he has to defend himself and his home when a pair of burglars come to rob his house. Putting his mischievous mind to use, Kevin sets a series of traps that might be more than the larcenous pair can handle.
$9.99 - Download Now (opens in new tab)
It's A Wonderful Life
Perhaps the classic Christmas movie. George Bailey is at the end of his rope and considering suicide when Angel 2nd Class Clarence Odbody arrives to save him. When his uncle loses $8,000 needed to keep their business afloat George wonders if things in Bedford Falls would be better if he'd never been born. Clarence shows him just how the town, and indeed, his entire family, would have been different if George hadn't been around.
$9.99 - Download Now (opens in new tab)
Die Hard
John McClane is a down-on-his-luck cop from New York who is looking to repair his marriage by spending Christmas in Los Angeles with his estranged family. When his wife's place of business is taken over by supposed terrorists, John is the only one who can take them on and save everyone.
$7.99 - Download Now (opens in new tab)
The Muppet Christmas Carol
A classic Christmas story that, much like the tale of Treasure Island, is made that much better when you include Muppets. This musical take on Charles Dickens' ghost story sees the miserly Ebenezer Scrooge confronted by ghosts of Christmas Past and Present, which show him how he has systematically pushed everyone he has ever been close to away, while the Ghost of Christmas Future shows him just what will happen if he continues on his path. It's up to Scrooge to change in a way that makes life better not only for himself, but for those around him.
$9.99 Download Now (opens in new tab)
A Christmas Story
All Ralphie wants for Christmas is a Red Ryder BB gun, but everyone says that he shouldn't get one because he'll shoot his eye out. The film tells a series of short stories about Ralphie and his home life that explore and subvert a number of holiday story tropes.
$9.99 - Download Now (opens in new tab)
National Lampoon's Christmas Vacation
The Griswoldds are at it again in this holiday comedy classic. Clark Griswold is determined to have an old-fashioned Christmas at home with his family, complete with a big tree, bright lights, and full of Christmas spirit. But when life visits its usual havoc on the Griswold home, from trouble with the tree to electrifying danger with the lights, Clark and his family might have trouble just making it through the holidays.
$9.99 - Download Now (opens in new tab)
Love Actually
Following multiple stories in the weeks leading up to Christmas, Love Actually tells tales of love, romance, and heartbreak for a variety of London residents. For the British Prime Minister who falls for an assistant to a widower trying to help his stepson ask out the girl of his dreams, these criss-crossing vingettes are charming explorations of love during the holiday season.
$9.99 - Download Now (opens in new tab)
Your holiday favorites
What are your favorite movies to watch during the holiday season? Let us know in the comments.
Joseph Keller is the former Editor in Chief of iMore. An Apple user for almost 20 years, he spends his time learning the ins and outs of iOS and macOS, always finding ways of getting the most out of his iPhone, iPad, Apple Watch, and Mac.
In addition to a couple you have listed another one I like to watch is "The Family Stone".

" When Kevin's family heads out for their tropical Christmas vacation" Uh oh, you confused Home Alone 2: Lost in New York with the first one. In the first one they go to Paris. Pretty cold in December.
Thank you for signing up to iMore. You will receive a verification email shortly.
There was a problem. Please refresh the page and try again.