Best Projector for Apple TV 4K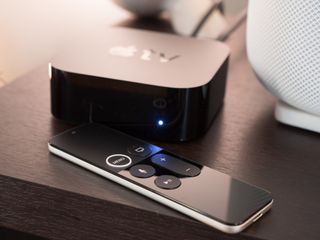 (Image credit: iMore)
The Dell Advanced 4K: S718QL (opens in new tab) is the best projector you can find that comes from a brand we all know and trust. This ultra short throw projector offers 4K support for the best quality. Plus, it's a laser projector, so it's easy to take care of and will last for a long time.
Dell Advanced 4K Laser Projector: S718QL
Everlasting entertainment
The Dell Advanced Projector supports Bluetooth 4.2 and LAN inputs for your video streaming, and it has a high-def laser display. It needs less than 4 inches of space for setup, so you'll never have to worry about a mess of cables.
Who should buy this laser projector?
Why you can trust iMore Our expert reviewers spend hours testing and comparing products and services so you can choose the best for you. Find out more about how we test.
Projectors are the best way to get top-of-the-line specs that come with portable options. If you use a Dell Advanced Projector with your Apple TV 4K you can take all of your favorite shows movies wherever you want without having to drag a massive TV around with you. It's also for people who have the money to spend, since projectors can cost thousands of dollars.
Is it a good time to buy this projector?
Bigger is always better when we're not talking about prices. The Dell Advanced projector gives you a 100-inch screen without having to spend almost double your money on a TV the same size.
Upgrade how you stream with your Apple 4K TV
If you're looking for an upgrade to your entertainment center the Apple 4K TV is a phenomenal start. It has powerful hardware to allow the fastest streaming and is compatible with almost every service. Once you see the power of HDR10 and Dolby Vision you'll want to take full advantage of it, and that's where using a projector instead of a standard TV comes in.
When you use a projector, you get a massive boost to the size of your screen for a fraction of the price you'd pay for a TV of the same size. Of course, most people don't need a 100-inch TV, but you might consider the size if you want a theater setup, or you're looking to bring a viewing party outdoors. If you're pairing it with your Apple TV 4K, you're streaming in 3840x2160 resolution, which is about four times the resolution of regular HD.
Contrast and brightness are still better on a television, but projectors are a lot more portable. This means you can move your device from one room to the other (or even outside) with ease. With this Dell projector, you're spending a lot of money, but you're paying for that portability, that gigantic screen, and the ability to stream from up to four devices that are connected over the same network.
When it came down to choosing between the Dell Advanced S718QL (opens in new tab) and the LG Cine Beam 4K Projector (opens in new tab) the competition was close. The LG Cine Beam offers Smart TV support that gives you the ability to use services not compatible with the Apple TV 4K, but the Dell Advanced won our hearts with the convience and ultra short throw abilities.
An ultra short throw projector requires less than 4 inches of space between the screen and your device. During setup, you won't ever worry about finagling cords across a room. If you're outside or in the office you can get ready in no time at all and start streaming your favorite shows.
Alternatives to the Dell Advanced S718QL
There are plenty of 4K projectors out there. If the Dell Advanced S718QL isn't the one for you here are some others you should check out.
LG Cine Beam 4K Projector
Home theater projector
Reasons to buy
+
Cheaper than a TV of the same size
+
4K compatibility with your Apple TV 4K
+
Extremely portable
+
Laser lights have a long lifespan
Reasons to avoid
-
Not as bright as a standard TV
-
Still costs a lot more than an average TV
4K Ultra HD resolution means the LG Cine Beam Projector is a force to be reckoned with. You can get up to a 150-inch screen size without sacrificing any brightness. That makes this projector perfect for indoor or outdoor use.
The LG Cine Beam requires a distance of 3-12 feet from your screen. While it does support HDR10 you will be losing some quality the further away it is. Aside from a variety of mounting options it also has a Smart TV content platform. This platform comes in handy by giving you access to Google Play Movies & TV since that service isn't compatible with the Apple 4K TV.
ViewSonicPX747 Projector
Biggest screen available
ViewSonic has one of the largest screens when it comes to projectors by having 300 inches of 4K Full HD. The lamp in this projector offers a bright an vivid display with 15,000 hours of use.
ViewSonic is a standard-throw so it needs to be at least 10 feet from the screen. It does support 4K Full HD, but it is lamp-based. That means it doesn't offer the same resolution as your other options and you'll need to let it warm up before use.
Bottom line
If you're looking for a way to upgrade your streaming setup, the Dell Advanced 4K: S718QL (opens in new tab) is the way to go. With the ability to take your favorite shows and movies anywhere you want, with the smallest amount of space needed, your possibilities are endless for comfortable entertainment.
Essa Kidwell is an expert in all things VR and mobile devices who can always be found with an Oculus Go, a Pixel 2, and an iPhone 7+. They've been taking things apart just to put them back together for quite some time. If you've got a troubleshooting issue with any of your tech, they're the one you want to go to! Find them on Twitter @OriginalSluggo or Instagram @CosmeticChronus.
Thank you for signing up to iMore. You will receive a verification email shortly.
There was a problem. Please refresh the page and try again.