Chromecast 'Backdrop' lets you customize slideshow content for your TV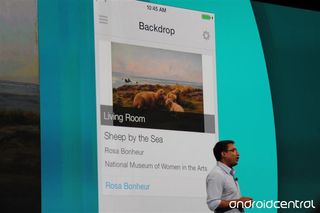 Google is dramatically expanding the capabilities of the Chromecast, and part of that expansion is a new feature called "Backdrop" that shows beautiful imagery on your TV when it is not actively casting content. Starting this summer with an update of the Chromecast app, you'll be able to open the app and customize what pictures show up on your TV when it is idle.
You can personalize the feed to match your own interests and tastes, add your own photos into the mix and even Google+ photo albums. For personalization, there are different categories to choose from, such as news, lifestyle, Google+ featured photos, museum artwork and more. Every topic is curated to make sure images are of the highest quality — and if one catches your eye, you can use Voice Search on your device to learn more about it with the prompt "What's on my Chromecast?".
Keeping you up to date with mobile news and analysis since 1989.
Get the best of iMore in in your inbox, every day!
Thank you for signing up to iMore. You will receive a verification email shortly.
There was a problem. Please refresh the page and try again.