Dish to launch Sling TV, an Internet TV service starting at $20 a month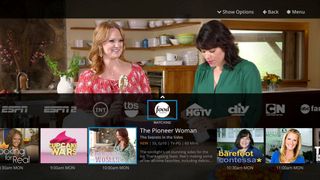 (opens in new tab)
Satellite TV provider Dish has just announced Sling TV as part of its CES 2015 plans. The Internet-based television service will offer a selection of cable TV networks to a variety of platforms and devices with prices starting at $20 a month.
Sling TV (not to be confused with the Slingbox television set-top box) will launch sometime in the first quarter of 2015. Dish says:
Sling TV can be accessed on the web via Mac PCs, and Dish plans to launch an iOS Sling TV app as well.
Get the best of iMore in in your inbox, every day!
I have been writing professionally about technology and gaming news for 14 years.
Glad to hear that Dish is looking beyond Satellite TV. Launching satellites has got to be one of the most expensive ways to bring TV signals to the masses. Sure, that "last mile" is very costly. But launching satellites really *is* rocket science.

Yep, they spent all their money on hardware and spent nothing on software. I left Dish as their mobile software is terrible. They've been changing it so much and never improving it. Going from carpware like silverlight, flash and no telling what else. I wonder what they cobbled together for this new service... More of the same? No thank you, Dish. I want to login and start watching my shows and not having to worry about browser/software issues that your frequent changes brought about!

Compared to DirecTV and Comcast they still have the best software. I spent 2 years trying to get my DirecTV Nomad to work to get shows onto even my home network (after paying an extra $150 for the Nomad). DirecTV provided absolutely zero support and functionality. Dish / Sling may be buggy at times, but the software is head over heels better than DirecTV. Meantime, Comcast is finally digging its way out of the 1980s. If there was any way to contact their tech support without a 2 hour wait I would ask about their new boxes.

LOL!! You're joking, right? DirecTV has excellent support, and that is a big reason that they are #1.

Will this be available in Canada? Sent from the iMore App

It looks like it is US only

That sucks Sent from the iMore App

If you have a USA DSN, US iTunes Account & find a U.S. ZIP CODE than you can use this in Canada says my cousin a tech blogger/reviewer who is at CES Sent from the iMore App

Damn! This doesn't sound to bad.

No deal for me if It doesn't include the local tv networks like what aereo offered

Integrated into Apple TV or Roku and we have a winner!

Dish can go swing until they get Fox News back. If not soon will be looking for new TV provider.

Get me AMC for The Walking Dead and I'm in!

I was paying $120/mo for my TV watching only to really watch a couple shows. I found them on Apple TV and so I ended my precious TV service and bought a good antenna and the seasons off Apple. Now it saves me time flipping through channels so I get through the "there is nothing on" stage in the evening quicker. I save time and money. Best decision I have made yet. How these TV providers aren't going belly up with services like Chromescast, Apple TV, Netflix, Amazon Prime, etc is beyond me. Apple should find a way to offer the same basic type of service for a comparable or lower rate.
Thank you for signing up to iMore. You will receive a verification email shortly.
There was a problem. Please refresh the page and try again.