Howard Stern's new Sirius XM radio deal allows for streaming to iPhone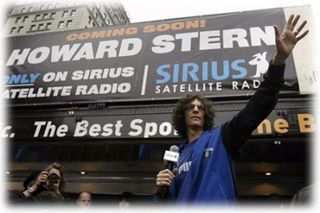 Today it was announced that Howard Stern has inked a new deal with Sirius XM satellite radio that will keep him on air through 2015. This is great news for all of the iPhone toting Stern fans out there as this new deal allows for his show to be on for another five years but it also allows the show to be streamed over your iOS device via the Sirius application, something that was not allowed previously due to Stern's old contract.
Sirius XM executives would not comment on whether they paid extra to work this arrangement into the new contract and they would give no time frame of when the streaming would start to take place.
[Electronista]
Get the best of iMore in in your inbox, every day!
Your source for all things Apple
Great news! I recently went month to month because of not knowing if he would resign.
Now we can finally listen on our phones. It's about time. I wish it wasn't an extra 3 bucks though 

I've been using the Pocket Tunes app for a year a half to listen to Stern on my iPhone, and its worked great. The Sirius app is late to its own party.

If I wanted sh(i)t coming out of the speaker of my phone I'd drop it in the toilet after taking a dump. Stern is at the very most bottom of the gene pool. I bet his knuckles bleed when he walks.

Have you ever actually listened too him jimbo? If not then you should have no opinion. But this is great, but I have been listening to him on my iPhone for over 2 years now with pocket tunes radio.

Jimbo, the typical non listener who just judges....figures....
Personallt Stern now on the iPhone makes there app useable, watch the reviews for the sirius app shoot from 2 to 4 stars!

Thanks for fighting for the dorks, Howard!!!

I'm with Jimbo, and I HAVE listened to him enough to know that I don't want to listen to him. Bread and circuses...

HAPPY DAYS ARE HERE AGAIN!
STERN IS ON THE iPHONE!!!
THIS IS AWESOME NEWS!!!

Baba Booey. Tata toothy. Mama Monkey. Sasa Smelly. Dada Dummy. Fafa Fo hi.

Beetle juice, High Pitch Erik, Gary and Wendy the R****d, Riley Martin, John the stutterer, Medicated Pete, Jeff the Drunk, Maryanne from Brooklyn.........Who am I leaving out?
Rejoice, and One Love!

8 Posts and 2 from yahoo's who hate Stern enough to post about it but obviously care enough to read the thread anyway. Goes back to the line in his movie about the average duration a listener stays tuned in being even longer for the people who dislike him than for the people who like him.

He is one of the best interviewers of all time. Seriously. Even if I didn't chuckle at the rest of the antics, the interviews alone would keep me coming back. I've been PocketTunes-ing it for quite a while.

O & A PARTY ROCK! OPIE AND ANTHONY (and lil Jimmy) are WAY better than Stern - I am sure you will all agree.

I've been listening through the iPhone for years first through PocketTunes, then over the past couple of months, MusicDock which allowed high quality audio stream.
I just put the SiriusXM app by on my phone to check if they put Howard back on, but they have not yet updated the app / channel listings.

Hell yeah! The king shall reign for five more years! And on the iPhone?! This is truly, a great day!
Love ya' Howard! Thanks for all the great laughs! Howard Stern rules, Bubba-Booey!

Sorry haters. His old Sirius contract for $500,000,000 expired and this is 5 years later. It's bound to be more money now. This might bump him into billionaire status. Also Sirius picked up 1.2 million subscribers when he inked the first deal. All paying between $10-$17 a month. Insane amount of money.

Who cares. O&a are the real stars.

Yeah the kids these days, jeez. O&A are the best!

Luckily for Jimbo and the others who don't like Stern, they don't have to listen. I suspect most of the haters are the ones with bloody knuckles.

All I have to say is
O&A went to XM years before Stern did and O&A did nothing to impact infinity broadcasting as well as Ron and Fez. O&A even got to be in Howards old time slot after David Lee Roth was taken out.
Stern left KRock and went to a company that had 700k subscribers and was on the brink of being shut out by their rival. In 3 years Sirius after signing Howard they were able to close the gap in Subscriptions AND take over their rival. There is a reason its called Sirius/XM and not XM/Sirius
As much as you might think he is a knuckle dragger he is actually a very intelligent and entertaining person. In the end once you compare anyone against Howard you will find no one compares to the effect he has had on culture overall.
I have Sirius now for 5 years and it never leaves channel 100 because to me Howard Stern is Sirius and the day he leaves is the day Satellite radio will die.

I loved listening to Howard but unsubscribed as he never had new shows on Friday and he'd extend a 3-day vacation into a 7-14 day vacation. I wonder how many days a week he'll work with his new deal, 3?

O&A are terrible they dont compare!!!!!!!! LONG LIVE STERN!!!!

O & A suck and do not hold a flame next to tue king. They need to bite a different act cuz their copying of Howard is tired. Those retards can keep their 10 fans.

Hell Yeah Stern Rocks. This is what I've been waiting for.

ha ha just read the O & A comments. Seriously? O & A Comparable to Stern? The listeners he has on Sirius beat the listeners O & A have on public radio. And the listeners Stern had on Public Radio was massive.

Thanks everyone for the pocket tunes app! It's awesome.

stern sucks he was funny once long ago i tune in here and there but o and a are way better.

Thank you a lot for sharing this with all people you really understand what you're speaking about! Bookmarked. Kindly additionally talk over with my web site =). We can have a hyperlink exchange arrangement between us

Somebody necessarily assist to make seriously articles I would state. This is the first time I frequented your web page and thus far? I surprised with the analysis you made to create this actual put up incredible. Magnificent task!
Thank you for signing up to iMore. You will receive a verification email shortly.
There was a problem. Please refresh the page and try again.