Hulu may debut ad-free option as soon as this fall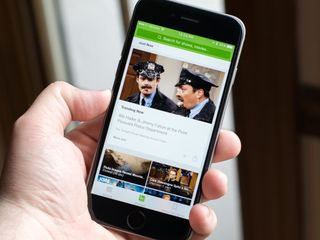 Streaming service Hulu is said to be exploring an ad-free streaming option. The new tier would reportedly cost somewhere between $12 and $14 per month, and may debut later this year, according to The Wall Street Journal:
Hulu currently offers two tiers of service to users, both of which utilize advertising. The free tier allows people to watch TV shows and movies via Hulu's website, while the $7.99 per month Hulu Plus lets you watch through the site, as well as apps for your phone, tablet, game console, or set-top box.
Source: The Wall Street Journal
Get the best of iMore in your inbox, every day!
Joseph Keller is the former Editor in Chief of iMore. An Apple user for almost 20 years, he spends his time learning the ins and outs of iOS and macOS, always finding ways of getting the most out of his iPhone, iPad, Apple Watch, and Mac.
It's about mother f***ing time!!!!!!

hmm, I'll look into this. I don't really mind the ads now, because I get 3 ads tops watch a 30 min show, for $8/month now, versus $50/month with Cable and Satellite with A LOT more than just 3 ads. I guess for $12 ad free, it won't be so bad. Let's see if they offer a 2 week trial so I can see how my viewing patterns change.

For the extra $72 a year I'll stick with the ads. I cut the cords with the cable providers for a reason. Now with Netflix raising their prices and Hulu ... Basically it's the same price to get cable... Hmmm Sent from the iMore App

This will be very tempting but I don't know if I'll actually go for it. It's one thing to have put up with ads when I'm already paying for a subscription. But once I know that I could be paying more to get rid of them I think they'll be less annoying. Besides, Hulu plays far fewer ads than the actual channel apps. Like when you could still watch CBS before they started charging a subscription it was almost like watching live TV. At this point, I'd probably still put up with it to be able to watch without a subscription.

This is great news.... They're really overdoing it with the ads at the moment.... Sometimes there are 5 breaks during a 25 minute sitcom.... and the more you watch the more they seem to break for ads.... From 2 a go to 5... It's crazy.
Hopefully this new tier will come sooner rather than later.

iMean iGet the ads and all but why so many? iWished they would give you the option yo watch 3-5 minutes of one long ad and get iT over with.

How is it this even qualifies as a 'project." Seems like about 5 mins of coding and it's done.

Another choice and cost. I pay $8 now, and depending on what Apple TV has and costs, I may switch. I am trying really hard to cut most of the cord, still keep cable for ISP, but with the cost of Hulu+, Netflix, and Sling TV, it's getting close to cables cost. Throw in Apple TV and you're paying for cable. I'm waiting to see how it all shakes out, cost and content. I just wish they would announce Apple TVs cost and content, and this new Hulu cost. Decisions decisions.

That's the thing for me. By the time I figure out what I need for me to cancel cable there really isn't that much of a cost difference for us. Part of the problem for me is wanting ESPN and SEC network. And I want some kind of dvr to record sports since I work night shift. A savings of just 20 a month to me isn't worth the trouble of keeping up with multiple subscriptions and some kind of homemade dvr that my wife doesn't mind operating.
Really curious to see what Apple TV comes up with. Hoping they will work something out so ESPN's channels are on it for extra.

If Netflix raises their prices, a lot of people (including myself) will be going to Hulu. Sent from the iMore App

Not really...I have all the services anyways... I subscribe to Netflix, Hulu, Amazon Prime, and DirecTV. Not lacking in anyway.

I have Netflix and Hulu as they both offer different things.

I find it ridiculous that they are scamming more money out of people. I pay for Hulu plus - should that in and of itself mean I don't have to sit through another friggin Viagra commercial? GTFO Hulu. Sent from the iMore App

It's still bullshit to pay anything and still have to watch ads.