iMore Show 779: Pill Punch?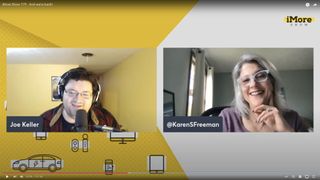 (Image credit: iMore)
This week on the iMore Show, we ring in 2022 with news, rumors, and a healthy dose of speculation.
Listen now
Watch now
Links
Sponsors
Capital One: Machine learning at Capital One. Capital One. What's in your wallet?
Hosts
Be part of the show!
Send in your comments, questions, feedback, or follow-up to:
Get the best of iMore in your inbox, every day!
Jim Metzendorf has been using Macs since 1994. He is a podcaster, freelance audio/video editor, and author of 'The Professional's Guide to Audio Podcast Production'. Jim also teaches audio production at a college in Cleveland, Ohio. Follow him on Twitter: @jmetzendorf
Hey, Joe and Karen. You two need to find and talk to someone who remembers the 41Mp camera in the Lumia 1020. That was, and some say still is, one of the most amazing smartphone cameras ever produced. The the thing that made it special, beyond Nokia software, was the ability to take full resolution photos and crop them to the part you actually wanted, with minimal loss of resolution. You had to re-think how you took shots. You didn't hold up the camera and zoom in to what you wanted, you just made sure what you wanted was in the shot, and zoomed in on the resulting photo.
The Lumia saved two files for each time you shot (selectable option). One normal resolution shot, and one Hi-Res. The 'low' res you could treat like a regular picture, the Hi-Res was the one you manipulated after the fact. It really was quite amazing. The 1020 still takes darn good pictures. Too bad the rest of the hardware is outdated, and the OS is abandoned.