iMore Show 788: A New Batch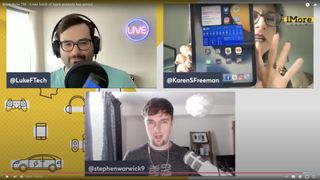 (Image credit: iMore)
Today on the iMore Show, Karen, Luke, and Stephen talk about all the new Apple products that just launched today! Plus, they take you on a tour of their iPad Home screens.
Listen now
Watch now
Links
Sponsors
Capital One: Machine learning at Capital One. Capital One. What's in your wallet?
Hosts
Be part of the show!
Send in your comments, questions, feedback, or follow-up to:
Jim Metzendorf has been using Macs since 1994. He is a podcaster, freelance audio/video editor, and author of 'The Professional's Guide to Audio Podcast Production'. Jim also teaches audio production at a college in Cleveland, Ohio. Follow him on Twitter: @jmetzendorf
Thank you for signing up to iMore. You will receive a verification email shortly.
There was a problem. Please refresh the page and try again.