New MacBook Airs announced featuring Haswell chips, better battery life and faster Wi-Fi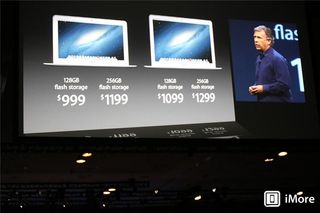 Apple has just announced the new MacBook Air at WWDC 2013. The new MacBook Airs are still available in 11 and 13 inch models but will feature new Haswell chip technology which means better battery life. They'll also boast faster graphics performance and 802.11ac WiFi networking.
While we aren't getting retina MacBook Airs just yet, the new Haswell chips will bring the 11-inch MacBook Air from 5 hours of battery life to 9 hours and the 13-inch model from 7 hours to 12 hours. Both models will also feature an 802.11ac WiFi chipset. The new Haswell chips will also bring with them better graphics performance and about 45% faster overall performance.
The battery life improvements are about the equivalent of watching a full 10 hours of iTunes movie playback on a single battery. That's pretty decent.
The new MacBook Airs are available starting today. The 11-inch model will start at $999 while the 13" will start at $1099. Anyone plan on picking one up?
iMore senior editor from 2011 to 2015.
I want one, but I also want a retina macbook pro. I am going to have to wait to see what happens on the retina front before I make a decision.

really disappointed they didn't update the long in the tooth macbook pro because i need to buy a computer with storage cheaper.

Was hoping they would add Retina, but I guess that is what they are using to differentiate Air from MacBook Pro. Might buy Air now with dramatically increased battery life

Why Retina in a laptop.... they go in your LAP, not 3" from your face. :) Plus, I'd much rather have 8 hours battery life than 2.

I need to buy a Macbook Pro and now I am not sure if this is the right choice. Maybe that is the sign that the Macbook Pro will be no more because it is old school. With spinning drive and DVD Writer.

I have lusted after an Air for a long time. I just can't justify the cost at this time with work providing me a laptop. Not enough personal use needs at home to be willing to spend the $1099 for the 13"/128GB Air......but, damn, it sure will be sweet.......

So it should be safe to assume they the update to the Mac book pros will be coming later in the year. I have always wanted a Mac and now that I'm saving for one I'm a bit torn between a MBP or MBP with retina. The Mac book airs are nice but I cannot justify the price for the amount of storage especially if I begin to use the Mac I get for school.

Ordered mine yesterday :D
All-day battery life is definitely an argument!
Oh this is going to be soooo good :)
Get the best of iMore in in your inbox, every day!
Thank you for signing up to iMore. You will receive a verification email shortly.
There was a problem. Please refresh the page and try again.