Oculus TV now available for watching shows on Oculus Go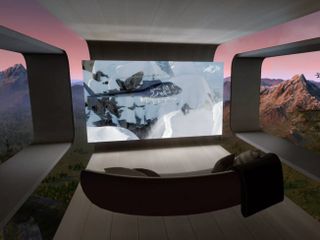 The Oculus Go is one of the best ways to get high-quality virtual reality experiences wherever you are, and today, the new Oculus TV app is launching for it so you can get completely immersed in all your favorite programming.
Oculus TV can be downloaded for free from the Oculus Store, and upon opening it, you'll be transported to a virtual living room of sorts where you'll be faced with a screen that equates to a 180-inch TV if you were viewing it in real life.
From this virtual TV, you can watch shows from Netflix, Hulu, Showtime, Pluto TV, Newsy, Netherthink, and more. Oculus has a UI that makes it easy for browsing through both live and on-demand content between these various apps, and you can even tune into live MLB games with Facebook Watch.
Throughout the summer and fall, Oculus TV will get support for more apps and broadcast partners, with one of the highlights being ESPN.
Oculus TV is available now, and for the price of free, it's definitely worth a look.
When Joe isn't acting as the News Editor for Android Central, he can be found helping out with articles here and there at iMore. He was last spotted at Starbucks surrounded by peppermint mochas. Have a tip? Send an email to joe.maring@mobilenations.com!
I was a little disappointed that the app acts as only an app launcher for Netflix, Hulu, and other independent streaming apps. I had high hopes to watch Netflix in this cool virtual setting. (Unless I am missing something here)
Get the best of iMore in in your inbox, every day!
Thank you for signing up to iMore. You will receive a verification email shortly.
There was a problem. Please refresh the page and try again.