Pokémon Go Plus vs. Pokémon Go on Apple Watch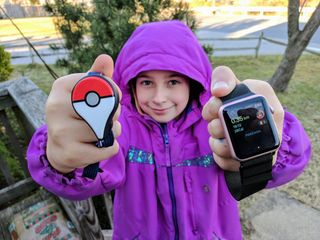 You don't have to have your phone out and open to enjoy Pokémon Go any more! With the right accessory, you can get some playtime in without ever looking down at a screen. That's a big deal if you're trying hit that PokéStop while rushing to the bus stop, or the weather isn't cooperating with your latest creature crawl.
All you really need to know is which Pokémon Go accessory is right for you: Would you rather have Pokémon Go baked in to your Apple Watch, or is it easier to conceal your gaming with the Pokemon Go Plus?
Pokémon Go Plus
It looks like a toy on your wrist, which is less than ideal if you need to look professional, but comes with a clip you can use instead of the colorful fabric band in case you'd rather attach it to your clothing. Either option is great, because you never really need to look down at the Go Plus to use it. There's no interface; you just feel the vibration pattern and tap the single button to act based on the pattern. This simple accessory connects to your phone via Bluetooth and vibrates when there's something to do in the game. With a Pokemon Go Plus, you can:
Catch Pokemon
Check in to PokeStops
Collect distance for egg hatching
There are some natural limits to this design. When catching Pokemon from the wrist, the game only uses standard Poké Balls and you only get one chance to catch before your target runs away. You can adjust the watch to only buzz your wrist if you're near a PokeStop or only if you run into a Pokémon, which can be handy if you're low on Poké Balls and would rather spend a day boosting your inventory. The biggest benefit of all: You can log your distance traveled without having the app on your phone, letting you hatch eggs MUCH faster than you normally would.
Pokémon Go Plus is only $35, but its popularity makes actually finding one to buy very difficult right now.
Pokemon Go for Apple Watch
The long-awaited app from Niantic for all versions of Apple Watch keeps your phone to your pocket, instead letting you check your wrist to see what's happening in-game. As long as you have an Apple Watch paired to your iPhone, you already have everything you need to get started. Through the Watch app, you can:
Log each play session as a Workout, with gameplay and walking counting towards your personal Activity rings
Receive notifications about nearby Pokémon
Count steps towards hatching Pokémon eggs and receiving candies via your buddy Pokémon
Receive notifications about PokéStops nearby and collect items from them
Receive notifications when eggs hatch and badges are awarded
You get a lot more information with the Apple Watch app than you do the Pokémon Go Plus, and the app integrates well into the Apple Watch's core features, but you can't actually catch Pokémon through the Apple Watch: If you see a creature on your Watch you want to catch, you'll need to open the app on your phone and toss Poké Balls. Despite that limitation, the app still gives you a bunch of information about your route, including nearby PokéStops (which you can spin from the watch) and Pokémon (which you can track), and it comes with a workout mode for Apple Watch that lets you hatch eggs and complete your activity rings simultaneously without actually doing anything but walking!
If you don't have an Apple Watch yet, here's a great way to determine which one is best for you!
Which devices is the best for playing Pokemon Go?
Both the Apple Watch app and the Go Plus make Pokemon Go's sometimes frustrating feature — logging distance to hatch eggs — into a legitimate activity. But if you're looking for the best way to capture Pokemon from your wrist, you need to figure out what kind of Trainer you are: Are you more likely to try to catch anything and everything without even looking at it, only to analyze and transfer in bulk (or crack a Lucky Egg and mass evolve) later on? Or are you looking for the fastest way to track every kind of Pokemon?
The Pokémon Go Plus makes it super easy to catch Pokemon in bulk as long as you have a lot of Poké Balls, but the Pokémon Go app for Apple Watch makes it easier to track down specific Pokémon as you wander around town. Both of these strategies are great, but they serve very different purposes. The Trainer interested in catching in bulk is more focused on leveling up, which the more specific hunter wants to get that Pokedex filled as efficiently as possible.
Which Trainer is the true Pokémon Master? Share your thoughts in the comments!
Get the best of iMore in your inbox, every day!
Russell is a Contributing Editor at iMore. He's a passionate futurist whose trusty iPad mini is never far from reach. You can usually find him chasing the next tech trend, much to the pain of his wallet. Reach out on Twitter!
Both are not, too expensive,

Will the Apple Watch app alert you with special vibration or other when a rare or Pokémon you don't own in your Pokedex is nearby?

"It looks like a toy on your wrist, which is less than ideal if you need to look professional'
Because that's not an issue with the Apple Watch at all /s.
If I needed to look professional, I'd not be wearing either device.

hehe... toy on the wrist :) I don't see anyone would look 'professional' playing Pokemon Go

I gave up playing ages ago because it just seemed like I was never going to get past level 21. And I was sick of wondering about with my phone on all the time. If I install the watch app, does that mean my phone can stay locked?