Songza curating multi-million dollar bid from Google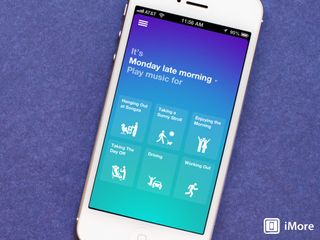 Hold onto your headphones. Google is apparently in talks to buy the popular free music streaming and recommendation service Songza. Founded in late 2007, Songza has built up over 5.5 million active users. Google's own Larry Page is allegedly leading the charge to acquire Songza for $15 million.
In the world of free music streaming, Songza has set itself apart by offering up curated playlists based on your current activity. There aren't any algorithms are work to make these playlists, instead music experts create these for specific occasions. Songza has apps on iOS, Android, Windows Phone, Windows 8, BlackBerry, Sonos and a web application.
$15 million does seem awfully small for a music streaming service. Afterall, Apple did just buy Beats Electronics and Beats Music for $3 billion, of which less than $500 million was for the streaming component. It also pales in comparison to companies like Spotify (valued at $4 billion) and Pandora (market cap of $5 billion).
Good move for Songza to be aquired by Google? Do you use Songza? Sound off below!
Source: New York Post
I've loved Songza ever since I found out about it a couple of years ago. I use it frequently, especially when I'm training and running in races and when I have some downtime post-teaching for the day. While Google's ownership might mean a more stable cash-flow, I just would hope that they make no changes to the app and its structure.

$15 million sounds very, very low.. especially when you compare it to the number of active accounts.. Thats $2.72 per account.. when beats obtained $40/account.. I'm thinking they might want to hold out for more... and I think others are evaluating at round $10-20/account... EDIT: Maybe Songza is in trouble and in need of cash? Google might be taking advantage ..

I just hope it doesn't go android exclusive. Songza is really great. Curated playlists are just better than algorithmic services.

Which of Google's other services are google exclusive? I think that more than anyone else, Google has been keeping their stuff cross-platform between Android and iOS the most. You have no reason to be concerned I'm sure.

What would be nice is if Apple would buy Songza and use it's technology of being able to stream well with poor data coverage for iTunes Radio. I find iTunes Radio nearly unusable unless I'm on a strong wifi signal, but I can use Songza nearly anywhere I can catch even the faintest of data signals. I think Songza found the right solution of streaming in just about any situation; which I feel would be a great addition to iTunes Radio. Sent from the iMore App

Google?! Oh the horror!! Sent from the iMore App
Thank you for signing up to iMore. You will receive a verification email shortly.
There was a problem. Please refresh the page and try again.